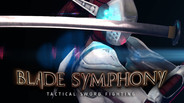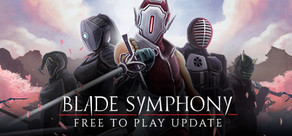 Prove you are the world's greatest swordsman! Engage in tactical 1 vs 1 sword fighting, 2 vs 2, or sandbox FFA in a tactical slash-em-up.
Release Date: May 7, 2014
Watch HD video
Buy Blade Symphony + Soundtrack
Buy Blade Symphony 2 Pack + Soundtrack
June 28th, 2014

(charge dash cancelled into a jump)  

Charge Dash
We've added a charged version of dash. You can perform this by charging to Tier 2 and holding Roll to dash. During the dash cooldown you take 50% extra damage and can't block stars.
charge to Tier 2 and roll to execute a charged dash
gave dash a 0.4 locktime so players can use it to cancel into attacks
players take 50% more damage during the charge dash cooldown (2.5s) and can't autoblock throwing weapons
charge dash also triggers roll cooldown so rolls (and therefore wallruns) cannot follow charge dash
Parries
Tracers now extend for 0.35 seconds past the designed period that can be used for parrying.
0.35s tracer extension
parries now maintain momentum of the attack
reduced overall knockback for parries
increased recovery time from equal tier parries from 0.5 to 0.6
increased max allowed tracers from 12 to 20 vertices
Phalanx
upped the speed of Phalanx heavy Tier 1 slightly, Tier 2 a bit more, and Tier 3
lock times changed from Tier1 from 1.35 to 1.0, Tier 2 1.2 to 0.9, Tier 3 1.9 to 1.6
slight animation fixes for Phalanx heavy t3 and re-recorded tracers
Pure
making Pure F2T1 move further and stab further (roughly 1 square more range total) to match Fast 3 Tier 1
swapping Pure F3T1 with F3T2, including lock times, knockback, but not damage
the new F3T2 now does 20 damage instead of 19
sped up Pure heavy left Tier 1 by moving its attack earlier in the animation
Pure heavy left damage Tier 1 is now 20, Tier 2 24, Tier 3 28 (used to be 34, 36, 38 respectively)
reduced Pure's balanced Tier 1 tracer amount (from ending at 0.8 to 0.7)
Scimitar
Overhauled scimitar damage output and special ability
Stance Cancel now replaces side cancelling, you can switch stances and attack to cancel the current attack
The rules for Stance cancel are identical to side cancelling (can't cancel the last attack in a string, cancel timing is the same per stance as side cancelling)
changed forward multihit scale to 1.0 (now same damage per multihit)
increased forward multihit-rate from 0.2 to 0.12 (more multihits, same as Jian)
changed damage from 20% global to 50% for forward and 40% for side
Rapier
Changed Rapier's forward attacks to multihit which causes them to combo and work better with balanced stance.
forward attack multihits rate now same as scimitar side attacks
forward attack multihit scales at -60% per attack
forward attack damage is now at 50% (and still modified by attack angle)
increased heavy damage from 60% to 70%
gave Rapier min tier damage, 4 for Tier 1, 6 for Tier 2, 8 for Tier 3
slightly increased movespeed for Rapier Guard
Katana
+30% faster recovery for side attack parries
Katana no longer has its fast attack debuff (80%) and now hit at full damage with fast
Jian
making Jian recovery bonus on hit activate vs block
Blocking (Longsword and Scimitar)
added post-attack block cooldown (0.15s)
Recovery Attack
 sped up recovery attack by 3 frames
General
Allow changing loadout during duel warmup
Added scrollbars to scoreboard
Fixes
updated libcurl and openssl to latest version
fixed prediction errors after attacking
added a workaround for a particles related shutdown crash
fixed russian parsing in fonts to always be set to true
changed rendered tracer fade out to scale the geometry instead of
shifting uvs past 1.0 because basically all workshop tracer textures do not
clamp uvs and therefore look terrible while fading out
improved networking performance of various stance type vars
fixed a stability issue with keyvalue scripts
hidden training games in server browser
fixed 2v2 spawn on District RoofTop
fixed 2v2 spawns for duel_monastery so that they aren't floating over the ground. 4 spawns fixed in the Courtyard, and 1 in the Antechamber
fixed parsing multiple urls in richtext control
fixed sword anims not playing
fixed a potential workshop item update issue for subscribers
Misc
Stacatto Black now uses animations for deployment and retracting.
Community Map
added player clip to elevator to stop players accessing no-drawn area.
added camera clip to elevator to also stop camera getting jammed up there.
added wallrun clip to shutters on ground floor main mall area
removed floating glass from art gallery.
removed door and retina scan models found inside wall brushes.
Reduced light_spot brightness in circular welcome room to 100 from 150
Reduced rope thickness of ropes in elevator to 0.5 from 1
Reduced rope thickness of monitor ropes from to 1 from 2
removed traffic cone prop (wasn't rendering) from shop window.
added go-board plus cushions to shop window.
Some other minor bits and pieces.
Modding
11 comments
Read more
June 27th, 2014
G'day everyone! We've released map source files for use in Hammer, these are great for mappers to learn from, dissect, pull apart, and make derivations off of. Enjoy!

LINK: https://github.com/punyhumangames/bsmaps


4 comments
Read more
Reviews
"Blade Symphony is primed and ready to help expand the melee combat genre on the PC."
Capsule Computers

"Blade Symphony looks like Chivalry with elegance."
Destructoid


"When it's a Dystopia dev's new otherworldly duelling game, you pay attention. Especially when it's looking quite so beautiful."
RockPaperShotgun
About the Game
Prove you are the world's greatest swordsman in Blade Symphony: a slash-em-up featuring a highly detailed and in-depth sword fighting system. Face down other players in tactical swordplay, 2 versus 2 team duels, or participate in sandbox FFA game modes.
Choose between four characters each with a unique fighting style suited to how you want to play.
Phalanx, a fencer gladiator hybrid, attacks with long range stabs and a versatile array of side attacks

Judgement, a knight crossed with a samurai, uses hard hitting forward attacks and wide strafing attacks

Ryoku, a vagrant street ninja, attacks with break dance moves and a signature reverse blade style

Pure, an acrobatic wushu style assassin that attacks with flips, cartwheels, extremely mobile
Each character has four combat stances and over forty different attacks.
Pair your character up with a sword type to completely change your way of approaching combat.
Katana, cause massive damage when parrying your opponents

Longsword, a well-balanced, hard hitting and adaptable sword

Rapier, a piercing, high damage forward thrusting weapon great for parrying

Scimitar, a weapon based on turning and performing as many cuts as possible

Jian, an agile, responsive weapon great for combos
Tactical Sword Fighting
There are no unlockable advantages in Blade Symphony. All unlockables are cosmetic. You care about proving your skill and so should your game.
Every attack has openings that are determined in real-time and efficacy is entirely up to you. Did you start an attack too early? Turn away and end the attack in a safe location. Did your opponent stupidly use a lighter stance? Go in and punish him! By switching stances mid-combo you can chain attacks into your own flurry of death.
The fighting system is open for your exploration, you can dash, jump, do an air attack, land, swing sideways with a heavy stance, parry with a light stance, and then roll away.
Every attack flows from your blade in true three dimensional space. As does your opponents! Swords collide in mid-air and you will need good timing and aim to defeat your opponent.
System Requirements
Minimum:


OS: Windows Vista, 7, 8

Processor: 3.0 Ghz P4(+), Dual Core 2.0(+) or AMD64X2(+)

Memory: 2 GB RAM

Graphics: DX9.0c Compatible 256MB VRAM, NVIDIA Geforce 7600 Series / ATI x1600 Series

DirectX®: 9.0c

Hard Drive: 3 GB HD space

Sound: DirectX 9.0c Compatible

Other Requirements: Broadband Internet connection
©2005 - 2014 Puny Human Games LLC, Developed By Puny Human Games. All other Trademarks are property of their respective owners.
Helpful customer reviews
Title:
Blade Symphony
Genre:
Action
,
Indie
Developer:
Puny Human Games
Publisher:
Puny Human Games
Release Date:
May 7, 2014
Languages:
| | Interface | Full audio | Subtitles |
| --- | --- | --- | --- |
| English | | | |