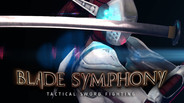 Prove you are the world's greatest swordsman! Engage in tactical 1 vs 1 sword fighting, 2 vs 2, or sandbox FFA in a tactical slash-em-up.
Release Date: May 7, 2014
Watch HD video
Buy Blade Symphony + Soundtrack
Buy Blade Symphony 2 Pack + Soundtrack
Downloadable Content For This Game
July 29th, 2014


Hopefuls of the Fourth Annual Saxxy Awards can download the Blade Symphony Content Pack DLC for Source Filmmaker!

Entry submission deadline is September 24th, read the guidelines here! We also have a Media Monetization policy that should answer some questions.

We're also offering an in-game cape and copy of Blade Symphony to the authors of the entry with the Best Overall use of Blade Symphony assets. We'll share our favorite and give out prizes after the Saxxy Award nominees are announced.

We wish everyone the best, and can't wait to see some great results from the universes of Team Fortress 2, Portal and especially Blade Symphony.
Happy filming!
8 comments
Read more
July 21st, 2014
Blade Symphony OST by Tom Stoffel now available as purchasable DLC!

http://store.steampowered.com/app/301600/




Here are three tracks for you to check out.

https://www.youtube.com/watch?v=MwMRutCCRbQ
Mastery, an unreleased track as part of the B-Sides cut content.

https://www.youtube.com/watch?v=BI5CBYt9bXI
Chandelier Showdown (Shattered Version), an earlier and re-mastered version of the in-game combat track of the same name.

https://www.youtube.com/watch?v=mAeQf5VOCN4
Sheathe Society, an unreleased track that includes yelling out sword names as katas.

There are 37 tracks total in the OST including a bonus "Duel Box" soundtrack with a combined total of 2 hours and 8 minutes of music.




And finally, just incase you missed this:





http://www.blade-symphony.com/2014/04/art-of-the-musical-duel/

And if you haven't already, check out this blog post by Tom Stoffel, Blade Symphony's composer, on how he created the soundtrack. Plenty of examples for you to listen to.

You can follow Tom via twitter @tomstoffelsound and his website http://www.tomstoffel.com/ to listen to more of his work.
7 comments
Read more
Reviews
"Blade Symphony is primed and ready to help expand the melee combat genre on the PC."
Capsule Computers

"Blade Symphony looks like Chivalry with elegance."
Destructoid


"When it's a Dystopia dev's new otherworldly duelling game, you pay attention. Especially when it's looking quite so beautiful."
RockPaperShotgun
About the Game
Prove you are the world's greatest swordsman in Blade Symphony: a slash-em-up featuring a highly detailed and in-depth sword fighting system. Face down other players in tactical swordplay, 2 versus 2 team duels, or participate in sandbox FFA game modes.
Choose between four characters each with a unique fighting style suited to how you want to play.
Phalanx, a fencer gladiator hybrid, attacks with long range stabs and a versatile array of side attacks

Judgement, a knight crossed with a samurai, uses hard hitting forward attacks and wide strafing attacks

Ryoku, a vagrant street ninja, attacks with break dance moves and a signature reverse blade style

Pure, an acrobatic wushu style assassin that attacks with flips, cartwheels, extremely mobile
Each character has four combat stances and over forty different attacks.
Pair your character up with a sword type to completely change your way of approaching combat.
Katana, cause massive damage when parrying your opponents

Longsword, a well-balanced, hard hitting and adaptable sword

Rapier, a piercing, high damage forward thrusting weapon great for parrying

Scimitar, a weapon based on turning and performing as many cuts as possible

Jian, an agile, responsive weapon great for combos
Tactical Sword Fighting
There are no unlockable advantages in Blade Symphony. All unlockables are cosmetic. You care about proving your skill and so should your game.
Every attack has openings that are determined in real-time and efficacy is entirely up to you. Did you start an attack too early? Turn away and end the attack in a safe location. Did your opponent stupidly use a lighter stance? Go in and punish him! By switching stances mid-combo you can chain attacks into your own flurry of death.
The fighting system is open for your exploration, you can dash, jump, do an air attack, land, swing sideways with a heavy stance, parry with a light stance, and then roll away.
Every attack flows from your blade in true three dimensional space. As does your opponents! Swords collide in mid-air and you will need good timing and aim to defeat your opponent.
System Requirements
Minimum:


OS: Windows Vista, 7, 8

Processor: 3.0 Ghz P4(+), Dual Core 2.0(+) or AMD64X2(+)

Memory: 2 GB RAM

Graphics: DX9.0c Compatible 256MB VRAM, NVIDIA Geforce 7600 Series / ATI x1600 Series

DirectX®: 9.0c

Hard Drive: 3 GB HD space

Sound: DirectX 9.0c Compatible

Other Requirements: Broadband Internet connection
©2005 - 2014 Puny Human Games LLC, Developed By Puny Human Games. All other Trademarks are property of their respective owners.
Helpful customer reviews
Title:
Blade Symphony
Genre:
Action
,
Indie
Developer:
Puny Human Games
Publisher:
Puny Human Games
Release Date:
May 7, 2014
Languages:
| | Interface | Full audio | Subtitles |
| --- | --- | --- | --- |
| English | | | |