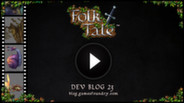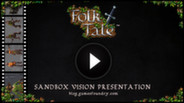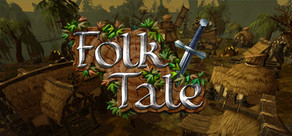 Folk Tale is a sandbox fantasy citybuilder RPG game in which you lead a ragtag band of peasants in growing a small settlement into a thriving market town, while dastardly minions plot your downfall. Sound the rallying call and head out into the wilds with parties of heroes to fight back the tide of evil in a game of endless possibilities.
Release Date: May 30, 2013
Watch all 9 trailers
Early Access Game
Get instant access and start playing; get involved with this game as it develops.
Note: This Early Access game may or may not change significantly over the course of development. If you are not excited to play this game in its current state, then you may want to wait until the game progresses further in development. Learn more
What the developers have to say:
"Folk Tale is in early alpha development. Currently the game provides a self-contained mini-campaign tutorial with its own story offering 1-3 hours of play time to introduce the world of Folk Tale and some of the gameplay features. Following launch we've been busy rebuilding the game to become a sandbox aimed at offering a huge amount of replayability, as well as implementing community feedback. Patches now include the Sandbox Editor that we'll be using to develop playable sandbox content.
As a development driven by community, we'd love you to join us in the forums - where we are active daily - to share your feedback and ideas for what you'd like to see included in the game beyond our own vision. Throughout development we'll keep you updated with regular dev blogs posted both in Steam Announcements and at
blog.gamesfoundry.com
.
The discounted Early Access price includes immediate access to the early alpha, regular updates throughout development, the digital retail version of the game, and all maintenance patches thereafter.
Thanks for considering supporting the team by grabbing a copy during Early Access. We have big plans for Folk Tale and thanks to players just like you we have a fully funded full-time team of 9 dedicated to developing an amazing game. If you choose to buy during Early Access, you'll be contributing towards expanding the team and helping us as we strive to win the crown of best fantasy city-builder."
Read more
June 19th, 2014


Hey guys. Thanks for dropping in for Dev Blog 24. Today we'll be looking at the recently released Patch 0.2.6, and the new website packed full of useful information.

For larger screenshots and more info, please visit http://blog.gamesfoundry.com/2014/06/folk-tale-dev-blog-24.html.

Patch 0.2.6 is available now on Steam if you want to try it out for yourself. We've added a raft of new buildings and professions that are going to make the first playable sandbox content in Patch 0.3 a deeper and more enjoyable experience.

The Hunting Lodge is home to the Hunter profession, ranged bow units that hunt Deer and Boar for raw meat and hides. For the next patch we're focusing on making the new professions work-enabled. That means the Hunter will go about his daily routine of hunting nearby animals, and take them back to the Lodge for skinning.




In an example of one of the economy chains we're introducing, once the Hunter has processed the carcass, they'll pass the meat over to the Butchery. The Butcher's job is to process the raw meat and make Steaks, Sausages, and Meat Pies for selling on to your villagers at a healthy profit, swelling your coffers, filling their bellies to stave off starvation, and keeping them happy.




The Farmer, Windmill and Wheat Field have been in for a while now, and with the addition of the Bakery we'll soon be able to complete another economy chain. The Baker mixes flour from the windmill with water from the well, and bakes it into tasty bread. The Baker will also be able to craft luxury items including cakes and toast ( both of which require butter as a crafting ingredient from the Dairy which we'll be adding later ).




In a previous patch we added the Monastery, Monk and Bee Yard for brewing Barrels of Mead. With the addition of the Tavern and the Innkeeper, tankards will soon be clinking to the sound of merriment as the Mead flows into the gullets of thirsty villagers. The Tavern will also be where you'll hire heroes for adventuring out into the wilds in the RPG side of Folk Tale, but for now we're focusing on citybuilding, economy and RTS style combat.




In the latest patch we've also added in basic combat. To help testing, we've made monsters selectable and movable, so you can either send a group of City Watch and Hunters out to find them, or throw monsters against your City Walls. It's very rough at this stage, and we'll be improving combat with each subsequent patch.




The Hunters are the first ranged unit to be added to sandbox, and as you might expect, we've gone the extra step and made sure the elevation of their arms matches the arc of fire. If you looked closely at the goblin archers on the Barbican in the old Tutorial, you may have noticed that even though they shoot down, their arms remain straight, which looks terrible and breaks immersion. In Sandbox, we've sorted that, and ranged units now adjust the angle of their bow arm, so when they are shooting down from elevated positions such as city walls, they look the part.




The Character Designer has now been updated with all the latest profession uniforms, and we've added in a couple of new hair and beard styles. Longer term we intend to support loading and saving of characters so you can play sandbox games with your favourite bunch of villagers, as well as sharing and downloading characters with the community.

Lighting has a new high quality setting for high-end PC's that adds proper lighting to the night windows. It's purely aesthetic but does add to immersion at the cost of some performance.




There's no more ALT F4'ing or command-Q'ing to quit out of sandbox player, with the escape key now bringing up a quit to desktop option.

And finally one of the biggest changes is that we've swapped the default public version of the Windows build over to 64-bit. Most players are already using a 64-bit edition of Windows, and for those it brings the benefit of fewer memory related issues including moonwalking villagers after loading a Tutorial save game.

Players who find Folk Tale no longer works after Patch 0.2.6 are most likely on Windows 32-bit. Don't worry, we're still supporting a 32-bit build, but you need to opt-in to a special build under the Steam beta's system. Instructions on how to do this can be found in the Announcements tab of the community section on Steam.

And that leads me nicely on to the next announcement we have today; the overhauled website. As development of Sandbox continues, we needed somewhere to provide all the information that players will soon start asking us for. What buildings are available? What function does each building have? What character professions are available? What loot items are available and what are their stats? We've set the foundations early so that we can continue to add meaningful content to the website, including Tutorials on how to use the Editors.




You'll also find a development roadmap on the website. This is a high level overview of what features and content are coming in each patch.

In the next patch we'll be introducing more of the economy, making resources more important, improving combat, and bringing more monsters to life.

I'd like to say a big thank you to the 875 play ers who completed the Player Satisfaction Survey. Your feedback has been important in helping us understand where we need to increase our efforts and make changes. Hopefully you'll notice some of the changes resulting from your feedback, including the Production Status mini-blog where we look more closely at what's in production, and a continuing drive to reduce patch times, down from once a month to around three weeks. Hopefully we can continue this and have the next patch out in the first half of July.

Your role as part of the community and your continued support during development is very important to us. We always try to listen to the voice of the community, and do our very best to respond to the feedback provided by taking actions that make a difference. Thanks for taking this journey with us.

Until next time, bye for now.
10 comments
Read more
June 14th, 2014
Platforms
PC, Mac
Bug Fixes
#0076 Sandbox Editor: Kit Icons Missing From Kits List
#0077 Professions Remain In Carrying Animation For Too Long After Drop Off
#0078 Professions Get Invalid Hairstyles
Changes
Sandbox Editor: Bakery building added
Sandbox Editor: Baker profession added
Sandbox Editor: Butchery building added
Sandbox Editor: Butcher profession added
Sandbox Editor: Tavern building added
Sandbox Editor: Innkeeper profession added
Sandbox Editor: Hunting Lodge building added
Sandbox Editor: Hunter profession added
Sandbox Editor: Some Grassland Animals have been disabled pending their conversion to spawn points
Sandbox Player: Basic combat is enabled ( Monsters can be selected/moved )
Sandbox Player: Wheat Fields Grow Speed Slowed Down However Two Harvesting Operations Are Now Required
Sandbox Player: Quarry and Iron Mine now have camera colliders
Sandbox Player: High quality night window lighting setting
Sandbox Player: Elevation angles added to animation system for ranged weapon firing
Sandbox Player: Professions now carry the correct weapons/tools
Sandbox Player: Innkeeper carries barrels of mead to the tavern
Sandbox Player: Right click now cancels wall placement
Sandbox Player: Escape now brings up menu to quit to Desktop
Sandbox Character Studio: Baker, Butcher, Innkeeper, and Hunter uniforms added
Sandbox Character Studio: Male quiff hairstyle added
Sandbox Character Studio: Female french braid with curl hairstyle added
Sandbox Character Studio: Male mutton chops beard added
Launcher: Survey icon redirected to results
Launcher: Added links to social media
Developer Comments
The default build for Windows is now 64-bit, which the vast majority of players are using. Players with older 32-bit versions of Windows will need to opt in to the 32-bit build. Instructions are included below.
The new professions aren't work-functional yet.
The construction button visual states are glitching regularly.
There is a known issue with some older save games in the Tutorial Swamp Zone that might cause the game to lock up. Please use Alt+F4 or Cmd+Q to quit and restart.
Windows 32-Bit Version
If you are unable to run Folk Tale on Windows, it's possible that you are running the 32-bit version. To access the 32-bit build, please follow these steps.
1. In your Steam Library, right click on 'Folk Tale' and select Properties.
2. Click the fourth tab labelled 'Betas'
3. In the dropdown list, select folktale(windows32-bit) and click close
4. Wait for Steam to auto-update
5. If the update fails to download, quit and restart the Steam Client
26 comments
Read more
Reviews
"Folk Tale looks like a marvelously ambitious fantasy city-builder – featuring fully explorable building/dungeon interiors and an adventure-focused RPG component – with some admirably silly humor to boot."
– Rock Paper Shotgun

"Folk Tale has some interesting ideas and a sense of humour."
– PC Gamer
Notice
Folk Tale contains edgy humor that may be considered inappropriate for children or sensitive audiences.
About the Game
Folk Tale is a sandbox fantasy city-builder RPG game in which you lead a ragtag band of peasants in growing a small settlement into a thriving market town, while dastardly minions plot your downfall. Sound the rallying call and head out into the wilds with parties of heroes to fight back the tide of evil in a game of endless possibilities.
Rule with tyranny and oppression, or liberalism and justice. Play as a merciless expansionist hell-bent on destruction, or as a gold-hoarding mercantilist who'll sell their own grandmother for a handful of coin. With random events and dynamic story, in Folk Tale you never know how the story will unfold.
Planned Features

Rich and varied gameplay including building your own impressive settlement and economy, defending your city from attack, exploring a rich and diverse world, raiding dungeons, and immersing yourself in the lives of your villagers as they become drawn into their own story lines;

Beautiful stylized graphics with voice-acted characters and fully animated quest/story cinematics;

Download community-designed custom worlds, or create your own using the editor to share with friends or the wider community;

Collect resources and loot corpses for ingredients to be used in crafting;

Tongue-in-cheek humor for a refreshing blend of fantasy;

Endless hours of sandbox fun with random events within a dynamic story framework;

Multiple camera modes for a variety of play styles with massive zoom-in to enjoy the detail;

Supports different styles of play, from fast-paced war-mongering to slower city management.



PC System Requirements
Minimum:


OS:Windows XP Service Pack 3, Windows Vista®, Windows 7, Windows 8

Processor:Intel® CoreTM2 Duo 2.4 Ghz or better, AMD AthlonTM X2 2.8 Ghz or better

Memory:4 GB RAM

Graphics:DirectX 9 compatible with 512 MB video RAM or better (NVIDIA GeForce GTX 460 / ATI Radeon HD 5850)*

Desktop Resolution:1280x720

DirectX®:9.0c

Hard Drive:707 MB HD space

Sound:Windows compatible sound card


*Intel HD 4000 cards have a known problem and are not supported
Recommended:


OS:Windows Vista®, Windows 7, Windows 8

Processor:Intel® CoreTM2 Quad 2.7 Ghz or better, AMD PhenomTM II X4 3 Ghz or better

Memory:4 GB RAM

Graphics:NVIDIA® GeForce® GTX 560 or better

DirectX®:9.0c

Hard Drive:707 MB HD space

Sound:Windows compatible sound card
Mac System Requirements
Minimum:


OS:OS X 10.7.5 or higher. OS X 10.8.0 or higher

Processor:Intel Core 2 Duo

Memory:4 GB RAM

Graphics:GeForce GT 650M 512MB, Radeon HD 5770 1GB, Alpha may run slowly on Intel integrated graphics chipsets*

Desktop Resolution:1280x720

Hard Drive:1252 MB HD space


*Intel HD 4000 cards have a known problem and are not supported
Recommended:


OS:OS X 10.7.5 or higher. OS X 10.8.0 or higher

Processor:Quad Core Intel

Memory:4 GB RAM

Graphics:GeForce GTX 675MX 1GB, Radeon HD 6970M 1 GB or better

Hard Drive:1252 MB HD space
TO THE MAXIMUM EXTENT PERMITTED BY APPLICABLE LAW, FOLK TALE IS PROVIDED ON AN "AS IS" BASIS, WITH ALL FAULTS, AND WITHOUT WARRANTY OF ANY KIND, AND GAMES FOUNDRY LIMITED HEREBY DISCLAIMS ALL WARRANTIES AND CONDITIONS, EITHER EXPRESS OR IMPLIED, INCLUDING, BUT NOT LIMITED TO, THE IMPLIED WARRANTIES OF MERCHANTABILITY, SATISFACTORY QUALITY, FITNESS FOR PURPOSE, OF ACCURACY, OF QUIET ENJOYMENT, AND NON-INFRINGEMENT OF THIRD PARTY RIGHTS. YOUR USE IS AT YOUR SOLE RISK. BY USING THE SOFTWARE, YOU ARE AGREEING TO THE TERMS OF THE END USER LICENSE AGREEMENT AND AGREE TO BE BOUND BY IT. THE LATEST VERSION CAN BE FOUND AT WWW.GAMESFOUNDRY.COM/EULA. © 2012-2014 GAMES FOUNDRY LIMITED. ALL RIGHTS RESERVED.
Helpful customer reviews
Title:
Folk Tale
Genre:
Indie
,
RPG
,
Simulation
,
Strategy
,
Early Access
Developer:
Games Foundry
Publisher:
Games Foundry
Release Date:
May 30, 2013
Languages:
| | Interface | Full audio | Subtitles |
| --- | --- | --- | --- |
| English | | | |