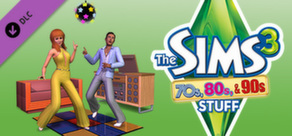 This content requires the base game The Sims™ 3 on Steam in order to play.

Release Date: Jan 22, 2013
Downloadable Content
This content requires the base game The Sims™ 3 on Steam in order to play.
Buy The Sims 3 70s 80s and 90s
About the Game
Give your Sims the hottest looks and coolest décor from yesteryear with The Sims 3 70s, 80s, & 90s Stuff. Rock all-new outfits, crazy hairstyles, and facial hair. Sport a 70s disco look with a wide-collared suit and bell-bottom pants, go 80s glam with shoulder pads and bangle earrings, or throw on a rumpled flannel shirt for a wild 90s grunge look. And don't forget to redecorate your Sims' homes to suit the decade! The Starlight Party Ball or the Neonis Foosball Table will totally give your Sims' homes that perfect flashback touch. Bring back all the crazy trends, from feathered hair to parachute pants to console stereos as your Sims warp back in time.
Features
Get fashion essentials and on-trend décor to outfit your Sims and their homes in stylish looks of decades past.
Fashion—Pump the tunes on your Sims' stereo system and show off their moves—and their righteous threads. From flared jeans and bellbottoms to halter top catsuits and platforms shoes, your Sims are ready to boogie the night away in style! Décor—Add some righteous décor to your Sims' home with a console stereo system, minimalist furnishings, a far out disco ball, and more. Can you dig it?
Fashion—Don some legwarmers, a leotard, and a headband and your Sim is ready to get physical—at the gym, that is! Outfitted in a vibrant structured suit with shoulder pads, they're set to bound up the career ladder. Whatever their activity, with the awesome 80s attire, they're dressed for success, for sure! Décor—Set your Sims up with radical pinup wall art, tubular arcade games, and a, like totally slick entertainment system—and let the shimmies start shaking!
Fashion—Whether your Sims are sporting the anti-fashion grunge look in tattered jeans and layered tops or a casual-chic outfit featuring an asymmetrical handkerchief hemline skirt, they're sure to get mad props for their 90s fashion sense. Décor—Drag out the distressed furniture for an industrial metal look that says you don't care about the establishment—even if secretly you do.
New hairstyles and facial hair—Complete your Sims' flashback look with new hairstyles from their favorite decade, from the feathered look of the 70s to the poofed tease of the 80s to a lank grunge 'do of the 90s and more.
System Requirements
OS: Windows XP (Service Pack 2) or Windows Vista (Service Pack 1)
Processor: (XP) 2.0 GHz P4 processor or equivalent; (Vista) 2.4 GHz P4 processor or equivalent
Memory: (XP) 1 GB; (Vista) 1.5 GB
Graphics: 128 MB Video Card with support for Pixel Shader 2.0
DirectX®:
Hard Drive: At least 6.5 GB of hard drive space with at least 1 GB additional space for custom content
Sound:
Built-in Graphics:

Intel Integrated Chipset, GMA X3000 or above.
2.6 GHz Pentium D CPU, or 1.8 GHz Core 2 Duo, or equivalent
0.5 GB additional RAM

Supported Video Cards:Nvidia GeForce series: FX5900 or greater, G100, GT 120, GT 130, GTS 150, GTS 250, GTX 260, GTX 275, GTX 280, GTX 285, GTX 295; ATI Radeon™ series: ATI Radeon 9500 series of greater, X300, X600, X700, X800, X850, X1300, X1600, X1800, X1900, X1950, 2400, 2600, 2900, 3450, 3650, 3850, 3870, 4850, 4870 series or greater; Intel® Graphics Media Accelerator (GMA): GMA 3-Series, GMA 4-Series
*Please note that the GeForce 6100 and 7100 cards are not supported
There are no public reviews for this product yet
You can write your own review for this product to share your experience with the community. Use the area above the purchase buttons on this page to write your review.
Title:
The Sims 3 70's, 80's and 90's
Genre:
Simulation
Developer:
The Sims Studio
Publisher:
Electronic Arts
Release Date:
Jan 22, 2013
Languages:
| | Interface | Full audio | Subtitles |
| --- | --- | --- | --- |
| English | | | |
| Czech | | | |
| Danish | | | |
| Dutch | | | |
| Finnish | | | |
| French | | | |
| German | | | |
| Hungarian | | | |
| Italian | | | |
| Korean | | | |
| Norwegian | | | |
| Polish | | | |
| Portuguese | | | |
| Russian | | | |
| Spanish | | | |
| Swedish | | | |
| Traditional Chinese | | | |
See all 17 supported languages