Check out the Dead Island Epidemic store page for more information on the Open Weekend!
Katso kaikki 2 traileria
Early Access -peli
Voit pelata näitä pelejä viipymättä - jo niiden kehitysvaiheissa.
Huomio: Tämä Early Access -peli saattaa muuttua merkittävästi sen kehityksen aikana. Jos et ole innostunut pelin pelaamisesta sen nykyisessä muodossa, haluat ehkä odottaa, kunnes peli on pidemmälle kehitetty. Lue lisää
Kehittäjien kertomaa:
"Welcome to Dead Island: Epidemic!

The game is currently in closed beta and fully-functional. You'll find that we're already offering a polished & solid experience that's a ton of fun, however due to the nature of it being in beta please be aware that there may still be some bugs (help us catch 'em all!) and unfinished features. FYI: The zombie A.I is not a bug though, they're supposed to be a bit brainless - it's in their nature.
There is no better way to gain valuable feedback and concrete suggestions than by allowing you guys to actually jump in and have at it so we decided that Steam Early Access is the best way for us to achieve this - just jump in, tear those zombies a new one (or two!) and we'll take care of the rest - or better yet, drop us a line and give us your feedback, we'd really appreciate it!
The Early Access Starter packs that we are currently offering are intended for those who want to get into the zombie bashing early and to help us shape the future of the game. They also of course offer players a great starting kit and will grant a few nice exclusive perks - both right away, and when the game hits official open beta and later again at the full launch.
We're continually working on adding new features & content and we'll be constantly working on balancing and of course improving gameplay based on your feedback - along the way we'll be intently listening to your suggestions, criticisms and as always: ideas for EVEN MOAR INSANE WEAPONS!
We're super glad if you decide to join us at this stage and we'll be happy to welcome you to the island!" Lue lisää
Paketit, jotka sisältävät tämän pelin
Osta Dead Island: Epidemic - Patient Zero Pack
Sisältää 2 kohdetta: Dead Island: Epidemic, Dead Island: Epidemic - Patient Zero Pack
Osta Dead Island: Epidemic - DEADicated Pack
Sisältää 2 kohdetta: Dead Island: Epidemic, Dead Island: Epidemic - DEADicated Pack
Osta Dead Island: Epidemic - Contagion Pack
Sisältää 2 kohdetta: Dead Island: Epidemic, Dead Island: Epidemic - Contagion Pack
18. syyskuu
Hey guys, Schinder is having a well deserved break today and I'm posting in his place, in case you're wondering who this random new guy is. Anyway, without further ado, here's the patch notes for our recent hotfix, which is actually so much more than just a hotfix:


New Character in the store: Roy Becker
First of all, we're super happy to introduce our new character: Roy Becker, the intrepid tourist who has yet to see it all. Roy has also stacked up many coupons for most of the fast food chains; in a moment of precognition he realized the apocalypse was upon us and made use of all coupons, stacking up on food. Roy's also a bit of a badass because let's face it - Any man with a fanny pack has nothing to fear.
We introduce Roy in the first of our Survivor Showdown videos here, come say hi:
http://youtu.be/3L9DyLJR11E
New Feature: Gadget System
This latest patch introduces the new Gadget System!
Gadgets are a new way to offer more options to customize your gear, and by extension: your style of play. Any player who reaches Tier 4 in Epidemic will find their first gadget blueprints by playing, or in the shop. We hope you'll like this new system and we're looking forward to seeing what new strategies you come up with, and of course: your feedback!
Nab your free Oktoberfest icon!
For those of you who don't know - Deep Silver HQ is located in Munich, home of the legendary Oktoberfest which kicks off this weekend and to celebrate this annual beer-guzzling fest we're going to give everyone who logs in between Saturday 20th September and Thursday the 2nd October an exclusive beer-themed icon. Prost!
General Fixes
Accounts that were created before 2014-09-12 can now skip the Tutorial Step in the Starter Quest.
Scout Mission
Elite Zombies Health and Damage reduced in Scout Missions.
Bug Fixes
Fixed a bug causing players to not be able to claim the Starter Quest reward.

Fixed a bug with the steam overlay causing some players to not being able to open up the purchase cash menu.

Fixed a bug where some players didn't receive the Anniversary Cake icon.

Fixed a bug where some players could not see/equip the Anniversary icons

The anniversary icon is handed out to all users that did not receive it and have logged in during the period when the anniversary icon should have been handed out.
10 kommenttia
Lue lisää
1. syyskuu
General
Overhead dodge cooldown now displayed as default

You can now continue to use the in-game chat during the End game sequence/scoreboard in Scavenger Hunt

Base turrets now generate health over time
Reward Screen Improvements
Particles and 3D objects added to reward screen to improve the overall look and feel after a match

Flow of the reward screen improved
Weapons
Rifle
Primary Attack
Casttime reduced to 0.75s from 1s

Damage reduced to 110% from 135%

Range reduced by ~10%

Castbar is now displayed when firing
Secondary Attack
Casttime increased to 0.75 from 0.6

Damage increased from 70/100/130 to 90/130/170

Now deals reduced damage for each pierced enemy instead of limiting the number of pierced targets

Damage is reduced by 30% for each pierced target
Characters
Armored Amber
Medkit
Improved the tooltip

Augmentation 1 - Field Medic


Now boosts allies power by 10%, down from 15%.
Panic Shot
Augmentation 1 - Exhausting Bullet


Weaken factor is now 33%, down from 50%

Duration of weaken is now 4s, down from 5s.
Armored Berg
Toss Ability replaced by Brutal Swing

A cone attack that does damage and knocks the primary target into the air, who takes additional damage upon landing.

Augmentation 1 - Disorienting Impact


Inflicts Dizzy when the target lands. Dizzy causes the target to miss 33% of its melee and ranged attacks for the next 4s

Augmentation 2 - Intercept


Striking an enemy with Brutal Swing reduces the current cooldown of Tackle by 6s
Armored Bryce
Assault
First dash now pierces Walkers

Improved flow between 2nd and 3rd strike by reducing time between them from 0.3s to 0.15s
Harpoon
Improved flow by allowing to move while casting

Fixed a bug where you could change mouse position to opposite of the hooked wall making Bryce jump away from the wall instead of to it

Deflect (renamed into Counter)

You can now move while Counter is active but not attack.

Augmentation 1 - Combat Technique


Rage generation for each attack up to 0.5 from 0.33.

Augmentation 2 - Maneuver (replacing Smoke)


At the end of Counter, you execute a special maneuver that damages and cripples surrounding enemies, damaging for 75% and crippling for 1 s.
Armored Isys
Sentry Gun
Cast/Upgrade time down to 2s from 2.4s

Sentry Gun projectile range increased by ~14%
Nitrogen Cap
Mutated Amber
Conceal
Immaterial duration increased to 1s from 0.5s

Bonus damage increased to 70/80/90/120 from 50/60/70/100

Casttime down to 0.1s from 0.2s

Preparation no longer breaks conceal
Preparation
Now ignores global cooldown

Now increases damage done by 20% for 8s

Stalker augmentation no longer increases damage output but increases movement speed by 25%
Poison Sting
Area increased to 26 from 13

First Augmentation Reworked - Deadly Reaction


Damage Mutated Amber deals to the target after the poison has exploded is increased by 25% for the next 4s.
Mutated Berg
Taunt
Mutated Bryce
Slithering Vein
Spore Cloud
Added general slow visuals
Mutated Isys
Stinger
Now deals 50% piercing damage to Walkers passed through
Plague
Added general slow visuals
Survivor Berg
Leaf Shield
The HP of the shield is now 200/220/240/300%, down from 220/240/260/320%.

Forceful now increases damage output by 10%, down from 15%.
Survivor Bryce
Duck Hunt
Fixed a bug that caused the slow effect to not always trigger
Survivor Isys
Evasion
Added "Miss" scrolling combat text for attackers who misses attacks on her
Combat Reflexes
Duration reduced to 2s from 4s
Kicking Spree
Damage reduction when kicking the same target increased to 20% from 15%

Distance when looking for a new target reduced to 50 from 60
Fuse
Rocket Man
Cooldown increased to 14s from 12s

Distance reduced to 70 from 80

Riot Foam


Dripping


The duration of the Burn effect caused from igniting the Riot Foam has been reduced to 1s from 3.5s.

Total damage dealt by the burning has been reduced to 50% from 100%.
Voltage
Flicker - Weapon Expertise
Chance to generate Sparks down to 20% from 35%
Electric Lash
Shocklash augmentation no longer consumes sparks

Shocklash damage per spark down from 10% to 7%
EMP Field
Drawing Energy

Stacks generated down to 2 from 3
Static Discharge
Changed to toggle cast ability instead of forced smart cast

Projectiles are now faster, longer and pierces Walkers
Sparkly augmentation
Now cripple independent of amount of sparks consumed

Cripple duration down to 1.5s from 2.1s
Connective Swap
Target damage down from 300% to 80%

Added explosions around Voltage and swapped target after finished swap dealing 260% area damage (swapped target is unaffected)
Perks
Toxic Spread
Now uses general silence visuals instead of a unique
Pulse


Trigger chance is now 10%, down from 15%

Stun duration is now 1s, down from 1.2s.
Crib
Crafting Popup improvements.

Boost Popup tweaks/fixes to flow. Added Level Up popup when acquiring a new level.

Voltage crib animation updated
Bugfixes
Massive Ram
Fixed a bug which let the Massive Ram punch players who are temporarily immune to attacks (like Wanta in Spirit Form).
GUI
Replaced the gold, silver and bronze stars awarded after a Horde mission with gold, silver and bronze cups.

Added reward screen sound effects when receiving items.
Replays
Only the latest 50 replays are now saved, if any more matches are played, the oldest replay will automatically be deleted
16 kommenttia
Lue lisää
Be One of the First to Play!
Get instant access by purchasing one of our Early Access Starter Packs or sign up now at www.playdie.net for your chance to be one of the first to play Epidemic!






Already have access? Then hop into our forums at www.playdie.net/community/ with your forum key for all the latest information on the game. Your forum key will pop up when you launch the game for the first time, you can also retrieve it at any time under the "CD Key" tab in your Steam Library.
Tietoja pelistä
World's First ZOMBA
Dead Island: Epidemic is a fast-paced action game where players will duke it out over supply points, using an arsenal of crafted weaponry, a bevy of devastating powers, and good old-fashioned teamwork.
Key Features
You have direct control over your hero. No Last Hitting, mouse-click-to-move nonsense here -
it's you, good ol' WASD
, and your trigger finger, making it easy to hop in, no muss, no fuss.
No idea what any of that means? No problem. All you need to know is that you need to point your crosshairs towards anyone and anything not on your team!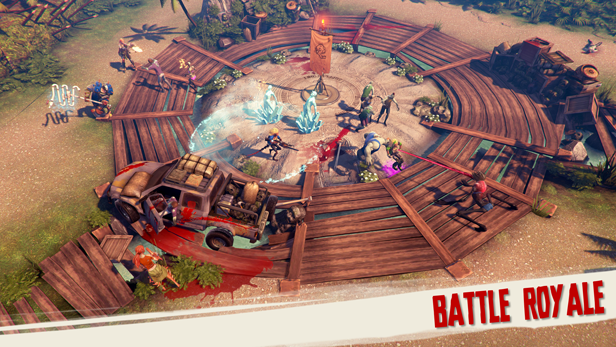 Team up with 3 other survivors and take on the zombie menace together in
PvE co-op horde mode
, or take the fight to other players in the
unique three-team "PvPvPvE" Scavenger mode
where you'll battle it out in a competition to grab supplies, hold key points, outsmart the competition and blast through hordes of zombies.
Featuring a constantly expanding and varied roster of unlikely heroes with unique skills, Dead Island Epidemic offers you a
host of play styles
whether you like your action up close and personal, at range or through supporting your teammates. Each character has an
array of skills with which to wreak havoc
- use these strategically in order to inflict maximum punishment on both the undead and those you want to be dead.
Fan favourite Weapon Crafting
is here from Dead Island, helping you get the edge (pun intended) on the competition and build an arsenal from
hundreds of insane weapons to suit your playstyle
! Featuring progressively more powerful and insane weapons in multiple tiers: From crudely crafted Spikey Planks to Electrified Double Spinning Sawblade Swords and literally everything in between: what's better than a chainsaw for dispatching the undead horde? Well, how about a
FLAMING CHAINSAW
? Everyone knows machetes are cool, but
DOUBLE FLAMING MACHETE GLOVES
are better!
Whatever your chosen character, style of play and mental disposition - there's a weapon for every occasion.
Järjestelmävaatimukset
Minimum:


OS: Windows 7 SP1

Processor: Intel Core 2 Duo 1.8 Ghz

Memory: 2 GB RAM

Graphics: NVIDIA GeForce 8800GT or Radeon HD 3870

Hard Drive: 3 GB available space

Additional Notes: Provisional - subject to changes. 1024x764 minimum display resolution is required.
Recommended:


OS: Windows 7 SP1 or higher

Processor: Intel Core i5-2300 or better

Memory: 4 GB RAM

Graphics: NVIDIA GeForce GTX 660 or Radeon HD 7870

Hard Drive: 4 GB available space

Additional Notes: Provisional - subject to changes. 1024x764 minimum display resolution is required.
Dead Island Epidemic © Koch Media GmbH 2014. Dead Island Epidemic logo are trademarks or registered trademarks of Koch Media GmbH. All Rights Reserved. © 2014 Deep Silver, a division of Koch Media GmbH, Austria.
Hyödylliset arvostelut
Nimi:
Dead Island: Epidemic
Lajityyppi:
Toiminta
,
Ilmaispelit
,
Early Access
Kehittäjä:
Stunlock Studios
Julkaisija:
Deep Silver
Kielet:
| | Käyttöliittymä | Puhe | Tekstitykset |
| --- | --- | --- | --- |
| englanti | | | |