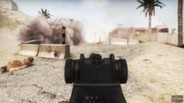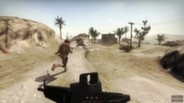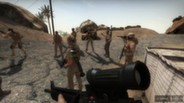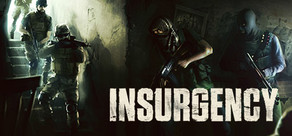 Take to the streets for intense close quarters combat, where a team's survival depends upon securing crucial strongholds and destroying enemy supply in this multiplayer and cooperative Source Engine based experience.
Release Date: Jan 22, 2014
Watch all 13 trailers
Buy Insurgency Four Pack
Includes 3 extra copies for your friends
August 23rd, 2014
Today we are releasing an update to resolve some server-side crashing issues, gameplay balance tweaks, and map improvements.

The stats server is now back online after some unexpected downtime yesterday and part of today. Thanks for your patience as we worked to resolve the issue.

Servers are still updating, so if you get a version mismatch, try another server that has players on it.

Full changelist below:


CONTENT
- Updated PVP maps: District, Market, Panj, Revolt and Sinjar
- Updated Coop maps: Contact (Hunt) and Panj (Hunt)

GAMEPLAY IMPROVEMENTS
- Insurgent Light Armor now costs 2 supply instead of 1.
- Now players can only carry 1 C4 even if they have a chest carrier.
- RPG and AT4 weigh less and now cost 5 supply instead of 6.

USER EXPERIENCE IMPROVEMENTS
- Added anti-spam measures against radial commands.
- Magazine and fire mode information is no longer constantly displayed.

AI IMPROVEMENTS
- Reduced AI field of view so they don't see players at longer ranges as easily.
- Increased default attack delay at longer ranges for AI.
- Reduced chances that bots will suppress players. They must see them for longer, and be within the desired attack range in order to suppress a player behind cover.

STATS IMPROVEMENTS
- Stats authentication has been throttled to 3 attempts per map with 15 seconds between each attempt, to hopefully reduce cases of game servers not communicating with our stats backend.
- Authentication state is now checked for server 'stats' tag.
- Added server-side "ins_stats_status" command to print helpful information about the current stats connection.

FIXES AND OPTIMIZATIONS
- Fixed a server crash related to the AI investigation state where it was eating up too much memory.
- Fixed auto-upload of crash dumps for dedicated servers
- Potential fix for Main Menu not always updating in-game.
- Fixed Mk4 scope alignment on M14.
- More Panj optimization.
- Fixed Panj (Hunt) navigation mesh.
- Fixed not able to capture push A in Market when player is in prone position inside the black hawk.
- Potential fix for CRopeManager console spam in Market.
11 comments
Read more
August 11th, 2014
Join us right now on the official Twitch.tv Insurgency channel or one of our community's livestreams and help bolster the presence of Insurgency on Twitch!

http://www.twitch.tv/insurgencygame

Full list of streamers found on our subreddit:

http://www.reddit.com/r/insurgency/comments/2d7cme/looking_for_more_insurgency_supporters_and/

Spread the word! Our goal is to reach the Top 20 viewed games on Twitch!
4 comments
Read more
Reviews
"This game has me hooked and I see it as a proudly raised middle finger in the face of large developers who seem to completely ignore fairness and player equality in favour of potential income."
9.0 – Hooked Gamers

"Insurgency is going to win fans for its gameplay. The action is highly competitive and focused. It brings me about as close to a real gunfight as I'll likely ever want to get."
75 – GamesBeat

"Insurgency is a well paced tactical shooter that's just a couple of big fixes away from competing with Counter-Strike."
75 – IGN

About the Game
Take to the streets for intense close quarters combat, where a team's survival depends upon securing crucial strongholds and destroying enemy supply in this multiplayer and cooperative Source Engine based experience. The follow-up game to the award-winning Source mod,
Insurgency
is highly competitive and unforgivingly lethal, striking a balance between one-life gameplay and prolonged action.
Features
Over 20 weapons with numerous attachments, no crosshair, and a focus on realistic weapon behavior including a free-aim system and intense suppression effects.

27 multiplayer and cooperative maps that take place in 12 distinctive environments ranging from Iraq to Afghanistan to Somalia.

9 multiplayer game modes supporting up to 32 players, with a focus on territorial control, destroying weapon caches and escorting high value targets.

Cooperative game modes where you and your friends team up to complete mission-based objectives.

Offline practice mode, playing with bots on all game modes.

Squad system built upon role-based player classes, which are customizable and asymmetrical based on what team you are on.

Squad-based communication system which includes 3D VOIP, allowing friendly and enemy players within proximity to hear you.

Overhead map detailing objective and teammate locations.

Accumulate supply to customize and upgrade your gear, affecting your weight, stamina, and movement speed.

Simplified HUD and UI for a clean, immersive user experience focused on the action and environments.

Highly immersive particle FX and audio to intensify the game experience.

Create custom maps and content using the Insurgency SDK and scripting system.

Playable on both PC and Mac OSX and supports multiplayer cross-compatibility.

Dedicated Server Support for PC and Linux.
Multiplayer Game Modes:
Push
--- Three territorial objectives must be captured by the attacking team in sequential order. For each objective captured, they gain more reinforcement and time to attack the next. Defenders have a finite amount of reinforcements and must use each wisely. Once the third objective is captured by the attackers, a fourth cache objective must be destroyed, while the defenders have only one life to make a last stand.
Firefight
--- Three territorial objectives, one for each team, plus one neutral. Each team only respawns when they secure an objective. Secure all objectives or eliminate all enemy to win. Every life counts, making this a very suspenseful experience dependent upon teamwork.
Skirmish
--- In addition to three territorial objectives, each team has a supply cache to protect. Teams gain extra reinforcement waves until their cache is destroyed. When both teams have lost their caches and all reinforcement waves, it becomes a Firefight match.
Occupy
--- There is one central territorial objective in the area. The team that controls it does not deplete reinforcement waves. This gameplay in this mode is reminiscent to King of the Hill or "tug of war".
Ambush
--- A high value target ("HVT") must be escorted to an extraction point. It's one team's goal to make this happen and it's the other team's goal to stop this from happening at all costs. The HVT is only armed with a silenced pistol, but can pick up a weapon from a fallen enemy or teammate.
Strike
--- In this attack and defend mode a weapon cache must be discovered and destroyed. There are three potential locations for the cache that the attacking team must get eyes on. The defending team must set up a strong defense, and perhaps even make use of a diversion to fool the attacking team into thinking the cache is somewhere that it's not.
Infiltrate
--- The standard Capture the Flag mode, but with a twist. Your team's goal is to take the enemy's intel and return it to your base. Your team will only gain reinforcements when someone takes the enemy's intel, or when an enemy stealing your team's intel is neutralized. This mode requires very strong team coordination and strategy.
Flashpoint
--- One neutral territorial objective and two caches on each side. The goal is to secure the entire area, controlling the middle and destroying the enemy's caches. Your team respawns when they secure the territorial objective or destroy a cache objective.
Cooperative Game Modes
Checkpoint
--- Complete mission-based objectives in sequence against AI enemy. Each successful objective will respawn anyone who was eliminated along the way.
Hunt
--- Insurgents are dispersed in the environment, and your squad must eliminate all targets while locating and destroying the weapons cache. High on tension, with only one-life.
PC System Requirements
OS:Windows® 8/7/Vista/XP

Processor:Intel® Core™ 2 Duo E6600 or AMD Phenom™ X3 8750 processor or better

Memory:4 GB RAM

Graphics:Video card must be 512 MB or more and should be a DirectX 9-compatible with support for Pixel Shader 3.0

DirectX®:9.0c

Hard Drive:6 GB HD space
Mac System Requirements
OS:MacOS X 10.6.6 or higher

Processor:Intel Core Duo Processor (2GHz or better)

Memory:4 GB RAM

Graphics:ATI Radeon HD 2400 or better / NVidia 8600M or better

Hard Drive:6 GB HD space
© 2010 - 2014 New World Interactive LLC. Insurgency and related logos are registered trademarks or trademarks of New World Interactive LLC. in the U.S. and/or other countries. All other trademarks or trade names are the property of their respective owners. All Rights Reserved.
Helpful customer reviews