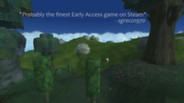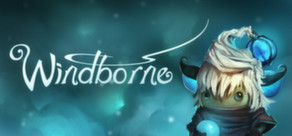 Windborne brings social sandbox creation games to the next level. Explore a vibrant world filled with secrets to unlock and treasures to find, craft personalized furnishings and innovative artifacts, and befriend intriguing Jin to help build a new civilization.
Release Date: Feb 17, 2014
Watch HD video
Early Access Game
Get instant access and start playing; get involved with this game as it develops.
Note: This Early Access game may or may not change significantly over the course of development. If you are not excited to play this game in its current state, then you may want to wait until the game progresses further in development. Learn more
What the developers have to say:
"I don't think I've ever been so giddy working on a project. I find myself just grinning at the screen instead of actually working on the game, wandering around the world watching our creatures or exploring the cool things that the procedural system made. Our vision with Windborne is both simple and enormously complex at the same time. We want to make a Miyazaki-style Disneyland of creative sandbox worlds- an infinite number of dense, exciting islands to explore with your friends, full of high adventure, where it's up to you to decide what to do. Inspired by games such as Animal Crossing, Minecraft, Dwarf Fortress, and the early Zeldas, expect more features to be added and finessed as we move closer to launch." Read more
Buy Windborne Deluxe Edition (Includes Order of the Dragon Membership)
Buy Windborne Hero Package (2-Pack)
Buy Windborne Hero Package Deluxe Edition (2-Pack)
Downloadable Content For This Game
July 28
Windborne Signs, Ladders, and Launchers Update, 7/22/2014

New features:


New Climbable (vines, ladders)

New Launcher (you can shift-click it in gather mode to switch between various directions)

New Signs (Iconic Standing Sign, Iconic Wall Sign, Iconic Floor Sign, Standing Sign, Floor Sign, Hanging Sign)


Activate normal signs to write text on them. Click in the text box to write on the sign.

Shift-click iconic signs to go through the icons

You can turn on auto-gather in settings. This makes it so you continually gather in gather mode without holding down the right mouse button.

Misc fixes/polish:


UI Consistency update (buttons, scrollbars, etc)

Fly-to-player no longer teleports you inside the target player

Physics is now turned off for plants, ladders, etc. You can place these even if standing in the block.

Wall and brick blocks are much more efficient (they hide geometry that is obscured). This is retroactive.

Hand auto-hide is less annoying

Bug fixes:


Many crash fixes

Pets tamed as a client no longer act like they belong to the host

Malik/Ferals only take one block from item stacks (you won't lose all your gold in one swoop)

Music volume setting is less sensitive

Player/Character loading is more safe and tries to handle/recover corrupted characters

Some broken UI crafting filters were fixed
4 comments
Read more
June 2
Hi, everyone! Echo here (posted by Nerdmaid). It's been just over a week since we released the World Traveler, and I thought I'd take some time to talk about where we're going next.

This patch which addresses some minor bugs that we missed in the update, as well as a recovery tool which should help those who are in the middle of a save when the power goes out (It happens more frequently than you'd guess). I'd like to thank everyone for the feedback and reports – they help us a lot, and we go through every one of them.

Now we're going to start focusing on our next update, which means that we probably won't update the game for another 5-6 weeks, but we still have a lot of things going on:

Kaboom, our community rep, runs weekly build challenges and live streams (follow us on facebook at https://www.facebook.com/windbornegame )

We're active on twitter at https://twitter.com/WindborneGame

We post dev updates periodically on our website:
--> Blog: http://www.hiddenpath.com/blog/category/windborne/
--> Forums : http://www.hiddenpath.com/forum/forum/hidden-path-forums/windborne-general-discussion

The Windborne Steam Community is pretty active - http://steamcommunity.com/app/221560/discussions/
What's planned for the next update? Well, we like it being a surprise, but I can give one hint right now: Exploring is going to become a very important part of the game.
As always, thanks for your support, and feel free to give us feedback at any time!
Patch notes:
Fixed a number of crashes

Flits and Pinchers now follow you after being tamed

Visiting Gallery islands is more reliable

Pets won't follow other players

Character select now shows your entire character

Re-added the recipe for Super Marble Bricks

Control settings are more reliably saved

Those who play in our live streams with Kaboom now may receive a special gift!
0 comments
Read more
Reviews
"Hidden Path's Windborne Looks Lovely"
Rock, Paper, Shotgun

"The entire experience, even in alpha, was very charming, colorful and vibrant."
Inside Gaming Daily

"Windborne adds flights of fancy to block building (preview)"
Examiner

About the Game
Windborne brings social sandbox creation games to the next level. Explore a vibrant world filled with secrets to unlock and treasures to find, craft personalized furnishings and innovative artifacts, and befriend intriguing Jin to help build a new civilization. Will you seek out the clues and artifacts of the ancients, or just loot passing islands for minerals and rare plants? Bring along your friends while you play, and share your creations with the world. Where will the wind take you? Windborne is set to release in late 2014. It is being developed and self-published by Hidden Path Entertainment, Inc.
Game Play Features Currently In Early Access
Exploring – Explore an infinite number of islands, each full of wonder and surprise.

Building – With a wide variety of building materials, furnishings, and artifacts, you can build whatever you can imagine

Jin – Make new friends by trading with the native Jin

Quests – Basic quest system gives you a guided tour of Windborne, with rewards for each completion.

Multiplayer – Play and build with your friends!

Crafting – Learn to make almost 200 different blocks
Game Play Features Coming At A Later Date
Guiding – Guide the Jin to civilization by defending them, building homes for them, and teaching them, and they will help you in return.

Exploring - Explore millions of ruins filled with puzzles and treasure.

Community – See other islands floating by, and visit them to trade with their owners. Join your friends and help them build their town.

Dragons – Breed dragonlings to unlock special abilities, including the ability to fly!

Combat – Defeat enemies that are encroaching on your island, or try assaulting a copy of your friend's island to test its defenses.

Quests – Pick and choose quests to give you optional challenges that net big rewards.
System Requirements
Minimum:


OS: Windows Vista (SP2 Required), Windows 7, Windows 8.0, Windows 8.1

Processor: Dual core CPU 2.0Ghz or faster

Memory: 3 GB RAM

Graphics: DirectX 10.1 video card with shader 4 support and Passmark Video Benchmark of 160 or above such as the following: ATI Radeon HD3650 or better (HD3650-HD8000, RX200-RX300+) (Radeon HD 4200 and HD 4250 not included) NVIDIA GeForce 8600 or newer (8800, 9600-9800, or 100-700+) (GeForce 8600M not included) Intel HD Graphics 2500 or higher

DirectX: Version 10

Hard Drive: 1 GB available space

Additional Notes: Windborne requires a multi-core processor and at least 3 GB of RAM on your computer to run. Windborne relies on a DirectX 10.1 or later graphics engine which means it runs on Windows Vista, Win7, Win8, and Win8.1. Windborne will not run on Windows XP. Windborne requires Steam to run.
©2013-14 Hidden Path Entertainment, Inc. Windborne is a registered trademark of Hidden Path Entertainment, Inc. All rights reserved.
Helpful customer reviews
Title:
Windborne
Genre:
Adventure
,
Casual
,
Indie
,
Massively Multiplayer
,
RPG
,
Simulation
,
Early Access
Developer:
Hidden Path Entertainment
Publisher:
Hidden Path Entertainment
Release Date:
Feb 17, 2014
Languages:
| | Interface | Full audio | Subtitles |
| --- | --- | --- | --- |
| English | | | |