Age of Empires II has been re-imagined in high definition with new features, trading cards, improved AI, workshop support, multiplayer, Steamworks integration and more!
Release Date: Apr 9, 2013
Watch HD video
Downloadable Content For This Game
August 11th, 2014
It's Monday, and that means it's time to showcase the best mods available on the AoE II: HD Steam Workshop! Play with us at www.twitch.tv/ageofempires from now til 3 PM Pacific/GMT-7.
3 comments
Read more
July 31st, 2014
There are a large number of small changes made with the recently released 3.7. For the full list of patchnotes, please see the following thread:
http://steamcommunity.com/app/221380/discussions/1/35219681549357566/
17 comments
Read more
Steam Workshop

Advance to the Steam Age!
Explore new maps, multiplayer scenarios, and user created campaigns. Or reinvent your game experience with new sounds, visuals, AI, units, and more! Ready to share your creations with the world? Upload right from the map editor, or collaborate with friends to create a masterpiece collection.
New DLC Available


Explore a host of new features with Age of Empires II - The Forgotten including

Five New Civilizations


Italians

Indians

Slavs

Magyars

Incas

Seven new Campaigns


Alaric

Sforza

Bari

Dracula

El Dorado

Prithviraj

Battles of The Forgotten

New LudaKRIS map size

New Game Modes

Twitch streaming integration

Spectator Mode
Download the expansion today!
Steam Trading Cards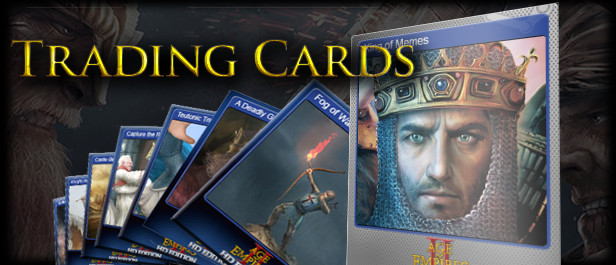 Steam Trading cards are now available for Age of Empires II: HD. Collect them all to craft badges, emoticons, coupons, and unique profile backgrounds!
About the Game
In Age of Empires II: HD Edition, fans of the original game and new players alike will fall in love with the classic Age of Empires II experience. Explore all the original single player campaigns from both Age of Kings and The Conquerors expansion, choose from 18 civilizations spanning over a thousand years of history, and head online to challenge other Steam players in your quest for world domination throughout the ages. Originally developed by Ensemble Studios and re-imagined in high definition by Hidden Path Entertainment, and Skybox Labs, Microsoft Studios is proud to bring Age of Empires II: HD Edition to Steam!
System Requirements
Minimum:


OS:Windows Vista, 7, 8 Pro+

Processor:1.2GHZ CPU

Memory:1 GB RAM

Graphics:Direct X 9.0c Capable GPU

DirectX®:9.0c

Hard Drive:2 GB HD space
Recommended:


Additional:900x600 minimum display resolution
Helpful customer reviews