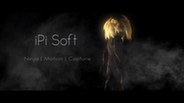 Motion Capture for the Masses Note: Free trial is fully functional for 30 days after installation. iPi Motion Capture™ is a scalable markerless motion capture software tool that supports 1 or 2 Kinect/Xtion cameras or 3 to 6 Sony PlayStation Eye cameras to track 3D human body motions and produce 3D animation.
Release Date: Mar 26, 2013
Watch HD video
Use iPi Mocap Studio 2 Trial
Downloadable Content For This Game
Reviews
"I really enjoyed working with iPi Soft's markerless motion capture system. I think it is a great product and would definitely recommend it."
– NYC Production & Post News
"I'm very impressed with iPi Soft and recommend the software highly.<"
– Renderosity, Ricky Grove
iPi Mocap Recorder
To track motions with iPi Mocap Studio 2, you need first to record them with the iPi Recorder. Check out the FREE iPi Recorder HERE.
About the Software
Motion Capture for the Masses
Note: Free trial is fully functional for 30 days after installation.
iPi Motion Capture™ is a scalable markerless motion capture software tool that supports 1 or 2 Kinect/Xtion cameras or 3 to 6 Sony PlayStation Eye cameras to track 3D human body motions and produce 3D animation.
"iPi Motion Capture is so powerful and cost effective. It's fantastic to be able to come up with an idea and in a few minutes record exactly what you want and apply it to your characters. iPi is what mocap should be all about -- making your ideas reality in a matter of minutes."
- David Gonzalez, President of Mission Critical Studios, a New Jersey-based developer of mobile games.
The technology is accurate, easy to use and affordable.
With iPi Motion Capture™ you can:
Record multi-camera video in regular office / home environment
Track 3D human motions right at your desktop and produce 3D animation
Clean-up / edit 3D animation using integrated clean-up / keyframing tools
Transfer motions to 3D character and export 3D animation to most popular formats including FBX, BVH, Collada
iPi Motion Capture™ Free Trial works with off-the-shelf equipment:
1 or 2 Kinect / Xtion depth sensors or
3 or 4 Sony PS Eye cameras
Runs on regular PC with gaming class videocard
Fully-functional within 30 days from installation, after that all functions will be available except animation export
iPi Motion Capture™ is compatible with
Valve Source Engine, Source Film Maker
Unreal Engine, Unity
Autodesk 3DS Max, Maya
CINEMA 4D, Lightwave
Poser, DAZ3D, Blender and others.
Advantages iPi Motion Capture™:
no need for expensive facility space with special lighting, background and the team of technicians
no need for clumsy sensor suits with reflective markers
portable system that can be packed in a backpack with as less as 20-30 minutes set-up and calibration time
allow up to 20 by 20 feet capture volume with minimum required space as small as 9 by 5 feet
with integrated animation clean-up and motion transfer tools you do not necessarily need expensive 3rd party applications
extremely affordable Solution
Windows only product. The price includes only software.
Key Features
Technology: Optical Markerless
Number of cameras: 1 or 2 Kinect (or ASUS Xtion) cameras or 3 to 4 Sony PlayStation Eye cameras
Input Format: *.iPiVideo (recorded with free iPi Recorder™ application)
Output Formats:

FBX
Biovision .BVH
3D MAX Biped-compatible .BVH
COLLADA
iClone-comaptible BVH
Valve Software's Source Engine animation .SMD

Video Recording Conditions and Environment:

Indoor and outdoor
Normal lighting conditions
No markers required

Actor Clothing Requirements:

Actor can wear reasonable casual clothes.
Tight-fitting solid-color clothes recommended.
Jeans and T-shirts are supported.
System Requirements
Minimum:

OS:Windows XP SP2
Processor:Intel Pentium 4 or AMD Athlon (dual-core)
Memory:1 GB RAM
Graphics:DirectX 10 compatible (Shader Model 4.0) descrete graphics
Hard Drive:200 MB HD space
Recommended:

OS:Windows 7
Processor:Intel Core i5 (quad-core)
Memory:2 GB RAM
Graphics:NVIDIA GeForce GTS 250 or AMD Radeon HD 4850
Hard Drive:1 GB HD space
Helpful customer reviews
7 of 8 people (88%) found this review helpful
46 products in account
1 review
10.5 hrs on record
DON'T. Just don't waste your time with this program. Why? Read below.

Looked promising but turned out to be a letdown. I tried the program with 4 PlayStation Eyes, got evrything ready to go from recording space to clothes to lighting to capture area with exact calibration measures (like distances from ground) with less than 1cm of error, but then the program just fails when it tries to capture motion even after all that trouble.

-4 PlayStation Eyes with finetuned colorbalances, brightnesses and pretty much everything else: check.
-Colored clothes to help the program to recognize bodyparts: check. Tested with:
- blue jeans with black T-shirt and long sleeved shirt (seperately, duh)
- black jeans with white, blue and black shirts
- red pants with green long sleeved shirt, later with black T-shirt on top
-Calibrated capture area with almost EXACT layout of the cameras for a scene, including ground marks AND enough space to record in the first place: check.
-Lighting: check.

Precisely defined actor in the program to match the human actor: check.

Aaaand... ACTION!

What was the result for all that? Started from a T-pose but the program thought I was a dismangled mess like I moose that has been rammed over by a train. Foot up in the waist, arms spazzing out to who-knows where, EXTREMELY jittery even after "smoothing" the animations, unable to keep up with slowly turning around, always at least one limb trying to break free and the BS went on and on and on and on. At worst the program thought I was a ball hovering in midair!

The best result I got was me standing still. For 3 seconds. While jittering after smoothing the animation and fixing the limbs going the wrong directions manually. I then tried to export that to Source Filmmaker and Blender (both in their own format). In SFM the animation turned every characters I tried in to morbid messes and Blender couldn't even open the exported animation because this program is designed for an old version of Blender.

I could go on and on about the problems, but after trying to get this program to work for a couple of weeks now, I'm now giving up. I don't know what black magic people have been using to make this thing work, but I can say that it's, I repeat, NOT as fun and easy as you might think!

Migraine medication ahoy!
5 of 27 people (19%) found this review helpful
7 products in account
3 reviews
0.4 hrs on record
idont understand

Software Details
Title:
iPi Mocap Studio 2 Trial
Genre:
Animation & Modeling
Developer:
iPi Soft
Publisher:
iPi Soft
Release Date:
Mar 26, 2013
Languages:
| | Interface | Full audio | Subtitles |
| --- | --- | --- | --- |
| English | | | |