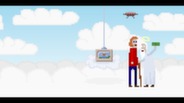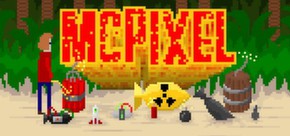 McPixel ist ein Rette-den-Tag-Typ, den Sie durch 100 kleine Level führen und verhindern, dass irgendetwas explodiert. Sie haben nur 20 Sekunden, um den Tag zu retten! Denken Sie schnell!
Veröffentlichung: 25 Sep. 2012
HD-Video ansehen
Reviews
"[...] you're going to have a pretty good time in this crude, primitively rendered 8-bit paradise."
7/10 – Eurogamer
Steam Greenlight
Über das Spiel
McPixel is a save-the-day guy that you guide through 100 short challenges in an old-school point'n'click fashion. The goal in each challenge is to prevent stuff from blowing up using available tools! You have only 20 seconds to save the day! Think quick!
Key features:
100 mindblowing levels

Bonuses, secrets and more

Free DLC for everyone!

185 BMP ear piercing music!

Switchable pixel filters

Level creator

McPixel Fart Along

McPixel Social

Largest pixels on the market up to date!
Save the day the McPixel way!
Systemvoraussetzungen (PC)
Minimum:


Betriebssystem:Windows XP

Prozessor:Intel Pentium 4 oder AMD Athlon 64

Speicher:512 MB RAM

Grafik:Pixel-art Grafikkarte

DirectX®:9.0b

Festplatte:70 MB HD frei

Sound:Stereo Soundkarte
Empfohlen:


Betriebssystem:Windows Vista

Prozessor:Intel Core 2 Duo oder Athlon X2

Speicher:1024 MB RAM

Grafik:Pixel-art Grafikkarte mit Filtern

DirectX®:9.0b

Festplatte:71 MB HD frei

Sound:Stereo Soundkarte
Systemvoraussetzungen (Mac)
Minimum:


Betriebssystem:OS X 10.6 Snow Leopard

Prozessor:Core 2 Duo

Speicher:512 MB RAM

Grafik:Pixel-art Grafikkarte

Festplatte:70 MB HD frei

Sound:Stereo Soundkarte
Empfohlen:


Betriebssystem:OS X 10.7 Lion

Prozessor:Core 2 Duo

Speicher:1024 MB RAM

Grafik:Pixel-art Grafikkarte mit Filtern

Festplatte:71 MB HD frei

Sound:Stereo Soundkarte
Hilfreiche Kundenreviews