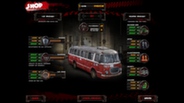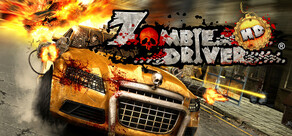 Insane mix of cars, speed, explosions, blood and zombies!
Releasedatum: 17 okt 2012
HD-video bekijken
Pakketten die deze game bevatten
Zombie Driver HD Plus Soundtrack kopen
Bevat 2 items: Zombie Driver HD, Zombie Driver HD Soundtrack
Downloadbare inhoud voor dit spel
20 augustus 2014
We are currently working on a huge FREE update to Zombie Driver HD which includes a lot of big improvements to the game.

Major changes:
- more than doubled the number of zombies roaming the streets,
- a lot more weapons around the city which results in much more dynamic gameplay,
- a new "Retro" camera setting which presents gameplay from an entirely top-down perspective with no camera rotation,
- bloody skidmarks when driving through blood splats
- dust particles are emitted when a car is drifting
- soft ambient occlusion shadows (HBAO),
- depth fog,
- environment reflections,
- new animated objects,
- improved particle animation and physically simulated particles,
- improved atmospheric effects and rebalanced all missions,

We have just released the update as a public beta and it would be great if you could help us spot any problems before we make it live for everyone. If you want to check out the update right click on Zombie Driver HD in your list of games on Steam, select Properties, go to the Beta tab and select the Public Beta from the drop down menu. The update should download approximately 1.1GB (we've changed a lot of stuff).

The new update enables HBAO by default (it is called Screen Space Ambient Occlusion in the config window). This option may be hard on some older or integrated graphics cards so if you are experiencing performance problems please disable it in the config screen or decrease your rendering resolution (the rendering performance cost of this feature is directly tied to the screen resolution). We also strongly encourage everyone to leave Vsync turned on.

If you would encounter any crashes or problems it would help us greatly if you could send us the debug information that should be created with each crash. You can find crash dump information here (Exact location depends on which windows version you have and may be slightly different.):
C:\Users\your_username\Documents\ZombieDriverHD

Memory dump file name should be similar to this:
ZombieDriverHD_3221225477_2010_1_8_T13_50_3.mdmp

Please send the files and your feedback to support@zombiedriver.com. We would very much appreciate your help in smoothing out any problems!
3 opmerkingen
Meer informatie
Zombie Driver HD vs. Original Zombie Driver
New reworked Story Mode (about 8h of gameplay with completely new missions)

Ingame cutscenes expanding the storyline

Minimap and overview map

Three new types of enemies

Five new vehicles

Rechargable nitro system that burns zombies

Greatly improved performance

Better graphics (weather effects, changing time of the day, fire, smoke and explosion effects)
Plus, Steam exclusive L4D Crash Course rescue van drivable in-game.
Info over het spel
Insane mix of cars, speed, explosions, blood and zombies! Fight through an epic narrative campaign or test yourself in the Slaughter and Blood Race modes. Engage huge bosses, save survivors, drive crazy vehicles such as a bulldozer, fire truck or even a tank and smash everything in your way. Take part in the Blood Race tournament - chase other cars and take them down without mercy on brutal racing tracks. Jump into the Slaughter mode and survive as long as possible on specially crafted arenas.
Key features:
Story mode with 31 missions, sub quests and bonus objectives in a huge, free roaming city, including:

Epic Boss fights with enormous mutated zombies

Defending key targets against huge waves of zombies

Racing against time to rescue survivors

Transporting dangerous cargo

Spraying anti-zombie repellent around town

13 different vehicles to drive including a firetruck, bulldozer or even a tank

Blood Race mode with 30 unique events offering the best arcade racing experience in 3 distinct game types:

Race - classic racing spiced up with guns and loads of zombies

Eliminator - take down as many vehicles as you can before the time runs out

Endurance - there is a bomb on your car and its ticking. Race through checkpoints to extend your time

Slaughter mode with 7 survival arenas featuring enormous killing sprees and a dynamic upgrade system

9 different upgrades which can transform even an innocent Taxi into a Chariot of Death.

Miniguns, flamethrowers, rocket launchers or dual railguns.

Vicious zombie types including even zombie dogs.

Advanced, dynamic combo system with tricks and hordes of zombies to try it on.

PhysX by NVIDIA

Summer of Slaughter DLC included
Systeemeisen
Minimum:


OS: Windows 7/Vista/XP

Processor: 1.5 GHz dual core processor

Memory: 512 MB

Graphics: 128 MB DirectX 9.0c compatible or better video card with pixelshader 3.0

DirectX®: DirectX 9.0c

Hard Drive: 2 GB

Sound: DirectX 9.0c compatible sound card
Recommended:


OS: Windows 7/Vista/XP

Processor: 2.0 GHz dual core processor

Memory: 1 GB

Graphics: 128 MB DirectX 9.0c compatible or better video card with pixelshader 3.0

DirectX®: DirectX 9.0c

Hard Drive: 2 GB

Sound: DirectX 9.0c compatible sound card
Nuttige klantrecensies
Titel:
Zombie Driver HD
Genre:
Actie
,
Indie
,
Race
Ontwikkelaar:
Exor Studios
Uitgever:
Exor Studios
Releasedatum:
17 okt 2012
Talen:
| | Interface | Spraak | Ondertiteling |
| --- | --- | --- | --- |
| Engels | | | |
| Frans | | | |
| Duits | | | |
| Italiaans | | | |
| Pools | | | |
| Spaans | | | |
Alle 6 ondersteunde talen weergeven