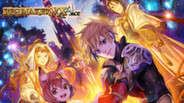 RPG Maker VX Ace improves every aspect of RPG creation, making it not only the latest, but also the greatest engine in the RPG Maker Series.
Datum vydání: 10 pros. 2012
Sledovat všechny 2 upoutávky
Koupit RPG Maker VX Ace 4-pack
Includes 4 copies of RPG Maker VX Ace. One copy for you and 3 to give to friends.
Stáhnutelný obsah pro tuto hru
1 dubna 2014
Unfortunately, a prize was overlooked in our last announcements!

The fan favorite of the RPG Maker for the Not So Bright Screenshot Contest was won by [JCGG] Jomarcenter for this screenshot, a reference to a fairly notorious RPG Maker demo he had made in the past.

You, also, have won a single resource pack through Steam!
5 komentářů
Zjistit více
25 března 2014
Hey RMers!

Sorry about the delay, we had a lot of awesome workshop entries to go through, and then we had to take a bit of time to lock down the final prizes themselves. But the time is upon us, the time to learn who won all the prizes and what they won! (to claim your prize, contact me at community@rpgmakerweb.com)

First off, we had the RPG Maker for the Not-So-Bright Screenshot Contest, where screenshots were entered by contestants of dumb things they have done that other people should avoid! And the winner IIIIIIS...

Human-like AI *Sin for teaching us to always remember to save, and to be careful where you point that cut and paste. You have won one RPG Maker DLC on Steam of your choice.

Next, we had our two Giveaways. One for the DLC 2: Return of DLC topic, and the other for having uploaded something to our Workshop in the first week.Our two winners here are:

cjfrick13 for uploading Cadolfia to the Workshop, AND alusair1 for his contribution in the DLC 2 thread. They have also both won a single RPG Maker DLC on Steam.

And last, but DEFINITELY not least... Who could have won the best of the first week of uploads on our workshop? Our workshop exploded with games and resources and demos. But one was specifically well liked, and really useful. And that was...

StealthMomo's Day and Night Cycle Resource Pack, compiling several resources (with excellent crediting) to show everyone a simple way to create a dynamic day and night system. StealthMomo has won a 100 dollar Steam Wallet code! Congratulations StealthMomo!

Thank you to everyone for making our Steam Workshop launch a success, and I look forward to handing out more free goodies to our fans. Keep up the good work everyone, and be on the look out for more chances to win!
7 komentářů
Zjistit více
O softwaru
Simple Enough for a Child; Powerful Enough for a Developer
RPG Maker VX Ace improves every aspect of RPG creation, making it not only the latest, but also the greatest engine in the RPG Maker Series. With multiple tileset support, full autoshadow control, and a flexible features system, Ace gives you the most powerful RPG making tools ever.
Ace provides all the tools you will need to make the game you've always dreamed of. Make your game, your way with all the following features:
An enhanced map editor to build your world.

A Character/Enemy/Skill/Equipment Database with a new powerful, flexible Features system.

New event options, including playing Ogg Theora video.

Expanded default resources, including a built in Character Generator to form your own custom sprites and faces.
Key Features
Simple, Powerful Tools
RPG Make VX Ace enhances RPG making with several powerful new tools. We have never offered a product before now that allowed such flexibility to the user without the need for any coding knowledge. These new tools are not only flexible, but also incredibly simple to learn and use, being accessed through a simple point and click interface.
Enhanced Default Graphics
RPG Maker VX Ace features a largely expanded collection of graphics resources, with 4 included tilesets and downed sprites included, on top of many new sprites. Ace also has the advantage of being compatible with all existing fan made RPG Maker VX resources right out of the box.
Export Your Game
So you've finished your project and you are ready for others to experience your unique RPG. Export your game to a portable EXE file that can be played on ANY Windows system. Share it with your friends, your family, or even the internet!
Systémové požadavky
Minimum:


OS:Microsoft® Windows® XP / Vista / 7 (32-bit/64-bit)

Processor:Intel® Pentium® 4 2.0 GHz equivalent or faster processor

Memory:512 MB RAM

Graphics:1024 x 768 pixels or higher desktop resolution

Hard Drive:400 MB HD space
Recommended:


Processor:Intel® Pentium® 4 2.0 GHz equivalent or faster processor

Memory:512 MB RAM
Užitečné recenze od zákazníků
Detaily o softwaru
Název:
RPG Maker VX Ace
Žánr:
Design a ilustrace
,
Webové publikační nástroje
Vývojář:
Enterbrain
Vydavatel:
Degica
Datum vydání:
10 pros. 2012
Jazyky:
| | Rozhraní | Zvuk | Titulky |
| --- | --- | --- | --- |
| Angličtina | | | |
| Francouzština | | | |
| Němčina | | | |
| Španělština | | | |
| Italština | | | |
| Brazilská portugalština | | | |
Zobrazit všechny 6 podporované jazyky