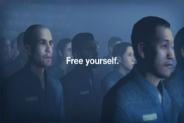 Ondersteunt cross-platform Steam Cloud - ga verder met je spel op elk ondersteund besturingssysteem. Plus, nieuwe Steam prestaties!
Releasedatum: 16 nov 2004
Alle 2 trailers bekijken
Pakketten die deze game bevatten
12 december 2013
Updated the beta to fix a bug that could cause Steam to fail to update game binaries for Episode 1, Episode 2, Lost Coast, and Half-Life: Source. After this update it is possible that one or more of these games will fail to start with the message "Unable to load library client." If this happens to you, just run the game again and the problem will correct itself.
54 opmerkingen
Meer informatie
13 november 2013
The beta for Half-Life 2 (including Lost Coast, Episode 1, Episode 2, and Half-Life: Source) has been updated with VR bug fixes.

The following Virtual Reality-related changes are included:

Support has been fixed for resolutions other than 1280x800

Support has been fixed for cloning the main display (instead of using the Rift as an extended display)

Sharpness of the VR output has been significantly improved

Head-and-neck model has been fixed. It was often moving the camera along axes that should have been unchanged, such as moving the camera forward and backward when it rolled from side to side
27 opmerkingen
Meer informatie
Info over het spel
1998. HALF-LIFE veroorzaakt een schok in de gamewereld met de combinatie van denderende actie en een samenhangende, pakkende verhaallijn. De debuutgame van Valve wint meer dan vijftig game-of-the-year-awards, voordat het door PC Gamer wordt uitgeroepen tot 'Best PC Game Ever'. Over de hele wereld worden meer dan acht miljoen licenties verkocht.
NU. Door de spanning, de uitdaging en de bloedstollende lading van het origineel te nemen en daar een verbijsterend nieuw realisme en adembenemende reactiesnelheid aan toe te voegen, opent Half-Life 2 de deur naar een wereld waarin de aanwezigheid van de speler invloed heeft op elk facet van de omringende werkelijkheid, van de fysieke omgeving tot de gedragingen en zelfs de emoties van vriend en vijand.
Opnieuw neemt de speler de wapens op in de huid van onderzoekswetenschapper Gordon Freeman, die wordt geconfronteerd met een wereld die door buitenaardse wezens is kaalgeplunderd en waarvan de grondstoffen zijn uitgeput en het bevolkingsaantal dramatisch is geslonken. Freeman krijgt de weinig benijdenswaardige rol opgedrongen de wereld te redden van het kwaad dat hij in Black Mesa heeft ontketend. En veel mensen om wie hij geeft, rekenen op hem.
De intense, realtimespeelervaring van Half-Life 2 is alleen mogelijk dankzij Source®, de nieuwe, eigen enginetechnologie van Valve. Source zorgt voor verbluffende verbeteringen van:
Personages:

het geavanceerde systeem voor gezichtsanimatie staat garant voor de meest geraffineerde spelpersonages die je maar kunt bedenken. Met de veertig afzonderlijke 'gezichtsspieren' van de menselijke personages wordt het volledige scala aan menselijke emoties weerspiegeld en reageert de speler vloeiend en intelligent.

Fysica:

van steentjes in het water tot trucks van twee ton zijn de reacties zoals verwacht, omdat ze de wetten van massa, wrijving, zwaartekracht en opwaartse druk gehoorzamen.

Graphics:

het weergavemechanisme van Source is gebaseerd op de verduisteringstechnieken die ook Pixar gebruikte in films als Toy Story® en Monster's, Inc.®. Daardoor is de omgeving mooier en realistischer dan je ooit in een videospel hebt gezien.

AI (kunstmatige intelligentie):

geen enkele vriend of vijand stort zich blindelings in een gevecht. Ze kunnen bedreigingen op waarde schatten, navigeren door moeilijk begaanbaar terrein en wapens fabriceren van wat er aan materiaal voorhanden is.
Systeemeisen (PC)
Minimum: processor van 1,7 GHz, 512 MB RAM, grafische kaart op DirectX® 8.1-niveau (SSE-ondersteuning vereist), Windows® 7 (32/64-bit)/Vista/XP, muis, toetsenbord, internetverbinding

Aanbevolen: Pentium 4-processor (3,0 GHz of meer), 1 GB RAM, grafische kaart op DirectX® 9-niveau, Windows® 7 (32/64-bit)/Vista/XP, muis, toetsenbord, internetverbinding



Systeemeisen (Mac)
Minimum: OS X version Leopard 10.5.8, Snow Leopard 10.6.3, 1GB RAM, NVIDIA GeForce 8 or higher, ATI X1600 or higher, or Intel HD 3000 or higher Mouse, Keyboard, Internet Connection
Nuttige klantrecensies