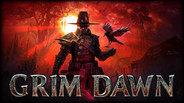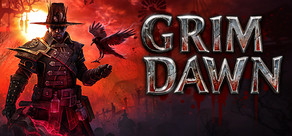 Enter an apocalyptic fantasy world where humanity is on the brink of extinction, iron is valued above gold and trust is hard earned. This ARPG features complex character development, hundreds of unique items, crafting and quests with choice & consequence.
Release Date: Nov 5, 2013
Watch HD video
Early Access Game
Get instant access and start playing; get involved with this game as it develops.
Learn more about Early Access.
What the developers say:
"We're still working on expanding content and features for Grim Dawn but it is already very playable and the core gameplay is fun and relatively polished. The first two acts are currently available and most players have reported their first run taking between 12-24 hours and some have already logged hundreds of hours with replays and item farming. We still have significant content to develop and some features, such as multiplayer, are not yet online. Join us as we roll out new content, features and continue to refine the gameplay experience based on your feedback.

Grim Dawn is a passion project by a small team of experienced developers. Please be aware that we do our best to maintain a stable, enjoyable experience but because the game is in active development and things are constantly changing, problems do sometimes arise. You may also find that our pace of development is not as fast as larger teams. If you're looking for a polished gameplay experience right now and / or would be upset by delayed releases or slow updates, then you'd probably be happier waiting for the final release.

Look below for more detailed information on the current state of Grim Dawn and what's to come."
Read more
April 23rd, 2014
We are proud to announce that another major system has come online: Crafting!

With the addition of crafting, Grim Dawn has taken another significant step towards feature-complete. This system is available now with the release of Build 18.

In case that was not news enough, Build 18 adds several other exciting features to the game, including:

Crafting is now available! A new quest that begins in Burrwitch Outskirts will have you choose between two rival blacksmiths vying for control of a sacred hammer. Each blacksmith has their own unique style that will be imprinted upon every item they craft for you.

Over 150 crafting recipes have been added to the game.

The character sheet has been overhauled to provide a much more detailed view of your stats from gear and skills. Offensive and Defensive Ability rollovers now display the chance to hit/crit based on your last target/attacker.

Normal difficulty now has "Veteran" mode, which boosts various enemy stats, notably damage and also increases the number of champions and heroes that can spawn. Veteran isn't meant to be brutally challenging but should be enough to make normal difficulty more interesting for skilled players, while allowing us to balance the default for the average player. Veteran can be turned on and off from the character selection screen. Characters who play through normal difficulty on veteran mode should end up a little better equipped to tackle epic difficulty once it becomes available.

Increased randomization of enemy spawns - a new method of placing spawn proxies allows us to provide much greater randomization in terms of how enemies are distributed. You'll now find that the location of enemies is more random and that they can sometimes appear in much larger and more diverse packs.

Dual wielding of pistols is now possible via skills granted by items. One such item can be crafted with the new blacksmith.
You can read the complete changelog
here
.
Development News:
We've made significant progress with multiplayer after having to rewrite a lot of the existing code that was originally written for GameSpy (which is shutting down). The last tricky component is designing a system to resolve differences in player's quest progress and quest choices. Allowing people who have made divergent quest choices to play together is particularly difficult but we think we've arrived at a reasonable solution and have begun implementing it. We're currently estimating that multiplayer may be ready in late July but we'll have a better idea once we finish the quest syncing and do some testing to see how well it is functioning.
Two-handed melee weapon animations have been finished and the last of the common item art is almost done. You can expect to see them in the next build, which shouldn't be long.
The lower floors of Steps of Torment will also be included in the next build and introduce a new "Rogue-like" mechanic where a key must be used to enter and then, once inside, portals do not work and the only way out is by death or surviving to the end. New varieties of traps will make reaching the end especially challenging.
The first section of Act III, the Jagged Waste, which leads into Homestead, the Act III "town," is nearly finished but missing quests and points of interest. The basic layout of the survivor enclave in Homestead is done and build-out has begun on the farmland around it. We should be able to show off some early screenshots in the next month or two.
26 comments
Read more
March 7th, 2014
You guys have been busy with Act II, and we have been busy making sure your experience is as smooth as possible

In light of this, we just released our latest patch for the game, bringing Grim Dawn to v0.2.3.4!

This hotfix includes corrections to several issues players have observed since Act II went live, as well as some balancing adjustments to gear and masteries.

You can read the full patch notes here.
14 comments
Read more
Reviews
"Grim Dawn's the action RPG I've enjoyed most in quite some time, and I'm very keen to try the later chapters as they're released. More so than Torchlight 2, which was a bit too much of a sugar rush experience for me, and certainly more so than Diablo III"
Rock Paper Shotgun

"Grim Dawn has earned my trust in a viable future; its foundation--the refined action and rock-solid character progression--is so sturdy that from moment to moment, there's little to remind you that you're playing an unfinished game."
GameSpot

"If acquiring loot, battling monsters and progressing a character to amazing heights is your thing, then, again, Grim Dawn is a great game to look into."
http://www.mmorpg.com/showFeature.cfm/loadFeature/8314/page/1

About the Game
Enter an apocalyptic fantasy world where humanity is on the brink of extinction, iron is valued above gold and trust is hard earned. This ARPG features complex character development, hundreds of unique items, crafting and quests with choice & consequence.
Crate Entertainment is a small indie studio founded by the lead gameplay designer of Titan Quest. Join the Grim Dawn community and provide feedback on the ongoing development of the game. Be among the first to experience our growing world, new features and make your mark by participating in polls and discussions on our forum.
Key Features
Dual class - combine any of five distinct skill classes each with multiple skill trees in which to specialize. Advance your class mastery to unlock over 25 powerful skills and synergistic modifiers per class. Soldier, Demolitionist, Occultist and Nightblade are currently playable with the Arcanist on the way.

Augment your class build with a diverse array of unique skills granted by items and components.

Collect hundreds of items in common, magical, rare, epic and legendary classes of loot.

Quests with Choice and consequence mean you will face tough decisions that leave significant impacts upon the world. Strangers on the road, desperate families and even entire villages may live or perish based on your actions.

Recruit survivors who will lend their services to augment your power. Upgrade the town to improve the lives of human survivors.

Gain favor with different NPC factions to unlock additional quest lines and earn perks like merchant discounts. However, aiding one faction could turn a rival faction into your enemy.

Fast-paced tactical combat with enemy blood spatters, ragdoll physics and satisfying enemy death effects. Smash in doors and fight house to house, leaving a path of demolished furniture in your wake.

Rotate the camera if you choose to survey the full beauty of the world and always fight from the most optimal angle. Levels are still designed so that players are not forced to rotate the camera; it is purely optional.

Test your hero against over 100 named hero monsters, hand-configured with their own unique arrays of deadly skills.

Explode obstacles or repair structures to open new paths.

Descend into special "challenge dungeons" where enemies levels increase as you progress.

Dynamic Weather brings the world to life with region-specific climates and a variety of weather effects. A sunny day can cloud over with mild rain showers that builds into a booming thunderstorm. Variable wind gusts blow grass and affect objects like windmills.

Connect with old friends or make new allies in glorious multiplayer. Multiplayer encounters will put your teamwork to the ultimate challenge. (multiplayer is not yet available but is expected in early 2014)

Collect item recipes that allow you to combine salvaged components into unique crafted items and then, later, use those basic crafted items with higher-tiered recipes to complete items of unprecedented badassness. (still in development but almost ready to roll out)

The ability to spend money to reclaim skill points alleviates the fear and frustration of having to make early, uninformed decisions that could permanently nerf a character.
Development Roadmap
You can currently play the first two "Acts" of Grim Dawn and up to character level 35, with some additional higher level secret areas to be found beyond the main story content. While content is still in development, the core gameplay is already fairly robust and a lot of fun. There is quite a lot of replay value between trying different classes / builds and collecting items. We're still refining gameplay based on player feedback, adding requested features and working to deliver the remaining content and additional slated features. Most players report that the current build is fairly stable with mostly mild bugs and we're always working to fix bugs as they come up. Here is some of the stuff we plan to roll out in the coming months:
Currently in development:

Continued optimization and bug fixing

Item crafting coming in spring 2014

Additional difficulty modes and multiplayer should become available early to middle of 2014

More questing and NPC interaction involving factions

5th player class, the Arcanist, should be ready early to middle of 2014

Additional big content releases in mid to late 2014
We expect the final game will provide about 30-40 hours for a first-time play-through on normal difficulty, depending on level of exploration / clearing. This is our first game as a studio and we intend for Grim Dawn to be a continuing franchise, not just a one-off game. So it is important that we put in the time and effort to create something we're proud of, that will help us to earn a loyal fanbase for the future. We hope you'll come be part of this experience and help us to forge a strong new addition to the ARPG genre.
System Requirements
Minimum:


OS: Windows XP / Windows Vista / Windows 7 / Windows 8

Processor: x86 compatible 2.0GHz or faster processor

Memory: 1 GB RAM

Graphics: 512MB NVIDIA GeForce 6800 series or ATI Radeon X800 series or better

DirectX: Version 9.0c

Hard Drive: 5 GB available space

Sound Card: DirectX 9.0c compatible 16-bit sound card
Recommended:


OS: Windows 7

Processor: x86 compatible 3.0GHz or faster processor

Memory: 2 GB RAM

Graphics: 1.5GB NVIDIA GeForce 500 series or ATI Radeon 6000 series or better

DirectX: Version 11

Hard Drive: 5 GB available space
Grim Dawn is the intellectual property of Crate Entertainment LLC, all rights reserved.
Helpful customer reviews
Title:
Grim Dawn
Genre:
Action
,
Adventure
,
Early Access
,
Indie
,
RPG
Publisher:
Crate Entertainment
Release Date:
Nov 5, 2013
Languages:
| | Interface | Full audio | Subtitles |
| --- | --- | --- | --- |
| English | | | |