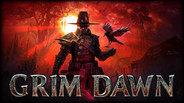 Enter an apocalyptic fantasy world where humanity is on the brink of extinction, iron is valued above gold and trust is hard earned. This ARPG features complex character development, hundreds of unique items, crafting and quests with choice & consequence.
Release Date: Nov 5, 2013
Watch HD video
Early Access Game
Get instant access and start playing; get involved with this game as it develops.
Note: This Early Access game may or may not change significantly over the course of development. If you are not excited to play this game in its current state, then you may want to wait until the game progresses further in development. Learn more
What the developers have to say:
"We're still working on expanding content and features for Grim Dawn but it is already very playable and the core gameplay is fun and relatively polished. The first two acts are currently available and most players have reported their first run taking between 12-24 hours and some have already logged hundreds of hours with replays and item farming. We still have significant content to develop and some features, such as multiplayer, are not yet online. Join us as we roll out new content, features and continue to refine the gameplay experience based on your feedback.

Grim Dawn is a passion project by a small team of experienced developers. Please be aware that we do our best to maintain a stable, enjoyable experience but because the game is in active development and things are constantly changing, problems do sometimes arise. You may also find that our pace of development is not as fast as larger teams. If you're looking for a polished gameplay experience right now and / or would be upset by delayed releases or slow updates, then you'd probably be happier waiting for the final release.

Look below for more detailed information on the current state of Grim Dawn and what's to come." Read more
September 10
As always, we are highly committed to ensuring that your experience playing Grim Dawn is as fun and stable as possible.

Over the last 2 weeks, we have released a series of hotfixes for Build 20, which resolved various issues reported by our players.

You can read the complete hotfix changelogs here.

Work is now progressing full steam ahead on getting Build 21 out to you as soon as possible!
11 comments
Read more
August 29
The age of multiplayer has arrived. With the release of Build 20, you may now host and join multiplayer sessions in Grim Dawn!

Please be aware that this feature is still being improved upon so while it is playable enough to be fun, it is very likely that you will encounter performance issues, crashes, and bugs. As always, please post your findings at our forum.

Multiplayer is just the tip of the iceberg however. There are tons of amazing changes that should enrich your experience, even if you are a fan of singleplayer.

You can read the complete changelog here.
23 comments
Read more
Reviews
"Grim Dawn's the action RPG I've enjoyed most in quite some time, and I'm very keen to try the later chapters as they're released. More so than Torchlight 2, which was a bit too much of a sugar rush experience for me, and certainly more so than Diablo III"
Rock Paper Shotgun

"Grim Dawn has earned my trust in a viable future; its foundation--the refined action and rock-solid character progression--is so sturdy that from moment to moment, there's little to remind you that you're playing an unfinished game."
GameSpot

"If acquiring loot, battling monsters and progressing a character to amazing heights is your thing, then, again, Grim Dawn is a great game to look into."
MMORPG

About the Game
Enter an apocalyptic fantasy world where humanity is on the brink of extinction, iron is valued above gold and trust is hard earned. This ARPG features complex character development, hundreds of unique items, crafting and quests with choice & consequence.
Crate Entertainment is a small indie studio founded by the lead gameplay designer of Titan Quest. Join the Grim Dawn community and provide feedback on the ongoing development of the game. Be among the first to experience our growing world, new features and make your mark by participating in polls and discussions on our forum.
Key Features
Dual class - combine any of five distinct skill classes each with multiple skill trees in which to specialize. Advance your class mastery to unlock over 25 powerful skills and synergistic modifiers per class. Soldier, Demolitionist, Occultist and Nightblade are currently playable with the Arcanist on the way.

Augment your class build with a diverse array of unique skills granted by items and components.

Collect hundreds of items in common, magical, rare, epic and legendary classes of loot.

Quests with Choice and consequence mean you will face tough decisions that leave significant impacts upon the world. Strangers on the road, desperate families and even entire villages may live or perish based on your actions.

Recruit survivors who will lend their services to augment your power. Upgrade the town to improve the lives of human survivors.

Gain favor with different NPC factions to unlock additional quest lines and earn perks like merchant discounts. However, aiding one faction could turn a rival faction into your enemy.

Connect with old friends or make new allies in glorious multiplayer. Multiplayer encounters will put your teamwork to the ultimate challenge.

Fast-paced tactical combat with enemy blood spatters, ragdoll physics and satisfying enemy death effects. Smash in doors and fight house to house, leaving a path of demolished furniture in your wake.

Rotate the camera if you choose to survey the full beauty of the world and always fight from the most optimal angle. Levels are still designed so that players are not forced to rotate the camera; it is purely optional.

Test your hero against over 100 named hero monsters, hand-configured with their own unique arrays of deadly skills.

Explode obstacles or repair structures to open new paths.

Descend into special "challenge dungeons" where enemies levels increase as you progress.

Dynamic Weather brings the world to life with region-specific climates and a variety of weather effects. A sunny day can cloud over with mild rain showers that builds into a booming thunderstorm. Variable wind gusts blow grass and affect objects like windmills.

Collect item recipes that allow you to combine salvaged components into unique crafted items and then, later, use those basic crafted items with higher-tiered recipes to complete items of amazing power.

The ability to spend money to reclaim skill points alleviates the fear and frustration of having to make early, uninformed decisions that could permanently gimp a character.
Development Roadmap
You can currently play the first two "Acts" of Grim Dawn and up to character level 35, with some additional higher level secret areas to be found beyond the main story content. While content is still in development, the core gameplay is already fairly robust and a lot of fun. There is quite a lot of replay value between trying different classes / builds and collecting items. We're still refining gameplay based on player feedback, adding requested features and working to deliver the remaining content and additional slated features. Most players report that the current build is fairly stable with mostly mild bugs and we're always working to fix bugs as they come up. Here is some of the stuff we plan to roll out in the coming months:
Currently in development:

Continued optimization and bug fixing

More questing and NPC interaction involving factions

5th player class, the Arcanist, will be released Oct 2014

Additional big content releases in late 2014
We expect the final game will provide about 30-40 hours for a first-time play-through on normal difficulty, depending on level of exploration / clearing. This is our first game as a studio and we intend for Grim Dawn to be a continuing franchise, not just a one-off game. So it is important that we put in the time and effort to create something we're proud of, that will help us to earn a loyal fanbase for the future. We hope you'll come be part of this experience and help us to forge a strong new addition to the ARPG genre.
System Requirements
Minimum:


OS: Windows XP / Windows Vista / Windows 7 / Windows 8

Processor: x86 compatible 2.0GHz or faster processor

Memory: 2 GB RAM

Graphics: 512MB NVIDIA GeForce 6800 series or ATI Radeon X800 series or better

DirectX: Version 9.0c

Hard Drive: 5 GB available space

Sound Card: DirectX 9.0c compatible 16-bit sound card

Additional Notes: 4GB of memory is required to host multiplayer games
Recommended:


OS: Windows 7

Processor: x86 compatible 3.0GHz or faster processor

Memory: 4 GB RAM

Graphics: 1.5GB NVIDIA GeForce 500 series or ATI Radeon 6000 series or better

DirectX: Version 11

Hard Drive: 5 GB available space

Additional Notes: 4GB of memory is recommended to host multiplayer games
Grim Dawn is the intellectual property of Crate Entertainment LLC, all rights reserved.
Helpful customer reviews
Title:
Grim Dawn
Genre:
Action
,
Adventure
,
Indie
,
RPG
,
Early Access
Publisher:
Crate Entertainment
Release Date:
Nov 5, 2013
Languages:
| | Interface | Full audio | Subtitles |
| --- | --- | --- | --- |
| English | | | |