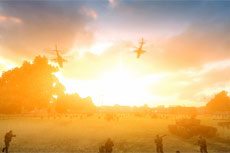 É necessário possuir World In Conflict no Steam para usar este conteúdo.

Data de lançamento: 11/mar/2009
Assistir ao vídeo em HD
Conteúdo adicional
É necessário possuir World In Conflict no Steam para usar este conteúdo.
Comprar World in Conflict: Soviet Assault Expansion
Pacotes que incluem este jogo
Comprar World in Conflict: Complete Edition
Inclui 2 itens: World In Conflict, World In Conflict: Soviet Assault
Sobre o jogo
O jogo que foi universalmente aclamado Jogo de Estratégia do Ano de 2007 retorna com novo conteúdo! World In Conflict Soviet Assault apresenta 6 novas campanhas solo, diversas armas novas e ação ainda mais explosiva da Terceira Guerra Mundial. As novas missões são intercaladas com a história original, mas desta vez você vai ao ataque conforme toma o controle do exército soviético na tentativa de tingir de vermelho a bandeira do mundo livre.
A expansão Soviet Assault é totalmente compatível com seus jogos salvos do World In Conflict original.
Requisitos de sistema
OS: Windows® XP/Windows Vista® (only)
Processor: 2.0 GHz or faster single-core (2.2 GHz for Windows Vista) or any dual-core Intel® or AMD® (2.5 GHz or faster recommended)
Memory: 512 MB Windows XP (1024 MB recommended)/1 GB Windows Vista (1.5 GB recommended)
Graphics: 128 MB DirectX® 9.0c–compatible (256 MB DirectX 9.0c–compatible recommended)(see supported list*)
DirectX Version: DirectX 9.0c
Hard Drive: 8 GB Free Space
Sound: DirectX 9.0c–compatible
Peripherals Supported: Windows-compliant keyboard and mouse
Multiplayer: Broadband connection with 128 kbps upstream or faster

*Supported Video Cards at Time of Release:
NVIDIA® GeForce® 6/7/8/9/X200 series, ATI® 9600-9800/X300-X850/X1050/X1300/X1550-X1950/HD 2400-4800 series

Laptop versions of these cards may work but are NOT supported. These chipsets are the only ones that will run this game. For the most up-to-date minimum requirement listings, please visit the FAQ for this game on our support website at: http://support.ubi.com.
© 2008 Ubisoft Entertainment. All Rights Reserved. World in Conflict, Massive Entertainment the Massive Entertainment logo, Ubisoft, Ubi.com and the Ubisoft logo are trademarks of Ubisoft Entertainment in the US and/or other countries. Software platform logo (TM and ©) EMA 2006.
Análises úteis de usuários