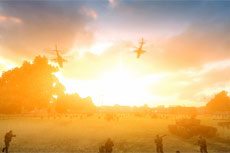 Kräver basspelet World In Conflict på Steam för att kunna spelas.

Utgivningsdatum: 11 mar, 2009
Se HD-film
Nerladdingsbart innehåll
Kräver basspelet World In Conflict på Steam för att kunna spelas.
Köp World in Conflict: Soviet Assault Expansion
Paket som innehåller detta spel
Köp World in Conflict: Complete Edition
Innehåller 2 saker: World In Conflict, World In Conflict: Soviet Assault
Om spelet
The game that was universally hailed as Strategy Game of the Year 2007 returns with all new content! World In Conflict Soviet Assault features 6 new single missions a bevy of new weapons and even more explosive World War III action. The new missions are interspersed with the storyline of original, but now you'll go on the attack as you take control of the Soviet army in an attempt to paint the free world red.
The Soviet Assault expansion is fully compatible with your original World In Conflict save files.
Systemkrav
Operativsystem: Windows® XP/Windows Vista® (endast)
Processor: 2.0 GHz eller snabbare single-core (2.2 GHz för Windows Vista) eller vilket som helst dual-core Intel® eller AMD® (2.5 GHz eller snabbare rekommenderas)
Minne: 512 MB Windows XP (1024 MB rekommenderas)/1 GB Windows Vista (1.5 GB rekommenderas)
Grafik: 128 MB DirectX® 9.0c–kompatibel (256 MB DirectX 9.0c–kompatibel rekommenderas)(se listan*)
DirectX Version: DirectX 9.0c
Hårddisk: 8 GB ledigt utrymme
Ljud: DirectX 9.0c–kompatibel
Kringutrustning som stöds: Windows-kompatibelt tangentbord och mus
Flerspelarläge: Bredbandsanslutning med 128 kbps upp eller snabbare

*Grafikkort som stöds vid släpp:
NVIDIA® GeForce® 6/7/8/9/X200-serien, ATI® 9600-9800/X300-X850/X1050/X1300/X1550-X1950/HD 2400-4800-serien

Laptop versioner av dessa kort kan fungera men stöds INTE. Dessa chipsets är de enda som kommer kunna köra detta spel. För den mest uppdaterade listan över minimikrav kan du gå till de vanliga frågorna för detta spel på vår supportsida på: http://support.ubi.com.
© 2008 Ubisoft Entertainment. All Rights Reserved. World in Conflict, Massive Entertainment the Massive Entertainment logo, Ubisoft, Ubi.com and the Ubisoft logo are trademarks of Ubisoft Entertainment in the US and/or other countries. Software platform logo (TM and ©) EMA 2006.
Hjälpsamma kundrecensioner