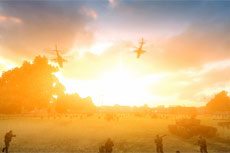 Este contenido requiere el juego base World In Conflict en Steam para poder jugar.

Fecha de lanzamiento: 11 de Mar, 2009
Ver vídeo en alta definición
Contenido descargable
Este contenido requiere el juego base World In Conflict en Steam para poder jugar.
Comprar World in Conflict: Soviet Assault Expansion
Paquetes que incluyen este juego
Comprar World in Conflict: Complete Edition
Incluye 2 artículos: World In Conflict, World In Conflict: Soviet Assault
Acerca del juego
¡El juego universalmente aclamado como Strategy Game of the Year 2007 vuelve con nuevos contenidos! World In Conflict Soviet Assault contiene 6 nuevas misiones, una colección de nuevas armas y la acción de la Tercera Guerra Mundial más explosiva. Las nuevas misiones están intercaladas con el argumento del juego original, pero ahora formarás parte de la ofensiva tomando el control del Ejercito Soviético en el intento de pintar el mundo libre de rojo.
La expansión Soviet Assault es totalmente compatible con tus partidas salvadas de tu World In Conflict original.
Requisitos del sistema
Sistema Operativo: Windows® XP/Windows Vista® (only)
Procesador: Single Core de 2.0 GHz o más rápido (2.2 GHz para Windows Vista) o cualquier Dual Core Intel® o AMD® (recomendado 2.5 GHz o más)
Memoria: 512 MB Windows XP (1024 MB recomendados)/1 GB Windows Vista (1.5 GB recomendados)
Gráficos: Compatible 128 MB DirectX® 9.0c (recomendado compatible con 256 MB DirectX 9.0c)(ver lista de tarjetas soportadas*)
Versión de DirectX: DirectX 9.0c
Disco Duro: 8 GB de espacio libre en el disco
Sonido: Compatible con DirectX 9.0c
Perifericos soportados: Teclado y ratón compatibles con Windows
Multijugador: Conexión de banda ancha con 128 kbps de subida o más

*Tarjetas de Video Soportadas a Fecha de Lanzamiento del Juego:
Series NVIDIA® GeForce® 6/7/8/9/X200 , Series ATI® 9600-9800/X300-X850/X1050/X1300/X1550-X1950/HD 2400-4800

Es posible que las versiones para ordenadores portátiles de estas tarjetas funcionen, pero no están soportadas. Estos chipsets son los únicos sobre los que funcionará el juego. Para obtener información actualizada sobre los requerimientos mínimos, por favor visita el FAQ de este juego en nuestra página de soporte en: http://support.ubi.com.
© 2008 Ubisoft Entertainment. All Rights Reserved. World in Conflict, Massive Entertainment the Massive Entertainment logo, Ubisoft, Ubi.com and the Ubisoft logo are trademarks of Ubisoft Entertainment in the US and/or other countries. Software platform logo (TM and ©) EMA 2006.
Análisis útiles de usuarios