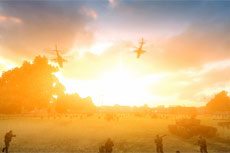 Este artigo requer o jogo base World In Conflict no Steam para poder ser jogado.

Data de lançamento: 11 Mar, 2009
Ver vídeo HD
Conteúdo Transferível
Este artigo requer o jogo base World In Conflict no Steam para poder ser jogado.
Comprar World in Conflict: Soviet Assault Expansion
Pacotes que incluem este jogo
Comprar World in Conflict: Complete Edition
Inclui 2 itens: World In Conflict, World In Conflict: Soviet Assault
Acerca do Jogo
The game that was universally hailed as Strategy Game of the Year 2007 returns with all new content! World In Conflict Soviet Assault features 6 new single missions a bevy of new weapons and even more explosive World War III action. The new missions are interspersed with the storyline of original, but now you'll go on the attack as you take control of the Soviet army in an attempt to paint the free world red.
The Soviet Assault expansion is fully compatible with your original World In Conflict save files.
Requisitos do Sistema
OS: Windows® XP/Windows Vista® (only)
Processor: 2.0 GHz or faster single-core (2.2 GHz for Windows Vista) or any dual-core Intel® or AMD® (2.5 GHz or faster recommended)
Memory: 512 MB Windows XP (1024 MB recommended)/1 GB Windows Vista (1.5 GB recommended)
Graphics: 128 MB DirectX® 9.0c–compatible (256 MB DirectX 9.0c–compatible recommended)(see supported list*)
DirectX Version: DirectX 9.0c
Hard Drive: 8 GB Free Space
Sound: DirectX 9.0c–compatible
Peripherals Supported: Windows-compliant keyboard and mouse
Multiplayer: Broadband connection with 128 kbps upstream or faster

*Supported Video Cards at Time of Release:
NVIDIA® GeForce® 6/7/8/9/X200 series, ATI® 9600-9800/X300-X850/X1050/X1300/X1550-X1950/HD 2400-4800 series

Laptop versions of these cards may work but are NOT supported. These chipsets are the only ones that will run this game. For the most up-to-date minimum requirement listings, please visit the FAQ for this game on our support website at: http://support.ubi.com.
© 2008 Ubisoft Entertainment. All Rights Reserved. World in Conflict, Massive Entertainment the Massive Entertainment logo, Ubisoft, Ubi.com and the Ubisoft logo are trademarks of Ubisoft Entertainment in the US and/or other countries. Software platform logo (TM and ©) EMA 2006.
Análises úteis de clientes