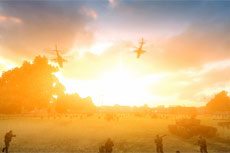 Dieses Produkt benötigt zum Spielen die Steam-Version des Hauptspiels World In Conflict.

Veröffentlichung: 11. März 2009
HD-Video ansehen
Inhalte zum Herunterladen
Dieses Produkt benötigt zum Spielen die Steam-Version des Hauptspiels World In Conflict.
World in Conflict: Soviet Assault Expansion kaufen
Pakete, die dieses Spiel enthalten
World in Conflict: Complete Edition kaufen
Enthält 2 Artikel: World In Conflict, World In Conflict: Soviet Assault
Über das Spiel
Das Strategiespiel des Jahres 2007 kommt mit vollkommen neuen Inhalten wieder! World In Conflict Soviet Assault bietet 6 neue Einzelmissionen, eine Vielzahl an neuen Waffen und noch mehr explosive Action des Dritten Weltkrieges. Die neuen Aufgaben sind zwar mit der Geschichtshandlung des Originalspieles verknüpft, aber dieses Mal übernehmen Sie den Angriff und steuern die sowjetische Armee, um die gesamte freie Welt rot zu färben.
Die Soviet Assault Erweiterung ist vollständig kompatibel mit Ihren originalen World in Conflict Speicherdateien.
Systemvoraussetzungen
Betriebssystem: Windows® XP/Windows Vista® (ausschließlich)
Prozessor: mind. 2.0 GHz Singlecore (2.2 GHz für Windows Vista) oder Intel® oder AMD® Dualcore (2.5 GHz oder schneller empfohlen)
Speicher: 512 MB Windows XP (1024 MB empfohlen)/1 GB Windows Vista (1.5 GB empfohlen)
Grafik: 128 MB DirectX® 9.0c–kompatibel (256 MB DirectX 9.0c–kompatibel empfohlen)(siehe Liste unterstützter Karten*)
DirectX: DirectX 9.0c
Festplatte: 8 GB frei
Sound: DirectX 9.0c–kompatibel
Peripherie: Windows-kompatible Tastatur und Maus
Mehrspielermodus: Breitbandverbindung mit 128 kbps Upstream oder schneller

*Unterstützte Grafikkarten - Stand Veröffentlichungsdatum:
NVIDIA® GeForce® 6/7/8/9/X200 Serien, ATI® 9600-9800/X300-X850/X1050/X1300/X1550-X1950/HD 2400-4800 Serien

Laptop-Versionen dieser Grafikkarten können funktionieren, werden aber nicht unterstützt. Bitte durchsuchen Sie die FAQ für dieses Spiel, um eine aktuelle Liste unterstützter Grafikkarten und Betriebssysteme zu erhalten: http://Unterstützung.ubi.com.
© 2008 Ubisoft Entertainment. All Rights Reserved. World in Conflict, Massive Entertainment the Massive Entertainment logo, Ubisoft, Ubi.com and the Ubisoft logo are trademarks of Ubisoft Entertainment in the US and/or other countries. Software platform logo (TM and ©) EMA 2006.
Hilfreiche Kundenreviews