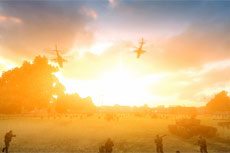 Ce contenu nécessite le jeu de base World In Conflict sur Steam pour fonctionner.

Date de parution: 11 mar 2009
Visionner la vidéo HD
Contenu téléchargeable
Ce contenu nécessite le jeu de base World In Conflict sur Steam pour fonctionner.
Acheter World in Conflict: Soviet Assault Expansion
Packages qui comprennent ce jeu
Acheter World in Conflict: Complete Edition
Inclut les 2 articles suivants : World In Conflict, World In Conflict: Soviet Assault
À propos du jeu
Le jeu acclamé comme étant le jeu de stratégie de l'année 2007 nous revient avec un tout nouveau contenu ! World In Conflict Soviet Assault comprend 6 nouvelles missions solo et encore plus d'action explosive. Les nouvelles missions sont comprises dans un scénario original. Vous jouerez pour le camp soviétique et tenterez de faire triompher vos idées révolutionnaires.
Cette extension est entièrement compatible avec le jeu original World In Conflict.
Configuration requise
Interface : Windows® XP/Windows Vista® (exclusif)
Processeur : 2.0 GHz ou plus rapide single-core (2.2 GHz pour Windows Vista) ou n'importe quel dual-core Intel® ou AMD® (2.5 GHz ou plus rapide Recommandé)
Mémoire : 512 Mo Windows XP (1024 Mo Recommandée)/1 Go Windows Vista (1.5 Go Recommandée)
Graphismes : 128 Mo compatible DirectX® 9.0c (256 Mo Recommandés)(voir liste*)
Version DirectX : DirectX 9.0c
Disque dur : 8 Go d'espace disque
Son : Compatible DirectX 9.0
Périphériques : Windows-compatible clavier et souris
multijoueur : connexion haut débit avec 128 kbps ascendants ou plus rapide

*Carte vidéos supportées au jour de la sortie :
NVIDIA® GeForce® 6/7/8/9/X200, ATI® 9600-9800/X300-X850/X1050/X1300/X1550-X1950/HD 2400-4800

Versions portable de ces circuits ne sont pas supportées. Pour plus d'information veuillez consulter : http://support.ubi.com.
© 2008 Ubisoft Entertainment. All Rights Reserved. World in Conflict, Massive Entertainment the Massive Entertainment logo, Ubisoft, Ubi.com and the Ubisoft logo are trademarks of Ubisoft Entertainment in the US and/or other countries. Software platform logo (TM and ©) EMA 2006.
Évaluations intéressantes des utilisateurs