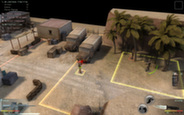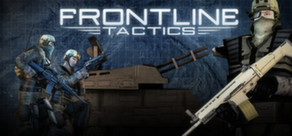 Frontline Tactics vous met aux commandes d'une unité de combat d'élite dans différentes missions ; de la défense et le contrôle d'un lieu à de la survie et de l'élimination.
Date de parution: 26 oct 2012
Visionner la vidéo HD
Jouer à Frontline Tactics
Contenu téléchargeable disponible pour ce jeu
Acheter Frontline Tactics Complete Pack
Inclut les 9 articles suivants : Frontline Tactics - Sniper, Frontline Tactics - Close Quater Combat Soldier, Frontline Tactics - Medic, Frontline Tactics - Woodland Camouflage, Frontline Tactics - Ninja Camouflage, Frontline Tactics - Desert Camouflage, Frontline Tactics - Snow Camouflage, Frontline Tactics - Tiger Camouflage, Frontline Tactics - Golden Guns
Articles
"Frontline Tactics est le modèle parfait du jeu gratuit de qualité que vous pouvez trouver sur le marché."
– Gamespy
Key Features
A highly addictive military tactics game with cross platform multiplayer over a variety of desktop and mobile releases

Frontline Tactics is free to play; no subscription fee required to enjoy everything the battlefield has to offer

Single player with completely realistic AI

Multiplayer modes; versus and coop that allow you to battle against or with real players in numerous missions

Realistic world setting with authentically designed gear, weapons and armor

Customize your soldiers for each mission with weapons, armor, equipment and skills to survive in the battlefield

Unique and dynamic battle order system keeping gameplay exciting and demanding

Unlock various Achievements as you move closer to victory

Progressive development schedule including free software updates and features, and new purchasable character packs, and in-game items
Mise à jour
New features with Version 1.2:

Friendlist upgrade; add players to your friendlist from random opponent battles. Who was once a stranger can maybe be your best battle companion!

Post game chat for meeting up with new and long time in-game friends. Discuss strategy, schedule your next campaign, or simply hang out!

Improved chat UI; easier to read and coordinate chat with friends

Full controller Support on Steam Big Picture! Take the battle to the big screen with your 360 controller on your PC
Steam Big Picture
À propos du jeu
Un regard nouveau sur le style 'Tactique tour par tour' avec mode multijoueur inter-plateformes sur PC, Mac et appareils Mobile iOS !
2025 - Un petit groupe militaire dissident dirigé par un fou ; Akhali Muhamar menace de s'emparer de Fahrahn, nation riche en pétrole. Le pays fournit grandement l'occident et les intérêts nationaux sont menacés. Un groupe de soldats d'élite est appelé pour maîtriser la révolte et maintenir la paix par l'action militaire avant que cela ne dégénère en guerre à grande échelle.
Tactique de Première Ligne vous permet de contrôler une unité d'élite à travers plusieurs missions ; de la défense et du contrôle d'un lieu jusqu'à l'élimination totale et la survie. Équipez vos soldats avec des armes, des armures et un équipement modernes et donnez-leur les aptitudes pour réussir. Jouez contre une IA impitoyable en solo ou combattez en multijoueur dans les modes versus ou coop sur plusieurs plateformes : PC, Mac et iOS.
Caractéristiques
Un jeu militaire tactique hautement addictif jouable sur plusieurs plateformes d'ordinateur et de mobile

Un cadre du monde réaliste avec d'authentiques modèles de personnage, armes et armure

Personnalisez vos soldats pour chaque mission avec armes, armure, équipement et aptitudes pour survivre sur le champ

Un système de bataille unique et dynamique qui maintient le champ de bataille animé et exigeant

Solo avec une IA complètement réaliste

Modes multijoueur : versus et coop vous permettant de vous battre contre ou avec de vrais joueurs dans de nombreuses missions

Débloquez divers Succès à mesure que vous vous rapprochez de la victoire

Frontline Tactics est un jeu gratuit. Un abonnement n'est pas nécessaire pour profiter de tout ce que le champ de bataille a à offrir
Configuration requise (PC)
Minimum :


Système d'exploitation : Windows 7 / Vista / XP

Processeur : 1 GHz

Mémoire vive : 1 Go de RAM

Affichage : 256 Mo de mémoire vidéo

Disque dur : 300 Mo d'espace disque disponible
Configuration requise (MAC)
Minimum :


Système d'exploitation : OS X version Snow Leopard 10.6 ou plus récent

Processeur : Intel 1 GHz

Mémoire vive : 1 Go de RAM

Affichage : 256 Mo de mémoire vidéo

Disque dur : 300 Mo d'espace disque disponible
2013 © Meridian4. All rights reserved. Frontline Tactics is a trademark of Full Control. All rights reserved. All other trademarks and copyrights are the properties of their respective owners.
Évaluations intéressantes des utilisateurs
Titre:
Frontline Tactics
Genre:
Action
,
Gratuit
,
Stratégie
Développeur:
Full Control / WIT Entertainment
Éditeur:
Meridian4
Date de parution:
26 oct 2012
Langues:
| | Interface | Son | Sous-titres |
| --- | --- | --- | --- |
| Français | | | |
| Anglais | | | |
| Allemand | | | |
| Italien | | | |
| Espagnol | | | |
| Russe | | | |
| Portugais | | | |
| Portugais du Brésil | | | |
Tout afficher 8 langues supportées