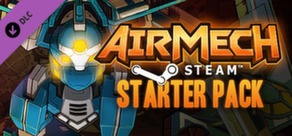 Questo contenuto ha bisogno del gioco di base AirMech su Steam per funzionare.
Data di rilascio: 5 ott 2012
Contenuti scaricabili
Questo contenuto ha bisogno del gioco di base AirMech su Steam per funzionare.
Acquista AirMech Steam Starter Pack
Get a head start on the competition!
Informazioni sul gioco
Want to fast track your AirMech experience? We've put together this Steam Starter Pack which gives you everything you need to get going and look good doing it! This Pack was designed with input from our Alpha and Beta players of what they think will help new players. Here's what you get:
7500 Diamonds: Ingame Premium Currency at a big discount
30 Days Gold VIP: Ingame rewards increased +30% Kudos, +15% XP (stacks with Boosts), +100% Solo/Coop reward time
10 Day Kudos Boost: +80% for the Player, +20% for others (including enemy) ingame (stackable)
10 Day XP Boost: +80% for the Player, +20% for others (including enemy) ingame (stackable)
Lifetime Silver VIP: Complete VIP Quests, +10% Kudos in all games, forever (activates when Gold VIP expires)
But you're a new player and all that might not mean much to you, so let's break it down:
Diamonds - This is our in-game premium currency which can be used to purchase cosmetic items, or unlock some things faster. If I were you, I'd hold onto these until you've played a few games because you can use Kudos to unlock a lot of things and this pack gives you a ton of boosts to your Kudos earn rate. If we had real marketing people they probably wouldn't want me telling you that, but hey we're just devs who want you to have a good time and zero regrets.
Gold VIP - This is the good stuff. We've had Silver VIP for a long time now, and have been listening to what players want. The biggest benefit here is not the increased rewards, but the bonus to Solo and Coop rewards. The way Solo and Coop works is you can play for up to 90 minutes per day and earn the same rewards you would if you were playing PvP. It's a great way to just practice against the bots, and also earn Kudos in a relaxed way that won't affect ranking or anything. With Gold VIP, this doubles to 180 minutes per day, so 3 hours total. Why not unlimited? We're aware there are exploits against the bots that can make it possible for people to just farm Kudos forever, which we feel is a bit unfair, plus it might screw up the economy down the road. For now it's limited, but you can still earn a lot, and this has been one of the most requested things by our players.
10 Day Boosts - The Kudos and XP Boosts are shamelessly lifted from what Dota 2 is doing because we think it's such a great idea. They are time based, so they kick in win or lose, and while you get 80%, every other player gets a 20% Boost. Yes, even the enemy players, and yes, it stacks. So if everyone in a room has Boosts, you're looking at +180% which is huge. Bonuses from your Pilot choice and your VIP level also stack on top of that!
Silver VIP - This is awarded to any player who spends a certain amount ingame, which I'd list here but this text won't display it in your local currency, but you can look at the price of this Starter Pack and that is it. So to make it simple, Silver VIP just automatically gets flagged on your account if you have this bundle, it doesn't matter if you bought it or your friend gifted it to you.
If you are still on the fence about anything, come ask us questions in the Steam forums, either the devs or other players will give you the straight info you are looking for. As a small developer, we are super appreciative of anyone who decides to put money into our game, and know that we will work hard for a long time to continue to grow AirMech into something amazing. Thanks for your support!
Requisiti di sistema
Minimum:

OS:Windows XP
Processor:Pentium 4
Memory:2 GB RAM
Graphics:Hardware Pixel Shader 2.1+
DirectX®:9.0c
Hard Drive:200 MB HD space
Sound:No
Other Requirements:Broadband Internet connection
Recommended:

OS:Windows 7
Processor:Core 2 Duo
Memory:4 GB RAM
Graphics:Hardware Pixel Shader 3.0+
DirectX®:9.0c
Hard Drive:200 MB HD space
Sound:Yes
Other Requirements:Broadband Internet connection
© 2012 Carbon Games Inc. AirMech is a trademark of Carbon Games Inc in the United States and other countries.
Non ci sono ancora recensioni pubbliche per questo prodotto
Puoi scrivere una recensione per questo prodotto per condividere la tua esperienza con la Comunità. Utilizza l'area sopra i pulsanti di acquisto su questa pagina per scrivere la recensione.
Titolo:
AirMech Steam Starter Pack
Genere:
Free-to-Play
,
Azione
,
Strategia
,
Indie
Sviluppatore:
Carbon Games
Editore:
Carbon Games
Data di rilascio:
5 ott 2012
Lingue:
| | Interfaccia | Audio completo | Sottotitoli |
| --- | --- | --- | --- |
| Italiano | | | |
| Inglese | | | |
| Tedesco | | | |
| Francese | | | |
| Spagnolo | | | |
| Russo | | | |
| Polacco | | | |
| Olandese | | | |
| Finlandese | | | |
| Svedese | | | |
| Ceco | | | |
| Portoghese brasiliano | | | |
Mostra tutte e 12 le lingue supportate