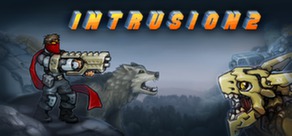 "This is some of the most fun I've had with a game so far this year, and it will go down as one of the best side-scrolling shooters of all time.
Veröffentlichung: 11. Sep. 2012
HD-Video ansehen
Reviews
"Ein Aufeinandertreffen von altem und neuem Gamedesign, bei dem jeder Moment mit einigen der aufregendsten Leveln und Bossen zur Anmut des Genres geschmückt wird. So unangebracht das auch klingen mag, dieses von einer einzigen Person erstellte Spiel schafft es nicht nur, mit den Klassikern mitzuhalten, es ist auch mindestens genauso gut wie Gunstar Heroes und Contra!"
9/10 – Destructoid
"Wenn Sie ein Fan des Genres sind, greifen sie ohne nachzudenken zu, eine vorbehaltlose Empfehlung!"
87/100 – IndieGameMag
"Ich muss Ihnen von Intrusion 2 erzählen, weil es wie ein Spiel ist, das meinen verrückten Träumen über Spiele, die nicht existieren könnten, entstammt."
– PCGamer
Über das Spiel
Intrusion 2 is an action platformer set in a sci-fi environment on a reserve planet occupied by a hostile military corporation conducting forbidden weapon research. Intrusion 2 is inspired by classic 16bit era sidescrollers and focuses on classic fast-paced action combined with modern physics and animation.
Key features:
9 huge action-packed levels
Enemy behavior based on physics and procedural animation
High interactive environment
3 multistage boss battles
3 difficulty modes, with more enemies and dangers on hard mode
Systemvoraussetzungen (PC)
Minimum:

Betriebssystem:Windows XP, Vista, Windows 7
Prozessor:2 GHz
Speicher:1 GB RAM
Grafik:DirecX 9 kompatibel
DirectX®:9.0
Festplatte:100 MB HD frei
Zusätzliche Informationen:XBox Controller unterstützt
Empfohlen:

Prozessor:2,4 GHz
Speicher:2 GB RAM
Zusätzliche Informationen:XBox Controller unterstützt
Systemvoraussetzungen (Linux)
Minimum:

Processor:2 GHz
Memory:1 GB RAM
Hard Drive:100 MB HD space
Additional:supports XBox Controller
Hilfreiche Kundenreviews