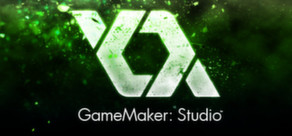 GameMaker: Studio is the perfect tool to develop casual and social games for iOS, Android, desktop and the web.
Release Date: Oct 2, 2012
Downloadable Content For This Game
Buy GameMaker: Studio Master Collection
Includes 7 items: GameMaker: Studio Professional, GameMaker: Studio HTML5, GameMaker: Studio iOS, GameMaker: Studio Android, GameMaker: Studio Windows Phone 8, GameMaker: Studio Ubuntu, GameMaker: Studio YoYo Compiler
July 22
Due to popular demand, we have extended the GameMaker Summer Sale onto Steam! Over the next 2 weeks, we are offering Steam users some fantastic GameMaker deals.

To get things started, GameMaker: Studio Professional is now $60.

http://store.steampowered.com/app/214850/
8 comments
Read more
April 24
A fix for the issues brought into Steam's latest client API preventing external SDKs and build tools to be called within GameMaker: Studio has now been pushed to Steam's public client beta prior to being released live.

Anyone can access the Steam client beta, so for instructions on how to opt into the beta, please see here: http://steamcommunity.com/groups/SteamClientBeta/discussions/1/864957817328247556/

A huge thank you to everyone for their patience while we looked into this and to the guys at Valve for responding and fixing this issue so quickly!

-The YoYo Team

1 comments
Read more
Steam Workshop

Find, play, and make games easily
Discover, rate, and download the best player-created games made in GameMaker: Studio for free. Or try making your own and share with the community.
Click here to learn more.
Update Notes
The GameMaker: Studio family of products caters to entry-level novices and seasoned game development professionals equally allowing them to create casual and social games for Steam Workshop, iOS, Android, Windows Phone, desktop and the Web (HTML5) in record time and at a fraction of the cost!

As well as making games development 80 percent faster than coding for native languages, developers can create fully functional prototypes in just a few hours, and a full game in just a matter of weeks.

And when you're done, GameMaker: Studio™ will produce an "app store"-ready iOS, Android, Windows Store, Windows Phone or OS X app, Windows executable or HTML5 code, all at the push of a button and all from the same source code. On top of this, you also gain instant access to more than 40 million registered Steam users through Steam Workshop, with direct upload straight from GameMaker: Studio™!

Discover how easy it is for yourself and get access to GameMaker: Studio™'s key features including its easy to use integrated development environment (IDE) powerful scripting language and Box 2D Physics by simply downloading GameMaker: Studio™ for free.
Steam Games made with GameMaker
Upgrade Options
Gamemaker: Studio™ Standard
Unlock unlimited resources with GameMaker: Studio™ STANDARD and distribute your games to Steam Workshop, Windows and Mac OS X users around the world.

Gamemaker: Studio™ Professional
GameMaker: Studio™ PROFESSIONAL unlocks the full power of GameMaker: Studio™, giving you all the great features of STANDARD with the added ability to purchase and plug-in the YoYo Compiler, Android, iOS, Windows Phone 8 and HTML5 export modules, collaborate within a team through subversion and monetize your game with an unprecedented amount of developer services.

Gamemaker: Studio™ Master Collection
Bringing all of GameMaker: Studio™'s best features and modules together, GameMaker: Studio™ MASTER COLLECTION gives you the power to create, test, monetize and distribute games to iOS, Android, Windows, Windows Store, Windows Phone 8, OSX and HTML5.
Key features:
Dedicated, game-focused IDE
The GameMaker: Studio™ IDE has all you need to deal with fonts, sounds, images and music, as well as other resources needed to create a game. It enables you to define game entities (known as 'objects') and their behaviours in an intuitive, event-driven way and has an easy to use drag-and-drop interface.
Powerful scripting language
With GameMaker: Studio™'s built-in GameMaker Language (GML), you can control every last detail of your game – path finding, physics, object interaction, particles, data structures and more …
And should you find that even that is still not enough for your project, you can easily expand GameMaker: Studio™ by using GML, JavaScript and Dynamic-Link Library Extension Packages.
Multi-format export
When combined with format-specific modules, GameMaker: Studio™ can take your game's single codebase and produce ready-to-run executables and apps for multiple platforms, with a single click.
With modules already available for Steam Workshop, Windows, Windows 8, Mac OS X, iOS*, Android*, Windows Phone 8* and HTML5* - and more to be announced soon - GameMaker: Studio™ is the fastest and simplest way to develop multi-platform games for mobile devices, home computers and the Web.
The YoYo Compiler
Games written in Studio can now harness the full speed of the CPU with the new native YoYo Compiler (YYC), allowing projects to run up to 100x faster than before, across all native platforms supported by Studio. Unlocking new possibilities in CPU intensive areas such as artificial intelligence, procedural techniques, real time lighting, enhanced physics, real time geometry deformation, collision and data manipulation.
Shaders
Fully integrated, totally cross platform shader support allows you to write shaders once, and then deploy them on every platform that supports them. This powerful system allows full access to low level shaders, while still letting Studio do the heavy lifting and keeping totally cross platform. The built in editor has been extended to have full colour syntax highlighting and intelli-sense for shaders, making creation a breeze.
Source Control
GameMaker: Studio™ also includes a comprehensive source control scheme so that working on a project within a team is easier than ever before.
Currently incorporating Subversion (SVN), and with more solutions on the way, GameMaker: Studio™ is the only development tool your team needs to get things done in record time.
Developer Services
To help easily monetize games, we've given developers unprecedented access and removed the technical hassle of connecting them with some of the biggest advertisers, analytics and engagement services on mobile and web.
System Requirements
Minimum:


OS:Windows XP

Memory:512 MB RAM

Graphics:DirectX 9, 128MB

Hard Drive:200 MB HD space
Recommended:


Memory:4096 MB RAM

Hard Drive:1 GB HD space

Other Requirements:Broadband Internet connection
GameMaker: Studio © 2013 YoYo Games Ltd, All Rights reserved. GameMaker: Studio, the GameMaker: Studio logo, YoYo Games and the YoYo Games logo are trademarks of YoYo Games Ltd.
Helpful customer reviews
Software Details
Title:
GameMaker: Studio
Genre:
Animation & Modeling
,
Design & Illustration
,
Education
,
Software Training
,
Utilities
,
Web Publishing
Developer:
YoYo Games Ltd.
Publisher:
YoYo Games Ltd.
Release Date:
Oct 2, 2012
Languages:
| | Interface | Full audio | Subtitles |
| --- | --- | --- | --- |
| English | | | |