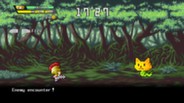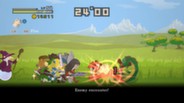 The world is at an end, and you have 30 seconds to save it!
Releasedatum: 27 sep 2012
Alle 2 trailers bekijken
This product does not have support for your local language. Please review the supported language list below before purchasing
Half Minute Hero: Super Mega Neo Climax Ultimate Boy kopen
3 april 2014
462 opmerkingen
Meer informatie
Info over het spel
De wereld is bijna aan zijn einde, en je hebt 30 seconden om hem te redden!
(30… 29… 28…) Begin je avontuur, ontmoet mensen die hulp nodig hebben, vecht door duistere kerkers heen, verdien geld, upgrade je uitrusting en level up, level up, level up totdat je over het kwaad zegeviert en de eindbaas uitschakelt!
(30… 29… 28…) De kritisch gewaardeerde supersnelle actie-RPG maakt zijn debuut op PC, verbeterd om de ultieme versie te zijn. De meest complete Half Minute Hero tot nu toe, inclusief alle inhoud en onderdelen (21… 20… 19…) uit de vorige versies op handhelds en consoles, zoals "Hero 300" - het uitdagende laatste hoofdstuk van 300 seconden, (11… 10… 9…) evenals de spannende Knight 30-, Hero 30-, en Evil Lord 30-bonusstanden, teruggebracht naar hun volle glorie...
(30… 29… 28…) Laten we dat nog eens proberen – Meer dan 60 RPG's in één spel, elk met zijn eigen klassementen, zodat je het tegen je vrienden kan opnemen, en volledige Steamworks-integratie. 8-bit retro-graphics zijn beschikbaar wanneer je je nostalgisch voelt. (19… 18… 17…). Met maar 30 seconden om elke missie te voltooien (9… 8… 7…), heeft het bewezen dat het ongelooflijk verslavend en superleuk is!
Alle onderdelen. Alle spelstanden. Laat de spellen van 30 seconden beginnen…
Systeemeisen
Minimum

OS: Windows XP Service Pack 3
Processor: Pentium 4 3.2 GHz or equivalent
Memory: 1GB RAM
Hard Disk Space: 2 GB (includes Direct X files)
Video Card: GeForce FX 5700 or equivalent card with 256MB VRAM
DirectX®: 9.0c
Sound: DirectX 9 compliant audio card
Additional: Gamepad or controller recommended
©2012 Marvelous AQL Inc. All Rights Reserved. Licensed to and published by XSEED Games. "PlayStation", "PS", Family logo and "PSP" are registered trademarks of Sony Computer Entertainment Inc. The ESRB rating icons are registered trademarks of the Entertainment Software Association. ©Microsoft Corporation. All Rights Reserved. Microsoft, Xbox, Xbox 360, Xbox LIVE, and the Xbox logos are trademarks of the Microsoft group of companies.
Nuttige klantrecensies