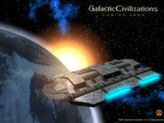 Galactic Civilizations is a space based strategy game in which you are in control of humanity's destiny.
Veröffentlichung: 14. Aug. 2012
HD-Video ansehen
Galactic Civilizations® I: Ultimate Edition kaufen
Pakete, die dieses Spiel enthalten
Galactic Civilizations® Complete Pack kaufen
Enthält 2 Artikel: Galactic Civilizations® II: Ultimate Edition, Galactic Civilizations® I: Ultimate Edition
Stardock Pack 2014 kaufen
Enthält 6 Artikel: Galactic Civilizations® II: Ultimate Edition, Demigod, Sins of a Solar Empire®: Rebellion, The Political Machine 2012, Galactic Civilizations® I: Ultimate Edition, Fallen Enchantress: Legendary Heroes
Reviews
"The A.I. in this game is capable of some remarkably human-like behavior."
90/100 – Computer Gaming World

"An understated, thoughtful game that is highly replayable and continually challening - the sort of game that will still be on your hard drive when all the other games you are playing right now are gathering dust on a shelf. "
90/100 – Computer Games Magazine

"GalCiv is easily the best 4X game right now and the best that we'll see for years to come."
88/100 – Firing Squad
Über das Spiel
Galactic Civilizations ist ein im Weltraum angesiedeltes Strategiespiel, in welchem Sie die Verantwortung für das Schicksal der Menschheit übernehmen.
Wir schreiben das Jahr 2178. Die Terranische Allianz hat eine neue Technologie entwickelt -- Hyperdrive. Aber das Geheimnis wurde gelüftet; die anderen Zivilisationen befinden sich in einem Rennen um die Zeit, mit dem Ziel, alle bewohnbaren Welten der Galaxie in ihren Besitz zu bringen! Als Anführer von United Earth müssen Sie neue Technologien erforschen, eine Wirtschaft aufbauen, ein mächtiges Militär erschaffen; all das, während Sie behutsam Ihre Fähigkeiten in den Bereichen Politik, Diplomatik und Handel balancieren.
Galactic Civilizations I: Ultimate Edition vereint das mit Preisen ausgezeichnete Galactic Civilizations mit der Erweiterung Altarian Prophecy, um ein Abenteuer mit Weltraum-Feeling zu schaffen.
Hauptmerkmale:
Wiederspielwert - Galactic Civilizations ist auch von Gelegenheitsspielern sofort spielbar und enthält eine mächtige, anspruchsvolle KI, welche zusammen mit den anderen Spielmechaniken jedes Spielerlebnis einzigartig macht.


Eine Geschichte zum Eintauchen - Als Anführer der Menschheit haben Sie ein prächtiges Erbe, um die menschliche Rasse an die Spitze der im Weltraum vertretenen Spezies zu leiten.


Mehrere balancierte Wege zum Sieg - Werden Sie siegreich durch die Verwendung Ihres Militärs, Ihrer wirtschaftlichen oder Ihrer politischen Stärke.


Metaverse - Spieler mit einem Stardock-Konto können Teil des "Metaverse" werden, wo Siege, Niederlagen und Kampagnen aufgezeichnet werden. So können Sie Ihre Spielerlebnisse teilen.


Ein Karteneditor, der es Ihnen erlaubt, Ihre eigenen Karten zu entwerfen.


Ein Szenarioeditor, mit dem Spieler spezielle Spielumgebungen erstellen können.


Ein Kampagneneditor ermöglicht Spielern, eine Anzahl mehrerer Spiele miteinander zu verbinden, um eine Geschichte zu erzählen.
Systemvoraussetzungen
Minimum:


Betriebssystem:Windows 8 / 7 SP1 / Vista SP2 / XP SP3

Prozessor:600 MHz Prozessor

Speicher:128 MB RAM

Grafik:8 MB DirectX 8.1 kompatible Grafikkarte

DirectX®:8.1

Festplatte:700 MB freier Speicher

Sound:DirectX 8.1 kompatible Soundkarte

Empfohlen:


Prozessor: 1 GHz Prozessor

Speicher: 256 MB RAM

Grafik: 16 MB DirectX 8.1 kompatible Grafikkarte
© Stardock Entertainment. Galactic Civilizations is a registered trademark of Stardock Entertainment. All rights reserved.
Hilfreiche Kundenreviews