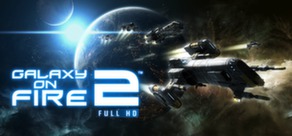 A hyperdrive malfunction sends Keith T. Maxwell tumbling through space and time to fight for his life against a mysterious alien armada that is wreaking havoc.
Data di rilascio: 21 Ago 2012
Guarda video HD
19 Marzo 2014
Join the celebration around bitComposer's 5th anniversary and get your hands on Galaxy on Fire 2. Only for the next 3 days we are offering a 75% discount on a fantastic trip across the galaxy.

Check out the bitComposer anniversary sale for more deals on a great selection of titles!
http://store.steampowered.com/sale/bitcomposersale

6 commenti
Ulteriori informazioni
Informazioni sul gioco
Con la recente uscita di Galaxy on Fire 2™ Full HD, la pluripremiata saga fantascientifica di Fishlabs Entertainment finalmente sbarca su PC Windows. Con milioni di copie installate e migliaia di recensioni entusiastiche da parte di stampa e fan, Galaxy on Fire 2™ è ormai il termine di paragone indiscusso dei titoli spaziali su dispositivi mobile. Ora si prepara a conquistare anche lo spazio PC con una trama coinvolgente, grafica 3D di nuova generazione, un comparto audio sofisticato e tanta azione fantascientifica!
Vestirai i panni di Keith T. Maxwell, un avventuriero intergalattico ed eroe di guerra. Catapultato 35 anni nel futuro da un malfunzionamento dell'hyperdrive, si ritrova in uno sperduto e bellicoso angolo della galassia, dove dovrà lottare per la propria vita contro un misterioso esercito alieno che semina distruzione tra le varie razze in guerra nel settore. Nonostante i tentativi per tornare a casa, Keith dovrà indagare sulla minaccia aliena per fermarla. Nel corso dell'avventura dovrà combattere pirati spaziali, commerciare, esplorare nuovi territori e trattare con loschi personaggi per scoprire la verità che si cela dietro al suo potente nemico, in modo da tornare finalmente a casa. Insieme a vecchi amici e nuovi nemici, Keith prenderà il comando di una rischiosa missione intergalattica che lo condurrà dritto in territorio nemico e porterà la guerra a un finale esplosivo, con ripercussioni sull'intera galassia.
Potrai seguire l'avvincente trama del gioco, lanciandoti in oltre 10 ore d'azione in una galassia splendidamente ricreata in 3D, oppure intraprendere il tuo viaggio interplanetario personale, conducendo estrazioni sugli asteroidi, commerciando in minerali e forniture, accettando missioni da mercenario, lavorando come pirata e fabbricando nuove armi ed equipaggiamento. L'ultima frontiera offre avventure di tutti i tipi! Acquista e personalizza oltre 30 tipi diversi di astronavi che ti aiuteranno a superare una serie di avvincenti missioni: scorterai convogli sotto attacco da parte dei pirati, catturerai criminali intergalattici, salverai VIP alieni, trasporterai beni preziosi da un sistema stellare all'altro, comanderai mercenari in rischiose missioni tattiche e recupererai tecnologia aliena negli angoli più oscuri della galassia. Supportato da comandi completamente personalizzabili per mouse, tastiera e gamepad, Galaxy on Fire 2™ Full HD porta sul tuo PC una delle migliori avventure spaziali di sempre, ora ancora più vasta!
Caratteristiche speciali di Galaxy on Fire 2™ Full HD:
Un'enorme galassia con oltre 20 sistemi solari e decine di splendidi pianeti

100 stazioni spaziali diverse in 3D e oltre 30 astronavi personalizzabili

Un originale sistema di esperienza basato su reputazione e diplomazia

Scegli tra gioco aperto e trama lineare basata sulle missioni

Un complesso sistema di commercio con oltre 170 merci diverse

Grafica 3D di alto livello e un ricco comparto audio con doppiaggio completo in inglese e tedesco

Rendering ottimizzato per prestazioni ideali sia sui PC di nuova generazione, sia su quelli meno recenti

Comandi personalizzabili per mouse, tastiera e gamepad

Tutti i modelli 3D sono stati ricreati da zero per una vera esperienza di nuova generazione, con risoluzione quadruplicata e un numero maggiore di texture per astronavi, stazioni, portali e asteroidi

Set di texture specifici per ciascuna delle 30 astronavi, completi di diffuse, normal e specular mapping in risoluzione HD 2048x2048 pixel

Sfondi rinnovati a risoluzione maggiorata per un'immersione spaziale e planetaria cristallina anche su pannelli HD di dimensioni generose

Shader DirectX aggiuntivi, effetti post-elaborati ed effetti speciali rinnovati per le esplosioni e le fiammate di armi e motori.
Requisiti di sistema
Minimum:


OS: Windows XP SP2, Windows Vista, Windows 7

Processor: Intel x86 compatible CPU with SSE 2GB RAM

Memory: 2 GB

Hard Disk Space: 2 GB

Video Card: DirectX 9c compatible garphics card with more than 512 MB RAM

Sound: DX 9.0c compatible sound card

DirectX®: 9.0c
Recommended:


OS: Windows XP SP2, Windows Vista, Windows 7

Processor: Intel x86 compatible CPU with SSE2 3GB RAM

Memory: 3 GB

Hard Disk Space: 2 GB

Video Card: DirectX 9c compatible garphics card with more than 512 MB RAM

Sound: DX 9.0c compatible sound card

DirectX®: 9.0c
© bitComposer Entertainment AG, 2012. Developed by Fishlabs Entertainment GmbH. All rights reserved. "Galaxy on Fire 2", "Abyss Engine", "Fishlabs" are trademarks of Fishlabs Entertainment GmbH. bitComposer Games is a brand of bitComposer Entertainment AG. All other trademarks are the property of their respective owners and used under license.
Recensioni utili dai clienti
Titolo:
Galaxy on Fire 2™ Full HD
Genere:
Azione
,
Indie
,
Simulazione
,
Strategia
Sviluppatore:
Fishlabs Entertainment GmbH
Editore:
bitComposer Games
Data di rilascio:
21 Ago 2012
Lingue:
| | Interfaccia | Audio completo | Sottotitoli |
| --- | --- | --- | --- |
| Italiano | | | |
| Inglese | | | |
| Francese | | | |
| Tedesco | | | |
| Giapponese | | | |
| Coreano | | | |
| Polacco | | | |
| Russo | | | |
| Cinese semplificato | | | |
| Spagnolo | | | |
| Cinese tradizionale | | | |
Mostra tutte e 11 le lingue supportate