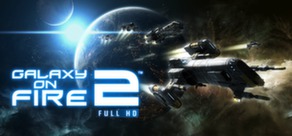 A hyperdrive malfunction sends Keith T. Maxwell tumbling through space and time to fight for his life against a mysterious alien armada that is wreaking havoc.
Data de lançamento: 21 Ago 2012
Assistir ao vídeo em HD
19 março 2014
Join the celebration around bitComposer's 5th anniversary and get your hands on Galaxy on Fire 2. Only for the next 3 days we are offering a 75% discount on a fantastic trip across the galaxy.

Check out the bitComposer anniversary sale for more deals on a great selection of titles!
http://store.steampowered.com/sale/bitcomposersale

6 comentários
Leia mais
Sobre o jogo
Com o recente lançamento de Galaxy on Fire 2™ Full HD, a saga de ficção científica premiada da Fishlabs Entertainment finalmente invade o seu Windows PC. Milhões de cópias instaladas e milhares de excelentes críticos dos fãs e da mídia não deixam dúvida de que Galaxy on Fire 2™ é o de jogo de tiro em espaços abertos de referência para dispositivos móveis. Agora esse jogo fantástico também causará uma grande tempestade no PC e colocará fogo na plataforma com seu enredo cativante, gráficos 3D da próxima geração, efeitos sonoros ricos e jogabilidade repleta de ação e ficção científica!
No jogo, você assumirá o papel de Keith T. Maxwell, aventureiro intergaláctico e herói de guerra. Jogado a 35 anos no futuro devido a um defeito no hiperimpulsor de sua nave, ele acorda repentinamente no outro extremo da galáxia. Keith logo precisa lutar para salvar sua vida de um exército alienígena misterioso que está causando caos entre as raças guerreiras que ocupam aquele setor do espaço. Apesar dos esforços de voltar ao seu lar, Keith se sente atraído por uma conspiração mortal e deseja investigar e pôr um fim à ameaça dos alienígenas. Durante sua jornada, ele precisará combater piratas espaciais, comercializar carga, explorar novos territórios e lidar com pessoas suspeitas para descobrir a verdade por trás do inimigo poderoso e, por fim, conseguir voltar para casa. Velhos e novos amigos unem forças para ajudar Keith a comandar uma missão intergaláctica arriscada que o manda diretamente para espaço inimigo, dando à guerra uma conclusão explosiva que deixará a galáxia em chamas.
Acompanhe o enredo rico e atraente em uma galáxia totalmente em 3D e arrasada pela guerra por mais de 10 horas repletas de ação ou faça a jornada interplanetária do seu interesse: escave asteroides, comercialize minério e suprimentos, aceite missões de mercenários, trabalhe como pirata e construa novas armas e equipamentos no decorrer de sua aventura em busca do desconhecido. Compre e personalize mais de 30 tipos de naves espaciais para ajudá-lo em vários tipos de missões de testar os nervos, como escolta de comboios sob ataque de piratas, captura de criminosos intergalácticos, resgate de VIPs alienígenas, transporte de mercadorias valiosas entre sistemas estelares, comando de mercenários em tarefas táticas de risco e recuperação de tecnologia alienígena dos setores mais obscuros da galáxia. Com controles totalmente personalizáveis para mouse, teclado e gamepad, Galaxy on Fire 2™ Full HD traz o que há de melhor em aventura espacial ao seu PC – maior e melhor do que nunca!
Características especiais do Galaxy on Fire 2™ Full HD:
Uma galáxia vasta cheia de vida com mais de 20 sistemas solares e dezenas de planetas com modelos de renderização belíssimos

100 estações espaciais únicas em 3D e mais de 30 naves personalizáveis

Sistemas inovadores de reputação e experiência diplomática

Escolha entre cumprir as missões para acompanhar o enredo ou desfrutar das possibilidades do mundo aberto

Sistema complexo de comércio com mais de 170 mercadorias

Gráficos de alta qualidade e trilha sonora rica em 3D que inclui dublagem completa em inglês e alemão

Otimizado para aproveitar os recursos de renderização de PCs atuais e antigos

Controles totalmente adaptáveis para mouse, teclado e gamepad

Todos os modelos 3D foram reconstruídos do zero para garantir gráficos da próxima geração com o quádruplo da resolução original e ainda mais texturas em todas as naves, estações, portais e asteroides

Pacotes de textura individuais para todas as 30 naves com mapeamentos difuso, normal e especular em resolução HD de 2048 por 2048 pixels

Melhoria nas imagens de fundo e na resolução de ambientes espaciais e planetas para garantir uma experiência bastante nítida nas telas HD grandes... e nas gigantes

Foram adicionados shaders do DirectX e pós-efeitos, além da ampla revisão de efeitos especiais de explosões, chamas dos motores e iluminações dos disparos
Requisitos de sistema
Minimum:


OS: Windows XP SP2, Windows Vista, Windows 7

Processor: Intel x86 compatible CPU with SSE 2GB RAM

Memory: 2 GB

Hard Disk Space: 2 GB

Video Card: DirectX 9c compatible garphics card with more than 512 MB RAM

Sound: DX 9.0c compatible sound card

DirectX®: 9.0c
Recommended:


OS: Windows XP SP2, Windows Vista, Windows 7

Processor: Intel x86 compatible CPU with SSE2 3GB RAM

Memory: 3 GB

Hard Disk Space: 2 GB

Video Card: DirectX 9c compatible garphics card with more than 512 MB RAM

Sound: DX 9.0c compatible sound card

DirectX®: 9.0c
© bitComposer Entertainment AG, 2012. Developed by Fishlabs Entertainment GmbH. All rights reserved. "Galaxy on Fire 2", "Abyss Engine", "Fishlabs" are trademarks of Fishlabs Entertainment GmbH. bitComposer Games is a brand of bitComposer Entertainment AG. All other trademarks are the property of their respective owners and used under license.
Análises úteis de usuários
Título:
Galaxy on Fire 2™ Full HD
Gênero:
Ação
,
Indie
,
Simulação
,
Estratégia
Desenvolvedor:
Fishlabs Entertainment GmbH
Distribuidora:
bitComposer Games
Data de lançamento:
21 Ago 2012
Idiomas:
| | Interface | Dublagem | Legendas |
| --- | --- | --- | --- |
| Inglês | | | |
| Francês | | | |
| Alemão | | | |
| Italiano | | | |
| Japonês | | | |
| Coreano | | | |
| Polonês | | | |
| Russo | | | |
| Chinês simplificado | | | |
| Espanhol | | | |
| Chinês tradicional | | | |
Ver todos 11 idiomas disponíveis