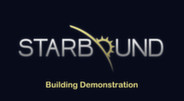 In Starbound, you take on the role of a character who's just fled from their home planet, only to crash-land on another. From there you'll embark on a quest to survive, discover, explore and fight your way across an infinite universe.
Release Date: Dec 4, 2013
Watch HD video
Early Access Game
Get instant access and start playing; get involved with this game as it develops.
Note: This Early Access game may or may not change significantly over the course of development. If you are not excited to play this game in its current state, then you may want to wait until the game progresses further in development. Learn more
What the developers have to say:
Why Early Access?
"We were at a point in Starbound's development where it was already pretty fun, so we decided to release the game in beta through early access to ensure the community has a chance to help us shape the game."
How long will this game be in Early Access?
"It's difficult for us to give a solid release date-- we're not so good at those, we've learned. Starbound still has a ways to go, but we'll keep you posted via our
website
!"
How is the full version planned to differ from the Early Access version?
"The full version of Starbound will contain a plot and sidequests, more dungeons, more bosses and lore, among other features."
What is the current state of the Early Access version?
"Starbound is already extremely playable and contains a vast amount of content in its current state! There are two beta branches currently in use-- [STABLE] and [NIGHTLY].
The stable branch receives less frequent updates, as we're currently working on one big update that will complete the first few tiers of player progression.
The [NIGHTLY] branch is updated automatically every night, and is for players who want to track progress or simply can't wait to check out shiny new features. :D Play at your own risk, though, as these builds are not tested and bugs/crashes are likely.
Find out more about how to opt into the nightly builds here:
http://playstarbound.com/support/#unstable
"
Will the game be priced differently during and after Early Access?
"The price will likely change after Early Access!"
How are you planning on involving the Community in your development process?
"We post daily progress updates on our
blog
, and we're always hanging around
IRC
."
Read more
Buy Starbound Four Pack
Includes four copies of Starbound - Send the extra copies to your friends!
Downloadable Content For This Game
September 10


I returned to my efforts on the lunar base today, as I've begun my detailing pass to make it all look nice and fill it with loot. There's still a couple of elements I'm going to need before I can totally wrap up on the mission, like scripted NPC events (among other things). The good news is that we will have Metadept officially joining us in the office next week so we should see some really big progress on this front soon! I'm quite looking forward to having him in the office for the long haul, since he does a lot of stellar work and is a great guy to collaborate with.

George has continued working on his own mission and has been making excellent progress, with very little support required from yours truly. He's already got a solid foundation down to build upon, and even though it's rough around the edges it's already looking great, I fear I may soon be eclipsed by his talent! That said, the fun bit will be when I get to teach him how to configure NPCs.

I'm afraid I don't personally have much more to report, again for the wish to keep missions relatively spoiler-free. The programmers have continued to toil away on their respective tasks, which continue to sail over my non-programmer head, but what I was able to grasp is that they're intensely focused on crushing a number of insidious bugs that crept their way in some time ago. Kyren in particular seems to be gearing up to assist Metadept when he arrives by tackling the systems he'll need to work with.

Lastly, just in case you missed the announcement; the Chucklefish Blog has just gone live and Tiy kicked it off with a fairly comprehensive post on our plans for what will feature in Starbound's 1.0 release. I wouldn't advise reading it if you want a spoiler-free experience, but for those of you who absolutely must know what's coming next you can read it . On this new blog we'll be posting Chucklefish-related news, along with updates from the developers of games that we're publishing, so you guys should definitely check it out from time to time!

Good night everybody!
Evening folks!
---
link you to
this post, because it's super long and technical and there's a character limit here. :D
---


First, there was the new status system for players, npcs, and monsters which has been written and integrated into Player, but for right now it sits in its own branch awaiting a couple more things. The new system is basically ready, but there is a lot to the old status system which is needs conceptual reworking because it just wasn't working out or wasn't fun. The biggest example of this is the heat / warmth system, which will probably be replaced by something much simpler. The system is ready, but merging it to master is going to happen once metadept arrives in the UK and we can sit down together and make some design decisions and implement the scripts to drive them. In any case, the system is cool, it works very much like tech that you don't actively control (player effects that involve movement == tech, player effects that don't involve movement == status).

Oh and by the way! Metadept is moving to the UK to work with us in our physical actual corporeal office, and be a real life employee. He arrives on thursday and I am super thrilled, because you just can't beat working together in person. Right now starbound programmers in the UK are pretty thin on the ground (me alone) so having me + metadept will be amazin'.

Other than status, I think you heard a little about the whole Star::Root threading debacle.. the important bit is that it's fixed, and the atomic_store / atomic_load thing with shared_ptrs turned out not to even be needed. Now *every* database in Star::Root is updated through Read Copy Update, not just the few with the problems, and Root locking is avoided entirely. This fixes the problem without causing rendering slowdown, and actually speeds things up in a lot of places.

Other than THAT, I'm working on a few items in the starbound 1.0 todo, mission things and some boring technical ones involving Drawables and Particles. When I'm done, rain will NOT slow down your game to a crawl, which is nice. Next week, once metadept and I are both in the office, we're going to start focusing very very hard on getting a new stable patch out, with all the save file compatibility fun that will go along with that.

Aaaaand in case you haven't heard, Chucklefish is making a new game! It's called Wayward Tide and, you should check out the Chucklefish blog post about it here. Development on Wayward Tide is *entirely* parallel with Starbound, a whole separate team in fact with Palf as the programmer.

In a technical sense, Wayward Tide is kind of cool for Chucklefish, because it represents a radical departure from the way starbound was developed, and if it works out it may very well be the way that Chucklefish makes games from now on. It's entirely written in Haskell, primarily based on Functional Reactive Programming, and it's really really cool. I would tell you more about it but I'm sure Palf will want to tell everyone more about it at some point in the near future.
Hello again, since I spoke last, I've been working on a couple of different things.
---


Since I"m waiting on Metadept's arrival at the office later this week before proceeding further on the missions, I spent my time today continuing one of my side tasks, which is to convert all existing lights over to the new flickering light code I discussed a few weeks ago. There's a lot of lights that used the old flickering code, but I'm almost done with the conversion, and many lights (particularly fire-based ones) are being adjusted to look a bit more natural.

Working on this stuff isn't terribly exciting in and of itself, but it makes for a welcome change of pace from all the mission work, and really it's so gosh-darn nice to be able to make the lights pulse in time with their object's animations!


Howdy guys!
That's all for now! Goodnight!
17 comments
Read more
September 3
Happy Wednesday! ːtdealwithitː

In addition to the weekly round-up, Tiy's just posted on our new company blog outlining what we need to do to finish Starbound 1.0. You can find that post here.




For the past couple of days I've been chiefly focusing on the armor balancing that I mentioned last week, as it's proven surprisingly difficult. I'm beginning to understand the pains that other developers must go through when painstakingly balancing their games, especially the competitive multiplayer ones! Our armor balance is getting to a better place, but it's looking like there are a number of earlier armors that are going to need to be rebalanced as well to suit our progression changes.

I've also been doing little bits of work on the lunar base here and there. I've turned it into a floating dungeon type while await the completion of Omni's work on the skies so I can configure the parallax layers to my liking. I still wish to keep most elements of the mission a surprise, so I'm reluctant to share any further media relating to it and its unique enemies.

The efforts of the rest of the team seems to be stuff that's mostly under the hood, like the biome threat level changes that Metadept talked about yesterday. He's continued his efforts on that front but has also been working on the enemies I've been trying to stay so elusive about. He's also fixed a few long-withstanding bugs with the humanoid NPCs that have been present in the nightly build for some time (such as their inability to properly switch between their melee and ranged weapons appropriately).

George on the other hand has been busily devising our other missions, with some seriously cool ideas being laid out. Once I'm done with the lunar base, I'll be moving right along to start building one of those.

In any case, it's about time for me to hit the hay. Good night everybody!
Evening folks!
---




Keep your eyes peeled, and you might just see something. ;)
Since it seems nobody else has anything particularly new to report as we've all continued working on the same things for the most part, I'll cave a little and give you one more glimpse of what you can expect on your mission to the moon. This is the only lunar base media you're getting out of me for a while, so enjoy it while you can!
---




I'm also working on surface terrain generation for all biomes. Higher tier planets will be a bit craggier (in general) since players will be likely to have some movement abilities and grappling hooks, but mainly I'm just aiming for interesting variety. I'll post some screenshots of other terrain types in a future update. Have a good weekend!
Continuing work on biomes, I've been configuring a new primary biome type for starter worlds that we're calling Garden. It's a sparsely forested biome with gentle, rolling hills that should be easy to navigate for players just starting the game. It's got quite a pleasant atmosphere:
---


I'm still playing with the terrain generation, seeing what its capabilities and limitations are. Here's a screenshot of some WIP desert canyons (click for big):



The terrain generator works by combining multiple layers of Perlin noise. In this shot, I'm using one source to define the primary surface terrain (low dunes), another source to define the rough bottom of the canyons, and a third to mix between them, with bias toward the primary source to make canyons less frequent. There are several problems with the current configuration, however. The most obvious problems are the sharp corners at the canyon edge where the mix shifts from 100% primary surface and rapidly begins switching to the lower canyon terrain. These can be addressed with some smoothing in the mixer (which needs engine changes to implement). Another issue without an obvious solution is what to do with the background. Because of the dimensionality and limited number of layers, it's difficult to visually distinguish an open valley from a long, narrow canyon from a deep hole. I'll have to experiment further to find a satisfactory solution.
Not much exciting to post about today. Kyren's been working on nitty gritty technical stuff, addressing some threading issues we're running into with C++11 pointers. Armagon and the artists are continuing work on missions that I'm not allowed to post about yet.
---


I spent my day helping George by setting up a dungeon file and key for the mission he's about to start working on. He had already knocked up a detailed plan of the mission's structure and layout, so he spent most of today roughing it out visually in-game while I worked on getting a functional setup together. George seems keen to tell a story with the environment, so he's been creating a bunch of cool new objects as he's progressed.

It looks for the most part like he has everything necessary to get started turning it into a functional location, so most likely he'll be spending the next week focusing on this mission. I'll probably get called in from time to time to help him with the finer points of the dungeon system, but I'm really looking forward to seeing how he does with it, since his mockups are generally very good and having someone else to work on this stuff with me will be most welcome.

Sorry I don't have anything fancy to show off, it's just been that kind of work lately and we'd like to keep at least a few surprises, if possible.

Good night!
Hey y'all!
26 comments
Read more
About the Game
In Starbound, you take on the role of a character who's just fled from their home planet, only to crash-land on another. From there you'll embark on a quest to survive, discover, explore and fight your way across an infinite universe.

You'll encounter procedurally generated creatures and weapons, discover populated villages and abandoned temples. Explore planets dotted with dungeons, eyeball trees and treasure. Make use of over a hundred materials and over one thousand in-game objects to build a sprawling modern metropolis or a sleepy secluded cabin in the woods, and do all of it alone or with friends!
Starbound lets you live out your own story of space exploration, discovery and adventure. Settle down and farm the land, hop from planet to planet claiming resources, or make regular visits to populated settlements, taking on jobs and earning a living. NPCs are scattered about the worlds, offering quests and challenges for those looking for a little extra excitement in their lives.
Key Features:
6 playable races

A procedurally generated universe with unlimited procedurally generated planets

All content available in online drop in/drop out co-op

Generated dungeons full of unique enemies

Randomly generated monsters

Thousands of items

A deep crafting system

PVP gameplay

Own and decorate your own Starship

Develop your own home planet

Menacing boss battles

Procedurally generated guns and melee weapons

Farming, hunting and survival mechanics

Built from the ground up to support modding

Ongoing free updates

Multi-platform multiplayer
What will you find?
PC System Requirements
Minimum:


OS: Windows XP or later

Processor: Core 2 Duo

Memory: 2 GB RAM

Graphics: 256 MB graphics memory and directx 9.0c compatible gpu

DirectX: Version 9.0c

Network: Broadband Internet connection

Hard Drive: 3 GB available space
Recommended:


OS: Windows XP or later

Processor: Core i3

Memory: 4 GB RAM

Graphics: Discrete GPU capable of directx 9.0c

DirectX: Version 9.0c

Network: Broadband Internet connection

Hard Drive: 4 GB available space
Mac System Requirements
Minimum:


OS: Os X 10.7 or later

Processor: 64 bit Intel CPU

Memory: 2 GB RAM

Network: Broadband Internet connection

Hard Drive: 3 GB available space
Recommended:


OS: Os X 10.7 or later

Processor: 64 bit Intel CPU

Memory: 4 GB RAM

Network: Broadband Internet connection

Hard Drive: 4 GB available space
Linux System Requirements
Minimum:


OS: Debian Stable or Ubuntu 12.04 LTS or later

Processor: Core 2 Duo

Memory: 2 GB RAM

Graphics: 256 MB graphics memory and opengl 2.1 compatible gpu

Network: Broadband Internet connection

Hard Drive: 3 GB available space
Recommended:


OS: Debian Stable or Ubuntu 12.04 LTS or later

Processor: Core i3

Memory: 4 GB RAM

Graphics: 256 MB graphics memory and opengl 2.1 compatible discrete gpu

Network: Broadband Internet connection

Hard Drive: 4 GB available space
Helpful customer reviews
Title:
Starbound
Genre:
Action
,
Adventure
,
Casual
,
Indie
,
RPG
,
Early Access
Publisher:
Chucklefish
Release Date:
Dec 4, 2013
Languages:
| | Interface | Full audio | Subtitles |
| --- | --- | --- | --- |
| English | | | |