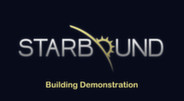 In Starbound, you take on the role of a character who's just fled from their home planet, only to crash-land on another. From there you'll embark on a quest to survive, discover, explore and fight your way across an infinite universe.
Release Date: Dec 4, 2013
Watch HD video
Early Access Game
Get instant access and start playing; get involved with this game as it develops.
Note: This Early Access game may or may not change significantly over the course of development. If you are not excited to play this game in its current state, then you may want to wait until the game progresses further in development. Learn more
What the developers have to say:
"Starbound is already extremely playable and contains a vast amount of content, however we decided to release the game as a beta through early access to ensure the community gets a chance to help us shape the game. In this first stage of the beta process you may experience some bugs, crashes or compatibility issues. Updates will come thick and fast, though, as we listen to your feedback, push fixes and add new content." Read more
Buy Starbound Four Pack
Includes four copies of Starbound - Send the extra copies to your friends!
Downloadable Content For This Game
June 17th, 2014
(This is cross-posted from the official website.)

The first automatic nightly build is live! If anyone is interested, you can opt-in the same way you opted into the unstable branch.

Nightly builds are there for people who really wanna track our progress– not for people who just want to play the latest version of the game. Please back up any saves or worlds you care about. No, seriously. BACK UP YOUR SAVES AND WORLDS. It's always best to assume they will be destroyed and the game will be at least somewhat broken.

Tonight, for instance, because we're working on monster spawns, monsters aren't spawning. This is the sort of thing you should expect from nightly builds.

Also, because we're currently working on progression, the very first thing you'll probably notice is that your ship is damaged and the fuel system doesn't work (sparks flying out of it). The only way to currently fix the ship is through admin commands so unless you know them you'll be stranded. This is *really* for people that want to see progress + modders. You have been warned!

I've updated the support page with a guide, but I'll paste it here too:

What is the "nightly" branch and how do I switch to it (or back)?

The "nightly" branch of the beta receives updates automatically every single day. This means that using the nightly branch will frequently destroy your saves or contain other game-breaking issues depending on what we've been working on that day. Often it may not even work at all. ONLY USE THIS BRANCH IF YOU REALLY REALLY WANT TO FOLLOW OUR PROGRESS AND DON'T MIND BREAKING THE GAME.

To switch between branches (click on images to enlarge them):


Right-click on Starbound in your Steam client's "Library" tab and select "Properties":


In the window that appears, select the "Betas" tab and then select the branch you want to use from the first drop-down.


You should receive a confirmation message along the lines of "Successfully opted into the 'nightly' content beta." below the textbox next to the "Check Code" button (note: no beta access code is required to opt into the nightly branch).

Click close and let Steam download the update for the new branch. If you've switched to the nightly branch, Starbound should now be listed as "Starbound [nightly]" in your Steam library, otherwise it will be listed as just "Starbound".


---

(Cross-posted from Tiy's thread on r/starbound here)

For those messing with nightly...
If you'd like to test out combat system progress, here's a good way to get into a fight:


Turn on cheats with /ruinthefun

Spawn tier 7 armor with /spawnitem hylotltier7head / chest / pants

Spawn a tier 7 shortsword with /spawnsword 7 0 commonshortsword

Spawn a tier 7 shield with /spawnshield 7

Spawn a level 7 quadruped with /spawnmonster quadruped 7

Fight it


89 comments
Read more
About the Game
In Starbound, you take on the role of a character who's just fled from their home planet, only to crash-land on another. From there you'll embark on a quest to survive, discover, explore and fight your way across an infinite universe.
You'll encounter procedurally generated creatures and weapons, discover populated villages and abandoned temples. Explore planets dotted with dungeons, eyeball trees and treasure. Make use of over a hundred materials and over one thousand in-game objects to build a sprawling modern metropolis or a sleepy secluded cabin in the woods, and do all of it alone or with friends!
Starbound lets you live out your own story of space exploration, discovery and adventure. Settle down and farm the land, hop from planet to planet claiming resources, or make regular visits to populated settlements, taking on jobs and earning a living. NPCs are scattered about the worlds, offering quests and challenges for those looking for a little extra excitement in their lives.
Key Features:
6 playable races

A procedurally generated universe with unlimited procedurally generated planets

All content available in online drop in/drop out co-op

Generated dungeons full of unique enemies

Randomly generated monsters

Thousands of items

A deep crafting system

PVP gameplay

Own and decorate your own Starship

Develop your own home planet

Menacing boss battles

Procedurally generated guns and melee weapons

Farming, hunting and survival mechanics

Built from the ground up to support modding

Ongoing free updates

Multi-platform multiplayer
What will you find?
PC System Requirements
Minimum:


OS: Windows XP or later

Processor: Core 2 Duo

Memory: 2 GB RAM

Graphics: 256 MB graphics memory and directx 9.0c compatible gpu

DirectX: Version 9.0c

Network: Broadband Internet connection

Hard Drive: 3 GB available space
Recommended:


OS: Windows XP or later

Processor: Core i3

Memory: 4 GB RAM

Graphics: Discrete GPU capable of directx 9.0c

DirectX: Version 9.0c

Network: Broadband Internet connection

Hard Drive: 4 GB available space
Mac System Requirements
Minimum:


OS: Os X 10.7 or later

Processor: 64 bit Intel CPU

Memory: 2 GB RAM

Network: Broadband Internet connection

Hard Drive: 3 GB available space
Recommended:


OS: Os X 10.7 or later

Processor: 64 bit Intel CPU

Memory: 4 GB RAM

Network: Broadband Internet connection

Hard Drive: 4 GB available space
Linux System Requirements
Minimum:


OS: Debian Stable or Ubuntu 12.04 LTS or later

Processor: Core 2 Duo

Memory: 2 GB RAM

Graphics: 256 MB graphics memory and opengl 2.1 compatible gpu

Network: Broadband Internet connection

Hard Drive: 3 GB available space
Recommended:


OS: Debian Stable or Ubuntu 12.04 LTS or later

Processor: Core i3

Memory: 4 GB RAM

Graphics: 256 MB graphics memory and opengl 2.1 compatible discrete gpu

Network: Broadband Internet connection

Hard Drive: 4 GB available space
Helpful customer reviews
Title:
Starbound
Genre:
Action
,
Adventure
,
Casual
,
Indie
,
RPG
,
Early Access
Publisher:
Chucklefish
Release Date:
Dec 4, 2013
Languages:
| | Interface | Full audio | Subtitles |
| --- | --- | --- | --- |
| English | | | |