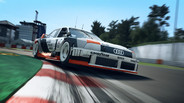 RaceRoom Racing Experience is a Free2Race™ game.
Data de lançamento: 12 Fev, 2013
Ver todos os 3 trailers
RaceRoom Racing Experience does not support Windows XP.
Jogar RaceRoom Racing Experience
Free to Play
Conteúdo transferível para este produto
16 Setembro
16-09-2014

- Fixed an issue where the AI difficulty was not working correctly in certain cases.

1 comentários
Ler mais
13 Setembro
- The game now ignores server-side issues while racing. Server error or maintenance mode warnings will appear after the race.

- Tweaked MultiPlayer code to reduce cars jittering.

- Added a fallback code in case race length for a track is not set in the database for Single Race.
6 comentários
Ler mais
Notas da Atualização


Online Multiplayer: At long last! Twenty-two players can take the grid to challenge friends and rivals in online multiplayer races.

Single Player: Refine your skills against intelligent and challenging computer driven opponents. Use the Adaptive A.I., which will automatically adjust opponent difficulty based on your performance, or customize opponent difficulty to your liking.

Force Feedback Enhancement: A complete rewrite of the Force Feedback code coupled with enhanced track surface modeling on Nürburgring, Hockenheimring, Red Bull Ring, Lausitzring, Oschersleben, Zandvoort, and RaceRoom Raceway, provide the most realistic road feeling to date. More tracks are scheduled for upgrades in the near future.

Content packs and Pricing: Content Packs have been added to the store. Intelligent pricing provides individual discounts on DLC and Content Packs when a player already owns specified content. Players can visit the store page to see the pricing in action.

ADAC GT Masters 2013 Content Pack: Experience racing with the League of Super Sports Cars! The 2013 ADAC GT Masters Content Pack is now available in the store.

New Menus: Improved menus for fast and simple content selection.

View the complete change log for this update here.
Acerca do Jogo
RaceRoom Racing Experience is a Free2Race game that connects fans of racing around a game and motorsports portal.
Drivers begin their racing career in the portal and hit the track with plenty of free-to-play content. Five cars and two tracks are provided free to all registered users.
Licensed cars, tracks and championships are available for purchase in the online store allowing players to build the game of their dreams.
The game is undergoing continuous development with new game modes, features and content being added regularly.
Key Features
FREE2RACE – A high end racing game for free
The game includes five free-to-play cars and two highly detailed tracks, all of which can be used in any game mode. Premium cars and tracks are made available to drive for free during competitions and challenges.


SKILL BASED GAMING – It takes talent to master
The only thing that can make you faster or better than your opponents is the skill and talent that come through practice.


ROOKIE TO PRO – Competing on equal terms
Three different driving models are available; Novice, Amateur, and the advanced Get Real™ driving model, which emulates real racing closer than ever before.


APEX HUNT - Track knowledge is key
Apex Hunt develops your skill while familiarizing you with each race track and their varied layouts.


NEW TECHNOLOGY – SimBin quality
Boasting a New RendR graphical engine, new 7.1 sound engine, and Immersidrive, the latest physics and handling model – RaceRoom Racing Experience is the rebirth of SimBin racing games.


SOCIAL GAMING – Meet, greet and compete
Join in free competitions and share your competitive passion with motorsports enthusiasts from around the world.


USER GENERATED CONTENT - Connect, create and share
User statistics are tracked via a Persistent Driver Profile. Replays and images are accessed from the media hub, where the user can edit them. From there, they can be uploaded to the players profile and be shared.

Important Info/DLC Purchasing Policy


R3E user accounts are associated with the user's Steam account for security and transactions through Steam Wallet. A Steam account can use multiple R3E accounts by using the 'switch accounts' function in the R3E Account Settings.

Upon purchasing an R3E DLC via the Steam Store, an R3E user account will be permanently associated with that Steam account and it will no longer be possible to switch accounts. The option to switch accounts will be permanently removed from the R3E Account Settings.
Requisitos do Sistema
Minimum:


OS:Microsoft Windows Vista / 7

Processor:Dual core at 1.6 GHz Intel Core 2 Duo Processor or AMD equivalent

Memory:2 GB

Graphics:NVIDIA 7900 512 MB Video Card or AMD equivalent

DirectX®:9.0c

Hard Drive:12 GB HD space

Sound:DirectX compatible

Other Requirements:Broadband Internet connection
Recommended:


Processor:Quad-core AMD or Intel @ 2.4 GHz

Graphics:NVIDIA GeForce GTX 460 1.5 GB Video Card or AMD equivalent

RaceRoom Racing Experience © RaceRoom Entertainment AG. Published by RaceRoom Entertainment AG. Developed by SimBin Studios AB. RACEROOM is a registered trademark of RaceRoom Entertainment AG. All rights reserved.
Análises úteis de clientes
Título:
RaceRoom Racing Experience
Género:
Grátis para Jogar
,
Corridas
,
Simulação
,
Desporto
Programador:
SimBin Studios AB
Editora:
SimBin
,
RaceRoom Entertainment AG
Data de lançamento:
12 Fev, 2013
Idiomas:
| | Interface | Vozes | Legendas |
| --- | --- | --- | --- |
| Inglês | | | |
| Francês | | | |
| Alemão | | | |
| Italiano | | | |
| Espanhol | | | |