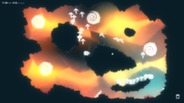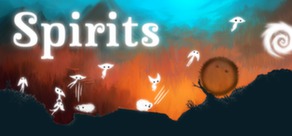 Herfst nadert snel en de geesten van gevallen bladeren beginnen aan hun reis naar huis. Begeleid ze door de manier waarop de wind waait te veranderen of door de grond te verbouwen.
Releasedatum: 15 feb 2012
HD-video bekijken
Recensies
"Kunst, zo mooi, dat het uit een Miyazaki-film gehaald zou kunnen zijn."
8/10 – Wired
"Misschien is dit de kans voor de videogame-community om te boeten voor alle lemmings die ze terug in de jaren '90 gedood hebben?"
85/100 – IndieGameMag
"Duidelijk één van de beste hedendaagse puzzelgames."
– Good Game Get!
Info over het spel
Spirits is a relaxing action-puzzle game with a dynamic wind and world environment. Autumn is quickly approaching, and the spirits of fallen leaves are setting out on their journey home. Guide them by changing how the wind blows or by rebuilding the ground. Each spirit can be sacrificed to perform one of four actions – build a bridge of leaves, create a blowing cloud, dig tunnels, or block wind currents in an area. Use your actions wisely or you will run out of spirits. In each level it's up to you to find your own creative solution on how to get the spirits to the goal.
Key Features
Play through 46 beautiful hand-drawn levels in a poetic game world.
Influence a highly dynamic wind system to help the spirits find their way to the swirl.
Build new paths and dig through destructible level geometry.
Collect hard-to-reach plants and find the perfect solution to each level.
Stunning illumination effects meet thousand and one particles.
New levels designed by #1 player Pyjamads.
Orchestral music and Sound Effects by IGF-nominee Martin Straka.
Steam achievements and custom world ranks.
Play it on PC and Mac with SteamPlay and Steam Cloud.
Digital booklet "The Art of Spirits" with previously unreleased material.
Systeemeisen (PC)
Minimum:

OS: Windows XP
Processor: 2.0GHz Intel Core 2 Duo processor, or similar
Memory: 2 GB RAM
Graphics: Graphics card with 128 Mb VRAM and Framebuffer Object support. Integrated graphics cards may not work.
DirectX®: 9.0c
Hard Drive: 150 MB HD space
Sound: Any
Recommended:

OS: Windows XP, Vista or Windows 7
Memory: 2 GB RAM
Graphics: 256 Mb Video Ram
DirectX®: 9.0c
Hard Drive: 200 MB HD space
Systeemeisen (Mac)
Minimum:

OS: Mac OS X 10.6
Processor: 2.0GHz Intel Core 2 Duo processor
Memory: 2 GB RAM
Graphics: Graphics card with 128 Mb VRAM and Framebuffer Object support. Integrated graphics cards may not work.
Hard Drive: 150 MB HD space
Sound: Any
Additional: Runs on any Mac built after mid-2007
Recommended:

OS: Mac OS X 10.7
Memory: 2 GB RAM
Graphics: 256 Mb Video Ram
Hard Drive: 200 MB HD space
Additional: Runs on any Mac built after mid-2007
Systeemeisen Linux
Minimum:

OS: Linux Ubuntu 12.04
Processor: 2.0GHz Intel Core 2 Duo processor, or similar
Memory: 2 GB RAM
Graphics: Graphics card with 128 Mb VRAM and Framebuffer Object support. Integrated graphics cards may not work.
Hard Drive: 150 MB HD space
Sound: Any
Recommended:

OS: Linux Ubuntu 12.04
Memory: 2 GB RAM
Graphics: 256 Mb Video Ram
Hard Drive: 200 MB HD space
Nuttige klantrecensies
Titel:
Spirits
Genre:
Actie
,
Strategie
,
Indie
Ontwikkelaar:
Spaces of Play
Uitgever:
Spaces of Play
Releasedatum:
15 feb 2012
Talen:
| | Interface | Spraak | Ondertiteling |
| --- | --- | --- | --- |
| Engels | | | |
Prijzen