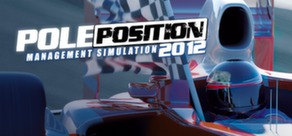 Pole Position 2012 pone a prueba tus habilidades como mánager dándote el control de tu propio equipo de Fórmula 1.
Fecha de lanzamiento: 26 Abr 2012
5 marzo 2014
Hello everybody!

We have finally come around to implement another patch for Pole Position 2012 and we hope that version 4.5 will fix a lot of problems some of you might have encountered. The patch will be up in a few minutes. Here is a full list of improvements:

- Fixed: Price for fan stickers is no longer set to "0" after loading a game
- Improved race speed
- Fixed: If you fire a race engineer, he will now also be removed from the driver he was attached to
- Fixed: Tire wear of NPCs was calculated incorrectly
- Increased pit stop times of NPCs
- Improved tire properties
- Fixed: Handling and weight reduction is now displayed correctly in wind tunnel
- Fixed: AI no longer has an infinite amount of tire sets
- Fixed: Players should no longer loose a large amount of positions in the first rounds of a race
- Fixed: Bug that lead to freezes during the first race
- Fixed: Bug that lead to cars having driven more rounds but holding a worse place
- Cars that have completed a race are now marked as "TAR" on the race monitor
- Fixed: Bug that lead to wrong calculations of acceleration for some cars
- Added feature: The race screen now has buttons to regulate race speed
- Added feature: Qualification rounds 1,2,3
- Fixed: Crash after winning a race
- Fixed: Points will now be calculated correctly if you win a race
- Fixed: Winning bonuses by sponsors will now work correctly
- Fixed: Race engineer points should not be reset once you fire a race engineer
- Fixed: Bug that gave a race engineer double points in races although that engineer did not have that perk
- Fixed: Player is no longer able to do an infinite number of testrounds
- Fixed: Handling and weight reduction of passive technologies are now calculated correctly in races
- Fixed: Bug that resulted in problems on multicore systems
- Fixed: Bug that resulted in problems with certain screen resolutions

Savegames should be compatible with this patch. At least they were in our test runs.
Please let us know if this patch fixes or causes any problems on your system.

Many greetings,
Chris

3 comentarios
Leer más
Acerca del juego
Pole Position 2012 will put your manager skills to the test by putting you in charge of your Formula 1 racing team. It's your responsibility not only to buy spare parts, but also to design the car and to recruit the members of your team. And then, you have to decide which training sessions are the most appropriate for your pilots.
Pole Position 2012 offers you more features than ever in a Formula 1 racing team management simulation. The whole technology tree was revised from the ground up and you have to pick your own research from over 100 new technology projects. The team management system is easier to use and is even more interesting.
Key Features:
Take control of an existing racing team or create your very own team.

Create your very own driver
Research more than 100 new car improvements
The new team management system is easier and more fun to use.
Build different structures such as a wind tunnel or a fitness center
Make your dreams come true and live a life of luxury: get a villa or even a private jet plane
Decide on the individual training sessions of your pilots to help them improve their skills
Rebuild your cars from scratch to improve their performance on each specific racetrack
Requisitos del sistema (PC)
SO: Windows XP SP2 / Vista / 7
Procesador: AMD / Intel Dual Core
Memoria: 2 GB de RAM
Gráficos: Gráfica con 256 MB de VRAM, compatible con DirectX 9.0c y con soporte para Shader Model 2.0
Versión de DirectX®: 9.0c
Disco Duro: 1 GB de espacio libre
Requisitos del sistema (MAC)
SO: Mac OS X 10.6
Procesador: Intel Mac Core Duo a 2 GHz
Memoria: 2 GB de RAM
Gráficos: Gráfica con 256 MB de VRAM
Disco Duro: 1 GB de espacio libre
Análisis útiles de usuarios
Título:
Pole Position 2012
Género:
Acción
,
Estrategia
,
Simuladores
,
Carreras
Desarrollador:
Destrax Games
Editor:
Kalypso Media Digital
Fecha de lanzamiento:
26 Abr 2012
Idiomas:
| | Interfaz | Voces | Subtítulos |
| --- | --- | --- | --- |
| Español | | | |
| Inglés | | | |
| Alemán | | | |
| Francés | | | |
| Italiano | | | |
DRM de terceros:
Requires a Kalypso account