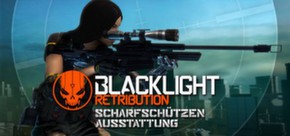 Zum Spielen wird die Steam-Version des Hauptspiels Blacklight: Retribution benötigt.
Veröffentlichung: 31 Aug. 2012
Blacklight: Retribution - Sniper Kit kaufen
Über das Spiel
Love sniping? If so, this Sniper Kit is a must have! It provides everything you need to configure and loadout an amazing sniper setup. Utilize the HRV Blackout to keep you hidden while you blast enemies from long range with your Bolt Action Rifle! This kit provides $25.00 worth of gear for next to nothing! All items are permanent and will not expire.
Bolt-Action Rifle Receiver – Optimized for combat at long range this is the weapon of a true marksman. It delivers high damage and accurate firepower. Equipping this weapon with the included Krane FP-G38 Modulated Scope and included tactical stock provides the ultimate sniper configuration with room to further customize and grow.
Silverwood BRS Tactical Stock Mod – The Silverwood BRS stock will help you manage the kick generated by the Bolt-Action Rifle's powerful shells. The stock reduces recoil and spread, allowing for combat at greater range.
Krane FP-G38 Modulated Scope Mod – A long range rifle is no good if you can't see your target. The Krane FP-G38 will let you see your targets as if they were right in front of you. All you have to do is shoot.
Allied R97 II Helmet – This head gear will boost your HRV recharge rate making it easy to keep track of the targets down range. The helmet sacrifices armor for mobility, allowing a sniper to keep on the move and avoiding the enemy.
Datalux R2 Skirmisher Leg Armor – This leg armor is designed to keep the sniper unhindered as he or she moves from point to point. The armor provides a bonus to speed but still provides two gear slots; so you can keep your options open.
HRV Blackout MK.1 Tactical Equipment – A good sniper is a sniper you can't find. The deployable HRV Blackout gear generates and HRV jamming cloud that prevents detection from enemy HRV when near the device.
7 Day GP Boost – With all the gear in this pack you're sure to be bringing in plenty of GP, why not boost it?
To redeem your Key after purchase:
New Accounts
Go to https://register.perfectworld.com/register
Create your Account information
Log into the game and create your character
Continue to Existing Accounts
Existing Accounts
Go to blacklight.perfectworld.com/redeem
Enter your code and select your server and character Click "Submit"
Systemvoraussetzungen
Minimum:

Betriebssystem:Windows® XP / Vista / Windows 7 (32-bit)
Prozessor:Dual-Core CPU
Speicher:2 GB RAM
Grafik:256MB DX9 GPU (Geforce 8xxx oder Radeon HD2xxx)
DirectX®:9.0c
Festplatte:8 GB HD frei
Sound:DirectX 9.0c kompatible Soundkarte
Andere Anforderungen:Breitband-Internetverbindung
Empfohlen:

Betriebssystem:Windows 7 (64-bit)
Prozessor:Quad-Core CPU
Speicher:4 GB RAM
Grafik:1GB+ DX11 GPU
DirectX®:9.0c
Festplatte:8 GB HD frei
Sound:DirectX 9.0c kompatible Soundkarte
Andere Anforderungen:Breitband-Internetverbindung
Copyright (C) 2012, Zombie, Inc. All Rights Reserved. Published and distributed by Perfect World Entertainment under license from Zombie, Inc. Blacklight Retribution, and the Blacklight Retribution logo, are trademarks of Zombie, Inc. and are used under license. Zombie and the Zombie Logo are registered trademarks of Zombie, Inc. in the United States and elsewhere. All other copyrights or trademarks are the property of their respective owners and are being used under license. Unreal, Unreal Technology and the Powered by Unreal Technology logo are trademarks or registered trademarks of Epic Games, Inc. in the United States and elsewhere. Unreal(R) Engine(tm), Copyright 1998-2012, Epic Games, Inc. All rights reserved. Uses Bink Video. Copyright (C) 1997-2012 by RAD Game Tools, Inc. Bink Video is a registered trademark of RAD Game Tools, Inc. Powered by Wwise, Copyright 2006-2012 Audiokinetic Inc. All rights reserved. Uses Scaleform GFx, Copyright 2012 Scaleform Corporation.
Für dieses Produkt gibt es noch keine öffentlichen Reviews
Sie können Ihr eigenes Review für dieses Produkt verfassen, um Ihre Erfahrungen mit der Community zu teilen. Nutzen Sie den Bereich über den Kauf-Schaltflächen, um Ihr Review zu verfassen.
Titel:
Blacklight: Retribution - Sniper Kit
Genre:
Kostenlos spielbar
,
Action
Entwickler:
Zombie Studios
Publisher:
Perfect World Entertainment
Veröffentlichung:
31 Aug. 2012
Sprachen:
| | Oberfläche | Ton | Untertitel |
| --- | --- | --- | --- |
| Deutsch | | | |
| Englisch | | | |
| Französisch | | | |