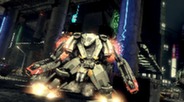 Checkout these new collections of all the items in the game!
Release Date: Jul 2, 2012
Watch HD video
Play Blacklight: Retribution
Downloadable Content For This Game
Reviews
"This is not only a great example of a professional and credible free-to-play game, but it's also one of the best first-person shooters I've played. I am quite serious when I say that, too. This game is a serious FPS contender, and its freemium status should not diminish your expectations. I wholeheartedly recommend you jump in and give it a try. It'll cost only your time to give it a whirl, and I am certain that it'll be time well spent."
90 - Destructoid


"Great shooting mechanics and deep customization options make for an addictive combination, and its free-to-play model makes it easy to jump into with no upfront cost."
85 - IGN


"The matter is simple – the game is free to play and, if you take my word for it, an excellent shooter. In a perfect world, it would knock the CoD series on its ass."
90 -
Computer Games
World's End Update Now Live!
The World's End update is now live, Agents! The battle has spread to two new maps, and we're opening the arsenal to a few new pieces of gear as well. Plus, log in this week for temporary gift camos and a special Glow helmet!
New Maps – Decay and Trench: Load up your shotgun and stalk enemies through twisting, abandoned alleys in the new Decay map. Keep your eyes open for attacks from the ledges and windows above, though. If you're a real marksman, enjoy the mid-range firing lines of the Trench map!
New Assault Bot: Rack up enough CP and you can requisition a new Assault AI robot, armed with a rapid-fire assault rifle and programmed to destroy. Rack up the kills with this AI partner depot item, available perm for 5500 GP or 750 ZEN.
New Hero – Chronos: Hack control nodes faster with Chronos, equipped with an autoturret and an HRV decoy – perfect for setting traps or standing guard while you hack. Chronos is available now, direct in the marketplace, for just 1995 ZEN.
New Weapon – Snubnose Revolver: The Snubnose revolver gives up some punch per shot, but with its low recoil and fast rate of fire, you'll be landing more shots on target to secure the kill. Perm it for 500 ZEN or 6500 GP.
In addition, we've added new muzzles, armor pieces and a new chance pack, with your shot at a new Lilith premium skin. Get Lilith's smooth new Battle Mode Suit, plus your chance at a number of other prizes!
About the Game
Wage war with advanced weapons and technology in Blacklight: Retribution, a free-to-play, futuristic first-person shooter. Deploy devastating armored exoskeletons and utilize lethal hand-held weapons in vicious competitive modes.
SUIT UP, SIGHT ON, FIRE AWAY
The Hardsuit is the ultimate weapon. Powerful but slow, this armored suit packs a one-shot, one-kill railgun and a high velocity minigun to clear rooms... fast. Only by using teamwork, heavy weapons from in-game Weapon Depots and the Hyper Reality Visor (HRV), can players overcome the futuristic killing machine.
The advanced HRV enables players to see opponents, teammates, Weapon Depots and Hardsuit weak points through walls, but at the cost of all offensive capability.
Play with Hardsuits and the HRV alone or with a team of friends in one of Blacklight's tightly polished game modes. Current modes include: Deathmatch, Team Deathmatch, Domination and King of the Hill, but more are on the way.
BUILD A FIGHTING MACHINE
Customize weapons, armors, taunts and more down to incredibly detailed levels. Play with muzzles, stocks, ammunition and more. Even configure the advanced weapons available from in-game depots.
PUNKBUSTER INCLUDED
PunkBuster™ Anti-Cheat from Even Balance, Inc. is required to play Blacklight Retribution. This program will be installed alongside the game client.
Key Features
Hardsuits - These hulking mech-like units rain down from the sky in support of your team. Equipped with a variety of weapons such as a mini-gun, flame-thrower, or a Railgun, these monsters can turn the tide of any battle.

Hyper Reality Vision - HRV Technology allows Agents to scout their enemies through the walls, pinpoint vital mission objectives, or locate weak points in an enemy Hardsuit.

Weapon Depots - Scattered across the battlefield are Weapon Depots that supply your team with additional ammo, heavier weapons such as a Rocket Launcher, or provide the ability to call down airstrikes and Hardsuits.

Free to Play! - Blacklight: Retribution is a fully Free-to-Play shooter. Earn Game Points (GP) after every match and use them to unlock various armor and weaponry for your Agent in game.

Customize Your Loadout - An Agent's gun is their livelihood. Choose from 1000 different gun combinations by modifying your receivers with customizable Stock, Muzzle, Barrel, Magazine, and Scope, Camo, and Weapon Tags.

Protect Yourself - Whether your play style is run and gun, or survivability, or long range sniping the choice is yours to make in fully customizing your armor loadout.

Level Progression - Gain experience and levels through combat to unlock access to additional weapons, armor, and equipment.

Tons of Game Modes and Maps - Combat is engaged on a number of different 7 different game modes across 9 beautifully detailed maps. Game modes includes classics such Team Death Match, Domination, Capture the Flag, and Kill Confirmed while introducing new favorites likes Netwar.

Private Servers - Want to scrim with your clan mates? Challenge someone 1vs1? The private server option allows Agents to set up their own password protected server away from the pesky trolls.

Spectator Mode - Learn tips and tricks from the top players in Spectator mode, or simply enjoy the chaos from the best seat in the house.
System Requirements
Minimum:


OS:Windows® XP / Vista / Windows 7 (32-bit)

Processor:Dual-Core CPU

Memory:2 GB RAM

Graphics:256MB DX9 GPU (Geforce 8xxx or Radeon HD2xxx)

DirectX®:9.0c

Hard Drive:8 GB HD space

Sound:DirectX 9.0c compatible sound card

Other Requirements:Broadband Internet connection
Recommended:


OS:Windows 7 (64-bit)

Processor:Quad-Core CPU

Memory:4 GB RAM

Graphics:1GB+ DX11 GPU

DirectX®:9.0c

Hard Drive:8 GB HD space

Sound:DirectX 9.0c compatible sound card

Other Requirements:Broadband Internet connection
Copyright (C) 2012, Zombie, Inc. All Rights Reserved. Published and distributed by Perfect World Entertainment under license from Zombie, Inc. Blacklight Retribution, and the Blacklight Retribution logo, are trademarks of Zombie, Inc. and are used under license. Zombie and the Zombie Logo are registered trademarks of Zombie, Inc. in the United States and elsewhere. All other copyrights or trademarks are the property of their respective owners and are being used under license. Unreal, Unreal Technology and the Powered by Unreal Technology logo are trademarks or registered trademarks of Epic Games, Inc. in the United States and elsewhere. Unreal(R) Engine(tm), Copyright 1998-2012, Epic Games, Inc. All rights reserved. Uses Bink Video. Copyright (C) 1997-2012 by RAD Game Tools, Inc. Bink Video is a registered trademark of RAD Game Tools, Inc. Powered by Wwise, Copyright 2006-2012 Audiokinetic Inc. All rights reserved. Uses Scaleform GFx, Copyright 2012 Scaleform Corporation.
Helpful customer reviews