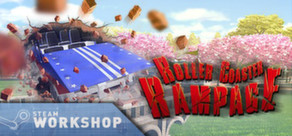 Roller Coaster Rampage introduit une approche innovante et un moteur de reproduction des montagnes russes qui permet aux joueurs d'en créer en temps-réel et de les utiliser.
Date de parution: 19 juin 2012
Visionner la vidéo HD
18 août
***** Now 50 percent off!! On sale for only $4.99 *****



Roller Coaster Rampage allows you to upload your coasters to Steam Workshop. Whether you set a new record for fastest time or highest score, or simply want to share your coaster masterpiece, you can easily upload your coaster for the community to enjoy. Any of the 30 levels, rated 7.0 in gameplay by IGN for "Strong Puzzle Solving Action", can be uploaded. The community can download, and ride, your coasters and experience your master coaster building skills.

There is even a function for adding lifts. Just press space bar at any time and a lift will be added in real time. You can set your launch speed to low and add a lift upon start if you prefer a lift style coaster. Or, set your launch speed to high and accelerate out of the station if a launch coaster is your preference.

If all you want to do is make coasters, freeride mode allows you to buzz around building coasters on the fly, which can also be uploaded to Steam Workshop for the community to enjoy.

For this week, Roller Coaster Rampage is on sale for only 4.99!
2 commentaires
Lire la suite
Articles
"With its freeform, arcade-style gameplay that lets you build some truly insane coasters and then ride them in first-person, Roller Coaster Rampage indulges all my wildest childhood 'what ifs'...It's an inventive approach to coaster crafting that allows for some real artistry and intuition in the tracks you make"


– Nathan Meunier, IGN


"If you like Indie games that offer simple and fun gameplay experience and with nice stereoscopic 3D effect on top, then you probably will not be disappointed by Roller Coaster Rampage."


– 3D Vision Blog
À propos du jeu
Roller Coaster Rampage is a fast paced, high-scoring, competitive rollercoaster simulator with destructive environments!
Players compete to perform the best manual maneuvers, collect the most gems, link to the most track sections, and gain first place on the leaderboards!
Roller Coaster Rampage revolutionizes the coaster genre by introducing on-the-fly track construction and deformation. In previous games the coaster riding experience was a passive, non-interactive experience. Roller Coaster Rampage introduces an innovative approach, and a specialized procedural coaster engine that allows players to build coasters in real-time as they ride them. Players leave behind a trail of procedurally-generated coaster tracks and supports, which then become obstacles as the player circles back. While riding players can also dynamically connect to isolated track segments like loops, cobra rolls, bat wings, and barrel rolls. With these innovative game features and engine technology players can now build coasters while enjoying a fast paced, arcade style, roller coaster racing simulator.
Key features
Campaign mode with 30 fast paced challenges of increasing difficulty.

Build your track rails in real-time through a specialized procedural game engine.

Perform crazy stunts like corkscrews barrel rolls, outside loops, inverted loops, and more!

Link to existing tracks including cobra rolls, loops, helix, bat wing, inverted batwing, and more!

Soar off mammoth jumps for an extra intense, front seat, replay experience.

Coasters can even derail, slide, and link back to track rails again.

Addictive gameplay with preferred and alternate paths for an extended replay experience.

Freeride mode for simply creating wild coasters.

AI stunt recognition. The more stunts you pull, the higher your leaderboard placement.

When finished, take a front seat ride in your custom coaster design.

Destructible environments provide extra points for leaderboard placement.

In game Global/Friends Leaderboard support along with Achievements and Stats.

3D stereoscopic support including 3D Vision, side by side, and above/below modes.

Custom RGB settings for rail, support, and tie colors.

Realtime procedural track and support generation with specialized AI

Realistic procedural trees with dynamic wind effects

Beautiful water effects with reflection and refraction

High Dynamic Range lighting effects
Configuration requise
Système d'exploitation : Windows XP ou ultérieur

Processeur : Double cœur 2.2 GHz

Mémoire vive : 2 Go de RAM

Disque dur Space: 2 Go d'espace disque disponible

Carte graphique : Carte graphique Nvidia 8800

DirectX® : DirectX 9.0

Son : Compatible DirectX
Évaluations intéressantes des utilisateurs
Titre:
Roller Coaster Rampage
Genre:
Petit jeu
,
Indépendant
,
Simulation
Développeur:
Pantera Entertainment
Éditeur:
Pantera Entertainment
Date de parution:
19 juin 2012
Langues:
| | Interface | Son | Sous-titres |
| --- | --- | --- | --- |
| Anglais | | | |