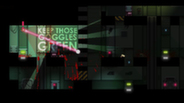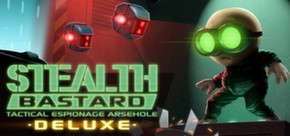 Uniquement armé de vos sens et d'une paire de lunettes furtives, votre job est de vous frayer un chemin dans un complexe mortel qui est déterminé à mettre un terme à votre fragile et insignifiante existence.
Date de parution: 28 nov 2012
Visionner la vidéo HD
Acheter Stealth Bastard Deluxe
Packages qui comprennent ce jeu
Acheter Stealth Bastard Deluxe + Soundtrack
Inclut les 2 articles suivants : Stealth Bastard Deluxe, Stealth Bastard Deluxe - Soundtrack
Acheter Stealth Bastard Deluxe Bundle
Inclut les 3 articles suivants : Stealth Bastard Deluxe, Stealth Bastard Deluxe - Soundtrack, Stealth Bastard Deluxe - The Teleporter Chambers
Acheter Curve Indie Bundle
Inclut les 3 articles suivants : Stealth Bastard Deluxe, Velocity®Ultra, Explodemon
Contenu téléchargeable disponible pour ce jeu
À propos du jeu
Stealth games are awesome. Hiding from The Man, skulking in shadows, the thrill of infiltration. But why do they have to be so... slow?
That was the question that spawned Stealth Bastard, the fast-paced, nail-biting antidote to tippy-toed sneaking simulators that the world had so desperately been craving. Now, building on the ideas sketched out in this unholy marriage of deft, wall-hugging stealthiness and insane break-neck platforming, we're proud to bring you the bigger, better, shinier Stealth Bastard Deluxe.
Armed with only your wits and a pair of top of the range Stealthing Goggles, it's your job to sneak your way through a deadly facility that's determined to extinguish your fragile little life. With no weapons and no armour, being seen means instant death. Stay out of the light to avoid the attention of deadly security robots! Leap like a lusty salmon to avoid those zap-happy lasers! Think fast as the walls close in around you! Only the fastest and sneakiest will make it to the exit without being mangled by the facility's security systems. Will you be among them?
Key Features
Campaign Mode: 80 levels spread across eight worlds, featuring tricky puzzles, platforming challenges and a wide range of sharp-eyed security bots who are entirely unsympathetic to your plight.

Dynamic Lighting: Stay in the shadows cast by Stealth Bastard Deluxe's dynamic lighting system to escape the attention of enemies and security cameras.

Equipment: The Camo Suit, the Decoy, the Sonic Decoy, the Antilight and the Teleporters provide new ways of outfoxing enemies in every level.

Secrets: Find all the secrets hidden in the game to unlock new levels and equipment.

Leaderboards: Stealth Bastard Deluxe's Global Leaderboard will determine once and for all who is best at games. Each level has individual leaderboards for playthroughs with and without equipment. You can also compare scores with your Steam friends using the Friends Leaderboard.

Level Editor: The level editor used to create Stealth Bastard Deluxe's Campaign Mode is included with the game. Taunt friends and strangers alike with your hard-as-nails creations!

Online Level Repository: Levels created in the level editor can be uploaded to the online level repository, from where other people who own the game will download them automatically.

Steam Cloud Support: Pick up your save no matter where you are.

Achievements: An assortment of dastardly achievements, some obvious, some mind-bogglingly oblique. Will you get them all?
Configuration requise (PC)
Minimum :


Système d'exploitation : Windows XP SP2 ou mieux, Vista, Win7

Processeur : Double-cœur 2.5Ghz

Mémoire vive : 2 Go de RAM

Affichage : Compatible DirectX 8.0

DirectX® : 8.0

Disque dur : 250 Mo d'espace disque disponible
Recommandée :


Autres prérequis : Connexion Internet haut débit
Configuration requise (MAC)
OS: Mac OS X 10.6 Snow Leopard

Processor: Dual Core 2.0GHz

Memory: 1GB RAM

Graphics: NVIDIA/AMD GPU with 500MB+

Hard Drive: 300MB

Sound:
Configuration requise (Linux)
OS: Ubuntu 12.04 or higher

Processor: Dual Core 2.0GHz

Memory: 1GB RAM

Graphics: OpenGL-capable graphics card with valid driver

Hard Drive: 300MB

Sound:
Évaluations intéressantes des utilisateurs