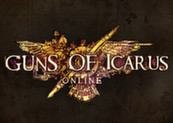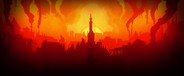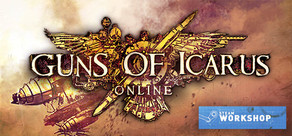 Guns of Icarus Online is the premier airship combat game. With a good ship and the right crew, you can conquer the skies!
Release Date: Oct 29, 2012
Watch all 3 trailers
Buy Guns of Icarus Online
Buy Guns of Icarus Online Collectors Edition
Includes: Guns of Icarus Online, Captain's Costume Pack, and Soundtrack
Buy Guns of Icarus Online Collectors Edition 4-Pack
Includes: Guns of Icarus Online, Captain's Costume Pack, and Soundtrack, Plus 3 Extra Copies for Your Friends!
July 30th, 2014
NOTE: If you find yourself always at "Connecting..." black screen, please try restarting your Steam Client

Features & Contents: 19
Bug Fixes: 70

FEATURES & CONTENT
- Clan list improvements: added search functionality, additional ranking schemes, and clan member titles
- Added new ship themes: Valentine's Day and The Fortress
- Added new figureheads: Totec, Sylph, and Chrysomallus
- Added 2 new Japanese voices for voice commands
- Basic Tutorial Improvements - added goals, mini-missions, and focused on critical gameplay knowledge
- Added additional antialiasing option, FXAA. Faster on most hardware and fixes a number of glitchy cases
- Added 3rd-person animation for looking through the spyglass
- Added distinctive costume for AI crewmembers
- Chat command improvements:
- Commands now listed by typing "/help"
- Can now send PMs to players with spaces in their name by doing /w "player name"
- /pm now functions the same as /w
- /team now lets you switch to team channel
- Chat channel commands (/r /w /c) no longer case sensitive.
- Added confirmation for reporters and reported players.
- Added confirmation to all "Exit Game" buttons
- Automatically retry login from the "Login Failed" screen
- Added indicator to main-screen Progression button for unclaimed prizes
- Added descriptions to badges
- Changed labeling of customization buttons for clarity
- Manual added to Steam store page
- Use on screen tutorial tips to inform players what they should be shooting at.
- Added more direct support link in "Need Help?" section in game footer
- Clicking on version number in footer now opens Release Notes (in a browser window)
- Flight of the Icarus code update and fixes

BUGFIXES - GAMEPLAY
- Fixed: no achievement progress for fully repairing a buffed hull
- Fixed 'Yesterday, tomorrow' achievement not confirming kills by crew members
- Fixed: first fire stack deals more damage than intended
- Fixed: raycast weapons might not apply skill modifiers on their last shot in a clip
- Fixed: Holding down the mouse button buffs/rebuilds slower than clicking rapidly
- Fixed: Tar Barrel clouds not affected by wind
- Fixed: Crew members do not show up victory screen when their ship is distant or in a cloud
- Fixed: Signal volume slider not working
- Mine balloon hitbox matches visuals now
- Extended ship walkable volumes a bit to prevent cases of fading out while still on the ship
- Fixed: a case where you could be "respawned" while using a gun
- Fixed: Effects leaks from match to match
- Fixed: Fire fighting tools' fail sound effect is inaudible in third person
- Fixed: Hitting reload on a weapon with non-standard ammo and no shots fired reloads regular ammo with modified clip size.
- Adjusted gun hitboxes
- Fixed: AI ignores 'captain target' command
- Fixed: Rare PhysX crash on ship death
- Fixed: Destruction logs in tutorials mention the wrong ship
- Fixed: Heavy flak reload animation issue
- Fixed: tools twitch if you switched while the previous one's 'use' animation is still playing
- Fixed: Next and previous crew spectating was not able to switch to the 4th crew member of a ship.
-Fixed: Certain weapons gunfire sounds missing for spectators
- Fixed: achievements bugged with 100% hull health required (Not a Scratch, Untouchable, Unscathed)

BUGFIXES - UI
- Fixed: some UI sounds not affected by SFX volume slider
- Fixed: choosing a dye in the ship customizer reset team color
- Fixed: text could overflow container in clan quotes and messages
- Fixed: erroneous "connection failed" message when moving into a game
- Fixed: Swapping slots from captain to crew leaves a Ready button on the screen
- Fixed: Captain's Priority marker doesn't disappear when the target is destroyed
- Fixed: Ship cosmetics not showing up in prematch preview
- Fixed: Chat doesn't minimize when entering clan page from a player's profile
- Fixed: If chat is disabled in spectator getting to the menu and back will show up the chat help
- Fixed: UI breaks when trying to respond to a PM on a screen where chat is disabled
- Swapped positions of "Cancel" and "Submit" buttons on the Report page for consistency
- Updated facebook link
- Fixed: decal vs logo naming inconsistency
- Fixed: Match end reports stuck on screen
- Fixed: Sandbox vs Practice naming inconsistencies
- Support/website link on login fail screen now clickable
- Fixed: Button labeling and clicking consistencies
- Fixed: When receiving a notification at loading screen only the close button 'X' is visible
- Tooltips updated
- Swapped positions of 'Cancel' and 'Accept' buttons on resolution change confirmation screen.
- Fixed: Using slot swap to switch from a captain to crew leaves the ready button on screen.
- Fixed: Redeemable prizes list doesn't update after redeeming
- Fixed: Typo in achievement 'Stalling for Time' description
- Fixed: Issue with badge display in Profile
- Fixed: Flickering at the bottom of skills icons in skills selection screen
- Fixed: Compass signs overlapping captain commands
- Fixed: player quote not refreshing when not saving the changes
- Button label changed to 'Cancel' and 'Save Changes' in customization menus
- Fixed: no sound effect when clicking on certain menu items
- Fixed: Global chat visible while transitioning from victory screen to lobby
- Fixed: UI breaks when trying to connect to a private lobby while at the community menu
- Fixed: Wrong display mode shown if you cancel the change at confirmation

BUGFIXES - VISUAL
- Fixed: Silhouette created by flares disappears when zoomed in with spyglass/scope
- Fixed: Fog artifacts on the edges of distant objects
- Fixed: Clouds "pulsating" on some maps (when postprocess effects enabled)
- Fixed: Effects left behind on the seats of heavy guns
- Fixed: Map edge effects triggering in certain spots in the middle of Battle on the Dunes
- Fixed: Flickering artifacts on certain meshes in Battle on the Dunes
- Fixed: Rope clipping inconsistencies
- Fixed: Ship dyes do not take ship LODs into account
- Fixed: LOD only baking half of the textures
- Fixed: Fadeout spots around the edges of ships
- Fixed: Camera shakes in menu while spectating and locked on a ship being attacked.
- Fixed: Rope clipping through gun on Spire
- Fixed: Hole under left stairs on Galleon
- Fixed: Ship decoration flags disappearing when looking at them from a certain angle
- Fixed: adding themes to Mobula removes flags on the ropes

BALANCE
- Updated novice loadouts based on community feedback
- Tar Barrel is now click-to-activate on a 3-second cooldown
22 comments
Read more
July 4th, 2014
Happy 4th of July everyone! Fireworks will be in the game all weekend so everyone can enjoy the festivities. Go forth and fill the sky with bright lights and twisted debris.
7 comments
Read more
Reviews
"This indie gem is in fact funking awesome."
– Massively

"Those looking for a team-based challenge will find plenty to love with Guns of Icarus Online."
– Penny Arcade

"Guns of Icarus Online scratches a certain itch that few other games can reach."
– IGN
Just Updated
v1.3.6 Update is now live! With community features such as clan and events, as well as ship customizations (figureheads, deck themes, decals, and paints), a new tutorial, and more!

The full release notes here: http://gunsoficarus.com/blog/1-3-6-update/
Community Events
Here are a list of ongoing and upcoming community events hosted by players and Muse Games!

Weekly:

Fireside Chat with Devs on Fridays at 3pm EST (http://www.twitch.tv/gunsoficarus)

Fight the Devs Hour! In game on Tuesday and Thursdays at 1pm EST (watch global chat for password and win cosmetic items if you beat the devs!)

Leviathan Seasonal Battles every weekend (sign up on the forums http://bit.ly/LeviathanSeasonal)

Sunday Rumble on Sundays at 3pm EST (sign up on the forums and look for latest Sunday Rumble thread http://bit.ly/GunsForumCommunity)
Upcoming:
Support Your Local Aerodome! Tournament starting Feb 8 (sign ups here http://bit.ly/SupportAerodome)
About the Game
Hop aboard a
steampunk airship
with friends and play as
Gunner
,
Engineer
, or
Pilot
. Gun down dirigibles, repair your way out of danger, pilot the ship into combat. Are you a decisive Captain or dutiful Crew? Teamwork is required to survive the skies of the
premier
airship combat game: GUNS OF ICARUS ONLINE!
Raising the stakes on team-based PvP combat with an emphasis on strategic competition and truly cooperative play, Guns of Icarus Online is the best airship-to-airship combat game that's all about teamwork, tactics, and fast-paced action. With a good ship and the right crew, you can conquer the skies!
Key Features
Richly crafted steampunk/dieselpunk-inspired world

Genre-busting gameplay with strategy, navigation, shooter, and time-management elements

Pick a role to suit your play style: Pilot, Gunner, or Engineer

Choose your airship and its weaponry to execute the perfect strategy as a Captain

Form a group with up to 3 other friends and crew a ship together

Integrated voice chat keeps you in constant contact with your teammates

Diverse ship classes and tons of weapons to choose from with realistic flight and projectile physics

Massive air battles with up to 32 players in a match

Multiple game modes including Deathmatch, King of the Hill, and Crazy King

Rise in the ranks! Earn titles and cosmetic items as you progress

Achievement system fully integrated with Steam achievements

Balanced, competitive matches reward strategic, skillful play, not level grinding

Show off your style with a wide range of costumes and cosmetic options in the in-game store with an amazing dye system

1st person and 3rd person camera modes

Custom games with spectator mode for streaming and tournament play
PC System Requirements
Minimum:


OS:Windows 7

Processor:2 GHz processor

Memory:2 GB RAM

Graphics:Intel HD3000, Nvidia GeForce GT8600 or equivalent

DirectX®:dx90c

Hard Drive:3 GB HD space

Other Requirements:Broadband Internet connection
Mac System Requirements
Minimum:


OS:Mac OS X 10.6

Processor:2 GHz processor

Memory:2 GB RAM

Graphics:Intel HD3000, Nvidia GeForce GT8600 or equivalent

Hard Drive:3 GB HD space

Other Requirements:Broadband Internet connection
Linux System Requirements
Minimum:


OS:Ubuntu 12.04 LTS, 32-bit (Linux machine configuration not supported)

Processor:Dual-core 2 GHz

Memory:2 GB RAM

Graphics:Intel HD3000, Nvidia GeForce GT8600 or equivalent, supporting Shader Model 3 equivalent

Hard Drive:3 GB HD space

Other Requirements:Broadband Internet connection
Helpful customer reviews
Awards