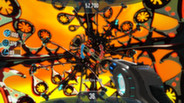 Bullet-hell, boss-battle, first-person shooter, with giant-robots, martinis and jetpacks. YES. Drink the cocktails. Fight the titans. Make your own Titans. Drink your friend's cocktails.
Data de lançamento: 19/fev/2014
Assistir a todos os 2 trailers
Comprar Drunken Robot Pornography
Comprar Drunken Robot Pornography 3-Pack
Includes 3 copies of the game. 1 copy for yourself and 2 to give to friends.
17 de abril
Ichiro and Rohit will be live on http://Twitch.tv/dejobaan to build another Drunken Robot Battle Royale level. Come tell us what you want to see and join the madness at 5pm ET/ GMT-4 on Thursday April 17th.
0 comentários
Leia mais
Sobre o jogo
Drunken Robot Pornography (DRP) is a bullet-hell first-person shooter for Windows. Battle giant robots -- called Titans -- as they try to slice you apart with their lasers. Pick off their missile launchers, fry away their carbon fiber armor, and tear off their claws, leaving them writhing.
Drunken
You're Reuben Matsumoto. You used to own a bar.
Robot
You gave your robot bartender, Tim, sentience. He went nuts, stole your other 12 bots, and burned down your bar.
Pornography
He's attacking Boston with 20,000 drones, 40 Titans, and his lieutenants, the 12 Drunken Robot Centerfolds.
30-story tall giant robots. Jetpacks. Guns. It all started so innocently. Your robot bartender, Tim, used to make the best drinks at your nightclub. But you gave him sentience so that he could better empathize with the customers. Struck by the world's problems, he went crazy, burned your club to the ground, and fled with your twelve exotic robot dancers. Weeks later, giant robots started attacking the City of Boston -- not a coincidence!
Key features:
Requisitos do sistema – PC
OS: Windows Vista, 7, 8

Processor: 1.7GHz Intel/AMD CPU

Memory: 2GB RAM

Graphics: 512MB 3D Card, Shader Model 3

DirectX®: 9.0c

Hard Drive: 2GB

Sound: DirectX Compatible Sound Card
Requisitos do sistema - Linux
OS: Ubuntu 12.04 or later

Processor: 1.7GHz Intel/AMD CPU

Memory: 2GB RAM

Graphics: 512MB 3D Card, Shader Model 3

Hard Drive: 2GB
Análises úteis de usuários