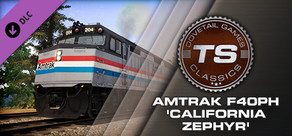 A játékhoz szükség van a(z) Train Simulator 2014 alapjáték Steames változatára.
Megjelenés dátuma: 4 Okt 2012
F40PH California Zephyr Pack vásárlása
Ezt a játékot tartalmazó csomagok
Train Simulator: Diesel Collection vásárlása
6 elemet tartalmaz: Freightliner Class 70 Loco Add-On, Amtrak F40PH 'California Zephyr' Loco Add-On, EWS Class 67 Loco Add-On, DB BR232 Loco Add-On, MRCE ER20 Eurorunner Loco Add-On, Southern Pacific SD70M Loco Add-On
USA Ultimate Collection vásárlása
14 elemet tartalmaz: BNSF ES44AC & SD40-2 Loco Add-On, Northeast Corridor Route Add-On, Horseshoe Curve Route Add-On, Amtrak Acela Express EMU Add-On, Donner Pass: Southern Pacific Route Add-On, PRR GG1 Loco Add-On, PRR K4 Loco Add-On, BNSF SD75 Loco Add-On, Southern Pacific Cab Forward Loco Add-On, Amtrak F40PH 'California Zephyr' Loco Add-On, Cajon Pass Route Add-On, Norfolk Southern SD40-2 High Nose Loco Add-On, CN SD40-2 Wide Nose Loco Add-On, SW1500 Switcher Loco Add-On
A játékról:
The F40PH California Zephyr brings together one of the most famous names and one of the most recognisable shapes in US railroading for Train Simulator!

Built by the General Motors Electro-Motive Division from 1975 into the early 1990s, the F40PH was built specifically for Amtrak to haul short passenger services. However, it soon proved its versatility and before long the F40PH was hauling long-distance passenger trains such as the famous California Zephyr. Other operators also ordered a number of these locos, including Via Rail Canada, GO Transit and NJ Transit. With a 3,000 horsepower diesel engine, the F40PH had a top speed of just over 100mph and though most of Amtrak's units have been retired, they have continued in service with other owners across North America including CSX, Metra and MBTA. The California Zephyr has been a legendary name for railroad fans since it first ran in 1949. Running from Chicago, Illinois to Emeryville, California and passing through 7 states, the current Amtrak California Zephyr first ran in 1983 and still rolls along its scenic 2,400-mile route every day.

The F40PH for Train Simulator recreates the Amtrak Phase III colour scheme and includes Amtrak Super-Liner Phase II and Phase III passenger cars including coach, diner and sleeper, and baggage cars. Drive the included scenarios for the Donner Pass (also available on Steam) or select Quick Drive and drive the F40PH wherever you want.
Includes

F40PH diesel locomotive in Amtrak Phase III livery, with detailed controls and cab including instrument lighting

Amtrak passenger cars: Phase II and Phase III versions of the Baggage car, Coach, Lounge Café Car, Sightseer Lounge car, Sleeper car and Transition Sleeper car.

5 scenarios for the Donner Pass route, also available on Steam

Quick Drive compatible
Rendszerkövetelmények
Minimum:


OS:Windows® XP / Vista / 7 / 8

Processor:Processor: 2.8 GHz Core 2 Duo (3.2 GHz Core 2 Duo recommended), AMD Athlon MP (multiprocessor variant or comparable processors)

Memory:2 GB RAM

Graphics:512 MB with Pixel Shader 3.0 (AGP PCIe only)

DirectX®:9.0c

Hard Drive:6 GB HD space

Sound:Direct X 9.0c compatible

Other Requirements:Broadband Internet connection

Additional:Quicktime Player is required for playing the videos
Recommended:


Additional:Quicktime Player is required for playing the videos
Amtrak is a registered service mark of the National Railroad Passenger Corporation. All rights reserved. Used with Permission.
Ehhez a termékhez még nincs nyilvános értékelés.
Írhatsz saját értékelést ehhez a termékhez, hogy megoszd élményedet a közösséggel. Használd a vásárlás gomb feletti részt ezen az oldalon értékelésed megírásához.
Cím:
Amtrak F40PH 'California Zephyr' Loco Add-On
Műfaj:
Szimuláció
Fejlesztő:
RailSimulator.com
Kiadó:
RailSimulator.com
Megjelenés dátuma:
4 Okt 2012
Nyelvek:
| | Felület | Hang | Feliratozás |
| --- | --- | --- | --- |
| Angol | | | |