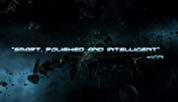 Guide your civilization through a massive ancient galaxy as you build & break alliances to take control!
Julkaisupäivä: 4 Heinäkuu 2012
Katso kaikki 2 traileria
Osta Endless Space - Emperor Edition
Paketit, jotka sisältävät tämän pelin
Osta Endless Space Gold
Sisältää 2 kohdetta: Endless Space, Endless Space - Disharmony
Tämän pelin lisäsisältö
15 tammikuuta 2014
RELEASE NOTES [1.1.42]
Hello,
The new patch for Endless Space should be available by any time now, but here's a little explanation on our changes, in addition to the release notes.
CHANGES ON THE HARMONY & VAULTERS
The Harmony
Changes done in order to resolve their issue of starting systems way slower than the other races and thus making them more competitive we added a new ability.
Harmony now gets a 2 FIS bonus on their system for each orbiting ship up to 2x the CP max. It helps them to compensate the buyout and to profit from the lack on upkeep of their fleet by either cheap ship in early to accelerate the development or later defensive fleet to keep a considerable bonus with the end game CP limit.
The Vaulters
In first place, Vaulters were immune against disapproval but it was not fun enough. So we added a little gameplay twist; now only system with Portals are not counted for the expansion disapproval and the counter part is that the expansion disapproval is 3 times stronger for a Vaulter.
Still too easy huh? Well, to reinforce the defensive aspect of the Vaulter, the Portal can now only be built on a system with 100% ownership.
In addition to that, we modified their unique improvement: now, only one is needed in the Empire and it will produce 1% of Science on Empire per Portal. The counterpart is, the construction of the building reduces by 66% the Science on all systems.
Have fun! We're looking forward to reading your feedback on those changes.
RELEASE NOTES [1.1.42]
CHANGES AND ADDITIONS [DISHARMONY DLC]
Implemented the new Harmony Resonance bonus: + 2 FIS / ORBITING SHIP UP TO 2x CP MAX

Added a new property to manage the dynamic cap of Harmony new bonus. This property is shown in the affinity tooltip (2*Max command pop)

Added new localisation key for Harmony affinity to explain their new bonus

Increased the reduction on civilian modules for all colonization hulls
CHANGES AND ADDITIONS [VAULTERS]
Expansion Disapproval multiplied by 3 for Vaulters

Systems with Portals aren't count for Expansion Disapproval

The unique Vaulter improvement (the Portal particle screen) now takes 15 turns to be built

The unique Vaulter improvement provokes a loss of Science (- 66%) during its construction

Only one unique Vaulter improvement is needed to generate Science from all the Portals

Added new properties to manage the gain of Science on Empire from Portals
FIXES [DISHARMONY & VANILLA]
Fixed an Alliance bug when in some cases making peace with another Alliance was impossible

Fixed an issue on the creation of an Alliance in the multiplayer between two human players, when one is already in an Alliance

Fixed a bug regarding creation of colony ship when using the "Wasted Space" trait

Fixed a bug on the prefab of the Hissho Colony ship
FIXES [VAULTERS]
Fixed the Vaulters appearance title and tooltip description from the custom race menu

Fixed bug where the teleportation FX of the Vaulters was played even if the fleet didn't move
30 kommenttia
Lue lisää
Endless Space includes...
These 4 add-ons bring a new custom faction, heroes, buildings, technologies, events, musics and plenty of new features voted by the community, such as Exploration Rewards or Wonders, that enhance the game immersion and experience!
Extra Content
Tietoja pelistä
Tämä galaksi on muinainen ja sen ensimmäistä älyllistä sivilisaatiota me kutsumme nimellä "the Endless". Kauan ennen kuin meidän silmämme tähysivät tähtiin, he lensivät tällä tähtitaivaalla. Dustina tunnettu aine on kuitenkin kaikki mitä tästä kansasta on jäljellä. Tämä galaksiin hajaantunut ja unohdetuista temppeleistä löytyvä aines antoi aikoinaan vallan amiraaleille ja galaktisille kuvernööreille. Galaksi tulee kuulumaan sille ryhmittymälle, joka onnistuu ottamaan haltuunsa Dustin ja ratkaisemaan sen salat...
Ole synnynnäinen johtaja: Opasta yksi kahdeksasta sivilisaatiosta kohti galaktista dominiota. Tuletko hallitsemaan kokonaista galaksia viekkaan kaupankäynnin ja diplomatian avulla, tutkien universumin jokaisen nurkan mahtavien artifaktien ja resurssien perässä? Vyörytkö muiden kansojen yli kehittyneillä teknologioilla vai tuhoatko vihollisesi massiivisilla armadoilla?


Loputtomia löytöjä: Pelaajalta ei tule puuttumaan haasteita satojen aurinkokuntien ja erilaisten planeettatyyppien ollessa tutkittavana. Luksus- ja strategiset resurssit on hyödynnettävä, Dustin salaisuudet selvitettävä sekä selviydyttävä suuresta kirjosta outoja tieteellisiä ilmiöitä. Palkkaa sankareita laivastojesi amiraaleiksi tai aurinkokuntiesi kuvernööreiksi. Opi tuntemaan viisi sankariluokkaa uniikkeine taitopuineen ja erikoistumisineen.


Avaruusoopperaa: Koe "Endless Space" huippuluokan grafiikoilla ja käyttöliittymällä. Vaihda strategisten taisteluiden päätösten ja pitkän linjan suunnittelun välillä. Optimoi jokainen laivasto eeppisten taisteluiden varalta valloitussodan kohteiksi joutuneilla aurinkokunnilla. Luo täydellisiä yhdistelmiä lukuisista jokaiselle sivilisaatiolle kuuluvista uniikeista aluksista. Kokoa avaruusaluksesi moduuleista, aseista, moottoreista ja erikoisosista. Pelaajalla on laaja valikoima työkaluja kuinka parhaiten tuhota tai alistaa vihollinen.


Käy käsiksi universumiin: Pelaa enintään seitsemää pelaajaa vastaan ja rakenna – tai tuhoa – liittolaisuuksia tahtosi mukaisesti. Samanaikainen, vuoropohjainen pelitapa on innovatiivinen ja dynaaminen. Salli pelaajien hypätä sujuvasti meneillä oleviin moninpeleihin. Luo oma sivilisaatiosi ja kohtaa sillä ystäviesi luomukset.


Loputon uudelleenpeluuarvo: Kontrolloi jokaisen pelin laajuutta aina pikapelistä loputtomaan sotaan. Generoi loputtomasti erilaisia satunnaisia galakseja, joista jokainen aloittaa uuden seikkailun. Muokkaa galaksin kokoa, muotoa, tiheyttä, ikää ja paljon lisää luodaksesi ideaalisimman galaksin makuusi. Valitse erilaisia voittoehtoja ja mukaudu lennossa strategisten tilanteiden muutoksiin.


GAMES2GETHER: Seuraa pelin kehittäjätiimin tavoitteita, edistystä ja saavutuksia. Osallistu pelin luomiseen GAMES2GETHER-aloitteen kautta. Saa pelioikeus uusimpiin versioihin ja anna palautetta pelin kehittäjille. Keskustele nykyisistä ja tulevista peliominaisuuksista ja lisäosista pelin kehittäjien kanssa.
Järjestelmävaatimukset (PC)
Minimum:


OS:Windows XP SP3 / Vista / 7

Processor:Core 2 Duo Processor or Equivalent

Memory:2 GB RAM

Graphics:256 MB DX9 Compliant

DirectX®:9.0c

Hard Drive:2 GB HD space

Sound:DirectX 9 Compatible Audio
Recommended:


OS:Windows XP SP3 / Vista / 7

Processor:Core i5/i7 or equivalent

Memory:2 GB RAM

Graphics:512 MB DX9 Compliant with PS 3.0 support

DirectX®:9.0c

Hard Drive:2 GB HD space

Sound:DirectX 9 Compatible Audio
Järjestelmävaatimukset (MAC)
Minimum:


OS: MAC OS X 10.6.7 or higher.

Processor: Intel Core Duo Processor (2GHz or better)

Memory: 2GB

Graphics: ATI Radeon 2400 or higher / NVIDIA 8600M or higher / Intel HD Graphics 3000

Hard Drive: 2GB
Recommended:


OS:MAC OS X 10.6.7 or higher.

Processor: Intel Core Duo Processor (2GHz or better)

Memory: 4GB

Graphics: ATI Radeon 2400 or higher / NVIDIA 8600M or higher / Intel HD Graphics 3000

Hard Drive: 2GB
© 2012 Amplitude Studios. All rights reserved.
Endless Space, Amplitude and Amplitude logo are trademarks of Amplitude Studios in the U.S. and other countries.
*Amplitude Studios reserves the rights to monitor, suspend or terminate access to the Amplitude Studios forums for any user who does not abide by the guidelines found here
Hyödylliset arvostelut
Palkinnot