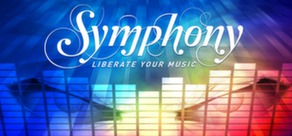 A mysterious entity is absorbing and corrupting your music before your very eyes. You must battle through your own song collection and fight to reclaim your music!
Release Date: Aug 6, 2012
Watch HD video
Buy Symphony with iTunes & m4a support
Downloadable Content For This Game
January 15th, 2014
Hello everyone!

We are working on more meaningful updates for the coming months, but have just put out a patch to address some of the more oft-mentioned issues:

-Support for up to 20 drive letters (up from only 8)
-Tweaked the behavior of the infamous 4th boss
...and a few other minor fixes.

Thanks again for all your feedback, we hope you enjoy Symphony!

Francois



5 comments
Read more
November 27th, 2013
Hello everyone!

Thanks to your feedback, we have finally published the biggest update ever to Symphony, containing:

-Unlimited song length support
-Controller support (in-game only for now)
-Faster & MUCH more stable song scanning, especially for large collections
-Numerous bug fixes

Cheers,

Francois
Empty Clip Studios
13 comments
Read more
Reviews
"Symphony is fun, pure and simple."
84/100 – PC Gamer
About the Game
Your music is under attack, you must liberate it!
A mysterious entity is absorbing and corrupting your music before your very eyes. You must battle through your own song collection, discover items, customize your ship and fight boss enemies to liberate the Symphony of Souls and reclaim your music!
Symphony is one of the most music-driven games ever made. In this vertical shooter, re-experience each of your songs as it becomes a unique battlefield driven by intensity and tempo.
Your music collection is now an item collection! Each of your songs contains an item you can discover, equip and upgrade. Fully customize your ship to reach score targets, upgrade items and unlock new difficulty levels.
Showcase your skill. Symphony's innovative per-song leaderboard rewards you more, when you dominate with less powerful weapons. Find the loadout that suits your style and show what you can do!
Key features
Battle a mysterious entity that absorbs and corrupts your music as it plays

Cutting-edge music analysis adapts the game to any song you like!

Innovative per-song leaderboard system rewards you based on your weapons and the difficulty level

5 unique sets of boss enemies to conquer

6 difficulty levels

Discover, collect and equip weapons hidden inside your own music collection

30 achievements/medals to unlock

Supported file types: MP3, OGG, WAV, FLAC, WMA, AIFF, WV, APE

M4A & AAC supported via a DLC download for a small fee to cover patented decoder licensing costs (M4A & AAC also require the free QuickTime player)

Full amBX™ support (cool lighting!)
System Requirements
OS: Windows XP SP3 / Vista / 7

Processor: 2 GHz

Memory: 2 GB RAM

Hard Disk Space: 250 MB

Video Card: MB, DirectX® 9.0c-compatible, Shader Model 3.0 or higher

DirectX®: DirectX 9.0c

Sound: DirectX 9.0c-compatible
QuickTime is a trademark of Apple Inc.
amBX™ and the amBX logo are © 2008 amBX UK Ltd. All rights reserved.
Helpful customer reviews
Awards