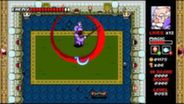 The once peaceful Kingdom of Gorudo is threatened by an evil presence. The only hope for salvation is Cyrus!
Releasedatum: 14 mrt 2012
HD-video bekijken
Info over het spel
Het eens vredige koninkrijk van Gorudo wordt bedreigd door een boosaardige aanwezigheid. De enige hoop op redding is Cyrus, een tovenaar die erg ervaren is in een geheime magische kunst genaamd Wizorb! Verken vele vreemde plekken, van het verlaten, door monsters geïnfesteerde dorpje Clover tot het kasteel Gorudo, bovenaan Cauldron Peak. Het gevaar schuilt om elke hoek, dus je moet je verstand er bij houden en snelle reflexen hebben om te overleven.
Belangrijkste onderdelen:
Een compleet nieuw blok-brekend spel dat zich aspeelt in een fantasiewereld.

Gebruik je toverstaf om de bol rond te kaatsen en meerdere magische spreuken te gebruiken.

Meer dan 60 levels in 5 verschillende werelden.

Verdien goud om talismans mee te kopen of de inwoners te helpen hun huizen te herbouwen.

Epische baasgevechten.

Meerdere eindes.

Karakteranimatie door Paul Robertson.
Systeemeisen (PC)
OS:Windows XP or later

Processor:Dual-core processor (Intel Dual Core 2.0 GHz or AMD Athlon X2 5200+ 2.6 GHz)

Memory:1 GB RAM

DirectX®:9.0c

Hard Drive:250 MB HD space

Sound: DirectX 9.0c compatible sound card

Systeemeisen (Mac)
OS:Mac OS X v10.6 or later

Processor:Intel Core™ Duo or faster

Memory:1 GB RAM

Hard Drive:250 MB HD space

Graphics:128 MB space

Copyright © 2012 Tribute Games Inc.
Nuttige klantrecensies