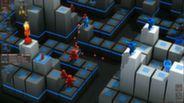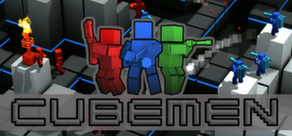 Just Updated! Version 1.1 now has 6 New online Mayhem levels, Character Customization, 35 Defense levels, 25 Skirmish levels, and more!
Release Date: Mar 16, 2012
Watch HD video
Packages that include this game
Buy Cubemen Bundle
Includes the official soundtrack.
December 12th, 2013
Just a heads up that we are running a Kickstarter campaign for our current game in development - Fight The Dragon

Fight The Dragon Kickstarter

Fight The Dragon is a 3D Mini Action RPG that also ships with an advanced in game Adventure Construction Kit and will be released on Steam next year for Win, OSX and Linux.

Key Gameplay Features
- Action packed Hack-and-Slash Adventuring
- Epic loot to find and dangerous enemies to battle
- Local Drop-In Split-Screen Co-Op
- Up to 4 player online Co-Op (cross platform)
- Endless range of adventures to play
- Intense Dragon Fights
- Fully intuitive gamepad support as well as Mouse & Keyboard
- Full Steam Big Picture/Steam Machine support
- In game Adventure Construction Kit

We'd love the help of our Cubemen community in backing the project and spreading the word.

Thanks :-)
3 comments
Read more
Just Updated
New Features:

Level Editor including level creation, sharing & favourites - Yes Finally!

Soon to be hundreds or thousands of user levels to play

Brand new music tracks with custom music theme selection options per game mode

Local Mayhem games versus Bots (no need for online connectivity at all)

Random tower placement option in defense (unlocked per level by getting platinum)

Reverse tower placement in Skirmish mode (local and online games)

Brand new music tracks with custom music theme selection options per game mode

New volume controls for Music and SFX in game options and in game

Level Theme skinning gallery
About the Game
Cubemen is a fast paced, action packed, original 3D Tower Defense game that mixes TD with RTS in
single player & online multi-­player awesomeness! Get ready for some crazy Cubemen action!
It's the age old struggle between Good vs Bad, Blue vs Red, Little men vs Little men. Use your own
little Cubemen to defend your base from other little Cubemen that are trying to run it over. It's the
usual story, but with many very interesting twists.
Play a purely defense game in various modes on a sweet selection of levels, or go into Skirmish
mode and play a new type of TD game against either the computer or another human opponent.
That's right.. Two way REAL-­TIME TD against the computer or a real person!
It's TD like you've never seen or experienced before.
Key Features:
35 local Single-player Defense levels in ranging difficulties from beginner to insane

25 local Real-time Multi-player Skirmish levels (play One v.s One against AI or another Human)

9 local Real-time Multi-player 6 way online Mayhem levels

No static towers... Your towers are actually Cubemen. Place them and move them around at will.

Real 3D environments with Height, Cross overs, bridges and floating platforms.

6 Single-player Defense modes to choose from with local and online leader boards

Online Leader-boards and Statistic tracking

41 Achievements to earn

Clean, rich and simplistic visuals that keep the focus on the strategy

PC System Requirements
OS:Windows XP, or later

Processor: Intel or AMD

Memory:1GB

Hard Disk Space: 120MB

Video Card: Nvidia 8000, Radeon HD3000

DirectX®:9.0c

Sound:any
Mac System Requirements
OS:10.6, or later

Processor: Intel Only

Memory:1GB

Hard Disk Space: 120MB

Video Card: Nvidia 8000, Radeon HD3000

DirectX®:9.0c

Sound: any

Linux System Requirements
OS: Ubuntu 12.04 or above

Processor: 2Ghz Indel or AMD

Memory: 1GB RAM

Graphics: OpenGL 2.0 Compatible. ATI, NVIDIA or Intel HD.

Hard Drive: 120 MB HD space

Sound: OS compatible sound card.

Additional: No GMA series Intel video card support.

Helpful customer reviews