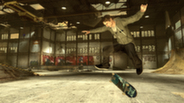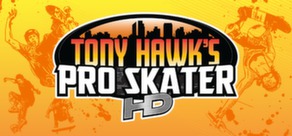 Tony Hawk's Pro Skater HD takes the best elements of the classic THPS games and gives them a fresh update to create an all new skateboarding experience for PC.
Utgivningsdatum: 18 sep, 2012
Se HD-film
Köp Tony Hawk's Pro Skater HD
Nedladdningsbart innehåll för detta spelet
Om spelet
Tony Hawk's Pro Skater HD takes the best elements of the classic THPS games and gives them a fresh update to create an all new skateboarding experience for PC. The gameplay in Tony Hawk's Pro Skater HD focuses on the satisfaction of linking sick tricks for maximum points. Combining sharp visuals with the best controls ever in a Tony Hawk game, the feel is cutting edge yet timeless.
Key Features
THPS and THPS2 gameplay comes to PC!
HD Upgrade: Game was rebuilt and polished by Robomodo using Neversoft's original level models.
Classic levels: The style and feel of the best 7 levels from THPS and THPS2 (Warehouse, School 2, Mall, Hangar, Venice, Marseille and Phoenix Downhill Jam) refreshed for today. The levels are exactly the same specs as the originals - every gap, SKATE Letter, etc is exactly where you remember it but looks a hell of a lot better!
The Top Pros: Today's biggest skate pros round out the cast including: Nyjah Huston, Chris Cole, Eric Koston, Andrew Reynolds, Rodney Mullen, Lyn-z Adams Hawkins Pastrana, Riley Hawk and, of course, Tony Hawk himself. Each has 8 boards, 3 special moves, and an alternate outfit.
Refined controls: The skaters' animations, tricks and combos reflect the evolution of the THPS games. Animations are improved, the tricks have been redone (and some new special tricks added), even "skater celebrations" have been added for big combos.
Manuals and Reverts: You can do manuals as part of trick combos in THPS HD. Given the fact that this game combines the best gameplay from THPS1 and THPS2, Reverts will not work as part of trick combos in the initial launch of THPS HD as that mechanic was not introduced until THPS3. However, reverts will work in the post-release DLC for the THPS3 levels, as those levels were originally designed to accommodate this.
Endlessly fun objectives: Players pursue the same global and level-specific goals as the original games, including S-K-A-T-E, Secret DVD (used to be VHS tape!), and many more.
In-Game Soundtrack: It is about half classic THPS tracks and half new ones. Includes Goldfinger's "Superman" and the Anthrax/Public Enemy collaboration "Bring the Noise".
Downloadable content: Coming post-release, The "Tony Hawk's Pro Skater 3 HD Revert Pack" DLC includes levels from THPS3 including Airport, Canada, and LA. New pros included are legends Steve Caballero and Geoff Rowley.
In Game Map View: Pause and see the location of objectives and gaps.
Quick Restart: Back button allows you to quickly restart their session. Perfect for the obsessive gamer who is looking to achieve the perfect combo.
Systemkrav
Minimum (or Rekommenderat)

Operativsystem: Microsoft Windows(R) XP, Windows Vista(R) eller Windows(R) 7
Processor: Intel(R) Core(TM)2 CPU 6600 @ 2.40GHz (2 CPU:er) -eller- AMD(R) Athlon(TM) II X2 250
Minne: 2 GB (Vista/Win 7)
Hårddiskutrymme: 1.8 GB ledigt hårddiskutrymme
Grafikkort: 256 MB NVIDIA(R) GeForce(TM) 8600 GTS -eller- 256 MB ATI(R) Radeon(TM) HD 3650 -eller- motsvarande grafikkort
DirectX®: DirectX(R) version: 9.0c (inklusive)
Ljud: DirectX 9.0c-kompatibelt sant 16-bit ljudkort
Game © 2012 Activision Publishing, Inc. ACTIVISION is a registered trademark of Activision Publishing, Inc. TONY HAWK and TONY HAWK'S PRO SKATER are registered trademarks of Tony Hawk, Inc.
Hjälpsamma kundrecensioner
Titel:
Tony Hawk's Pro Skater® HD
Genre:
Sport
Utvecklare:
Robomodo
Utgivare:
Activision
Utgivningsdatum:
18 sep, 2012
Språk:
| | Gränssnitt | Fullt ljud | Undertexter |
| --- | --- | --- | --- |
| Engelska | | | |
| Franska | | | |
| Tyska | | | |
| Italienska | | | |
| Spanska | | | |