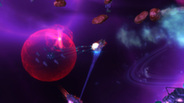 Questo contenuto ha bisogno del gioco di base Stellar Impact su Steam per funzionare.

Data di rilascio: 26 lug 2012
Guarda video HD
Contenuti scaricabili
Questo contenuto ha bisogno del gioco di base Stellar Impact su Steam per funzionare.
Acquista Stellar Impact Science Ship DLC
Informazioni sul gioco
It may be soldiers that fight the battles, but its technology that wins the war and the Science Vessel will give you that tech advantage on the battlefield. Using a vast array of gravitational technology, the Science Vessel will allow you to gain a tactical upper hand in taking control of enemy ships.
The Science Vessel has a frigate tonnage and specializes in the use of the latest generation technology. This fast ship can go deep in enemy lines to disrupt ship formation and break the cohesion of the opposing fleets by using its high tech arsenal.
Skills
Gravity wave: Brutally pushes back the opponent vessels.
Tractor beam: Used to pull ships in while preventing the enemy from using the quantum portals.
Distortion bombs: Creates amazing small stellar anomalies that explode and destroy everything that comes in contact with it.
Electronic warfare: Prevents the target from changing any of its actual course coordinates.
Gravitational singularity: Produces a huge destructive vortex pulling in all nearby vessels.
Requisiti di sistema
OS: Windows® XP / Vista™ / Windows® 7
Processor: Dual core 2.33GHz processor or better
Memory: 2 GB RAM
Hard Disk Space: 275 MB
Video Card: 512 MB GPU memory or better
Sound: Sound card with DirectX 9.0c support
2012 © Meridian4. All rights reserved. Stellar Impact is a trademark of Tindalos Interactive and Headup Games. All rights reserved. All other trademarks and copyrights are the properties of their respective owners.
Non ci sono ancora recensioni pubbliche per questo prodotto
Puoi scrivere una recensione per questo prodotto per condividere la tua esperienza con la Comunità. Utilizza l'area sopra i pulsanti di acquisto su questa pagina per scrivere la recensione.
Titolo:
Stellar Impact - Science Vessel DLC
Genere:
Azione
,
Strategia
,
Indie
Sviluppatore:
Tindalos Interactive
,
Headup Games
Editore:
Meridian4
Data di rilascio:
26 lug 2012
Lingue:
| | Interfaccia | Audio completo | Sottotitoli |
| --- | --- | --- | --- |
| Inglese | | | |
| Francese | | | |
| Tedesco | | | |
| Russo | | | |