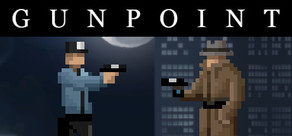 Gunpoint is a stealth puzzle game that lets you rewire its levels to trick people. You play a freelance spy who takes jobs from his clients to break into high security buildings and steal sensitive data.
Ημερομηνία κυκλοφορίας: 3 Ιουν, 2013
Δείτε βίντεο υψηλής ευκρίνειας
Αγορά Gunpoint Special Edition
Includes the game, soundtrack, and special in-game developer commentary for every mission (optional)
Αγορά Gunpoint Exclusive Edition
Includes the game, the soundtrack, in-game developer commentary, Making Of Gunpoint video feature, exclusive tracks by Gunpoint's composers, and the Prototype Pack (Windows only): 9 playable versions of the game from each stage of its development
Περιεχόμενο προς λήψη για αυτό το παιχνίδι
17 Ιουνίου
Our big Gunpoint patch has just gone live for everyone! It converts Gunpoint to a whole new engine and adds Steam Workshop, so you can see all the awesome new missions people have been making in the level editor. They are nuts. Here are the major changes:


New engine, implemented by Abstraction Games. Should fix many technical issues and make the game run faster for everyone, and it'll enable us to develop Mac and Linux versions next.


Steam Workshop added, for browsing and sharing user-made levels. Yes, we listened to the 1,779 post petition you guys started even after we'd already announced we would do it.


Option to turn off swearing. Up to you whether this makes "Grow a ####ing #### and shove it up your ###" kid-safe.


Reconfigurable keyboard controls.


Vertical sync option. I didn't know we needed this, but the folks at Abstraction added it and now the animation is at least 23% more beautiful.


Level editor. The level editor has been in there since launch, but some people still ask for one so I'm just going to keep announcing I've added it until everyone knows it's there.


You can now place multiple elevators in a level without it crashing. That's more than I could do when I was making the game, so I expect your levels to be at least twice as good as mine.


If you have any technical troubles with the new version, you can still use the old one by going to Properties > Betas and selecting 'oldversion'. Post your issue on the forums too, so we can fix it.
101 σχόλια
Περισσότερα
Κριτικές
"Every aspect of its clever design, laugh-out-loud noir story, tiny but expressive art, and moody music work harmoniously with one another."
9.0 - IGN

"The joy of Gunpoint comes from the clever ways you can make all the obstacles work to your advantage."
9.5 - Destructoid

"Gunpoint is a bracing reminder of how lovely simplicity, when exquisitely executed, can be."
9.0 - Polygon

"Good ideas, brilliantly executed, this is one of the year's best games."
9.0 - VideoGamer

"Simple but challenging, easily learned but deep and rewarding."
90% - GameFront

"An outstanding puzzle game with sharp writing, beautiful music and clever mechanics."
Joystiq

"Gunpoint is smart, creative, responsive, surprising, and possessed of an uncommon respect for the player."
Kotaku
Αποκλειστική προσφορά Steam
Purchase Gunpoint from Steam and receive an exclusive Team Fortress 2 item:

The Crosslinker's Coil
Did you know: before the mercenary fashion world discovered the obvious style and mental health benefits of wearing 22 feet of powered electrical cable around your head, people once wore hatbands made from 'silk' or other barely-lethal textiles! Strange but true.
Ειδική έκδοση
The Special Edition of Gunpoint includes:

The Soundtrack: Includes all of the game's noir-inspired spy music in high quality MP3 format.

Developer Commentary: When enabled, you'll find little sprites of Gunpoint's developers on every mission. Talk to us to hear a little about our thinking behind the design (Tom), the art (John), and the music (Ryan).
Caution: shooting a developer while he's talking ends his current commentary track. This kills the developer.
Exclusive Edition
The Exclusive Edition includes all of the items in the Special Edition plus:

The Making Of Gunpoint: a 40-minute video feature taking you through how Gunpoint developed from a one-room test game to what you play today. Featuring Gunpoint's designer playing his earliest prototypes for the first time since they were made, to great personal embarrassment and shame.

The Prototype Pack (Windows only): Play snapshots of Gunpoint's development at 9 different stages, including cartoony programmer art, the first conception of the hacking system, many scrapped levels, and overpowered gadgets we later cut. For hopefully obvious reasons, we can't give technical support for these.

Exclusive Tracks: Bonus pieces produced specially by Gunpoint's composers for this edition, mixing the game's noir style with electronic influences. Since they're not used as background music in the game, our composers took the chance to be more adventurous with these tracks.

The Secret Beta Access List (betas may be Windows only): adds an option in the game menu to sign up to our Secret Beta Access List. If and when future Suspicious Developments games are developed, we'll sometimes give secret beta versions only to the members of this list.
Σχετικά με το παιχνίδι
Gunpoint is a stealth puzzle game that lets you rewire its levels to trick people. You play a freelance spy who takes jobs from his clients to break into high security buildings and steal sensitive data.
To get past security, you'll need to make creative use of your main gadget: the Crosslink. It lets you see how all the security devices in a level are wired up, and then you can just click and drag with the mouse to wire them differently. So you can connect a lightswitch to a trapdoor, then flick it when a guard walks across to make him fall through.
Key Features
Rewire levels to work however you want

Trick guards into trapping themselves or shooting each other

Throw yourself - and others - through plate glass windows

Investigate a noir-inspired story of murder and espionage over 20 missions

Choose what to tell your clients, including lying to trick them

Choose your own playstyle: quick, quiet, non-violent, no living witnesses, or any combination

Discover new solutions to levels that no-one else has thought of

Buy specialist gadgets to suit how you want to play

All story stuff is skippable

Hardest puzzles are optional

No bosses - everyone dies in one shot, including you
Απαιτήσεις συστήματος PC
Minimum:


OS: Windows XP, Visa, 7 or 8

Processor: 2GHz

Memory: 1GB RAM

Video card: 512MB

DirectX®: 9.0

Hard Drive: 700MB HD space
Απαιτήσεις συστήματος Mac
Minimum:


OS: OSX

Processor: 2GHz

Memory: 1GB RAM

Video card: 512MB

Hard Drive: 700MB HD space
Απαιτήσεις συστήματος Linux
Minimum:


Processor: 2GHz

Memory: 1GB RAM

Video card: 512MB

Hard Drive: 700MB HD space
Χρήσιμες κριτικές χρηστών