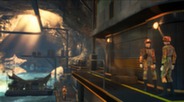 Test your PC's performance with 3DMark, the world's most popular gaming benchmark and graphics test.
Veröffentlichung: 2. Okt. 2012
HD-Video ansehen
Hinweis:
There is a newer version of 3DMark available which is recommended for most modern systems with Windows Vista, Windows 7 and Windows 8. Find out more ,
here
.
3. September
3DMark Vantage uses a component called SystemInfo to identify the hardware in your system. This patch updates SystemInfo to version 4.30.

The patch fixes a compatibility issue with SystemInfo that can cause 3DMark Vantage to hang or crash when benchmarking systems with Intel X99 chipset motherboards and Haswell-E processors.


SystemInfo 4.30
Fixed a compatibility issue with Intel X99 chipset motherboards.

Updated GPU detection module to improve compatibility with the latest GPUs.

Updated CPUID module for improved hardware detection.

Possible fix for rare "systeminfo.getUTF8XML() returned null" error.
0 Kommentare
Weiterlesen
Über die Software
Testen Sie die Leistung Ihres PCs mit 3DMark, dem populärsten Gaming-Benchmark und Grafiktest der Welt. Ausgestattet mit zwei atemberaubenden Grafiktests und zwei CPU-Tests ist 3DMark Vantage der Industriestandard für DirectX-10-Leistungstest für Grafikkarten und Gaming-PCs.
Hunderte von Presseerzeugnissen benutzen 3DMark, um Grafikkarten, Prozessoren, Gaming-PCs, Notebooks und Laptops zu testen. Jetzt können Sie es auch!
Neuer PC?
Benutzen Sie 3DMark, um Ihr System auf Stabilität und Leistung zu testen.
Möchten Sie mehr Leistung?
Benutzen Sie 3DMark, um die Wirkung von Tweaking-Einstellungen zu messen oder um ihr System zu übertakten.
Planen Sie ein Upgrade?
Vergleichen Sie 3DMark-Punkte und sehen Sie, welche Komponenten die beste Leistung für Ihr Geld bieten.
Bemerkung: 3DMark Vantage benötigt eine DirectX-10-kompatible Grafikkarte und Windows Vista oder Windows 7. Benutzen Sie 3DMark 11 für DirectX-11-Systeme.
Hauptmerkmale
Einfach zu benutzen, es wird kein technisches Wissen benötigt.

Professioneller Benchmark von Futuremark, den Testexperten.

Beinhaltet zwei Grafik- und zwei CPU-Tests.
Achtung: Die 64 Bit-Version dieser Software läuft derzeit nicht innerhalb der Steam-Beta-Applikation.
Systemvoraussetzungen
Minimum:


Betriebssystem:Windows Vista

Prozessor:x86/x64 Single-Core CPU w/ SSE2

Speicher:1 GB RAM

Grafik:DirectX 10 kompatibel

Festplatte:1 GB HD frei
Hilfreiche Kundenreviews
Software-Details
Titel:
3DMark Vantage
Genre:
Werkzeuge
Entwickler:
Futuremark
Publisher:
Futuremark
Veröffentlichung:
2. Okt. 2012
Sprachen:
| | Oberfläche | Ton | Untertitel |
| --- | --- | --- | --- |
| Deutsch | | | |
| Englisch | | | |
| Französisch | | | |
| Chinesisch (traditionell) | | | |