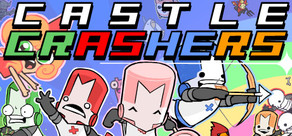 Hack, slash, and smash your way to victory in this award winning 2D arcade adventure from The Behemoth!
Utgivningsdatum: 26 Sep 2012
This product does not have support for your local language. Please review the supported language list below before purchasing
Köp Castle Crashers 4-pack
Includes four copies of Castle Crashers - a copy for yourself and three copies to send to your friends!
Paket som innehåller detta spel
Köp Can't Stop Laughing Bundle
Innehåller 2 saker: Castle Crashers, BattleBlock Theater®
Nedladdningsbart innehåll för detta spelet
26 Juni 2014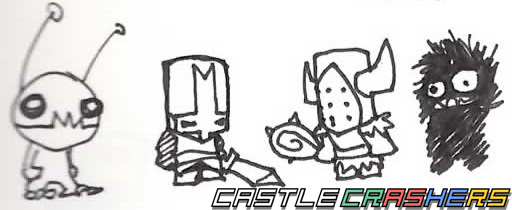 Since 2008 Castle Crashers has been the largest, most successful game we've ever created. We are proud to announce that just recently Castle Crashers Steam has passed the 1 million mark, pushing the cumulative total to 5 million downloads across all platforms!

In celebration of this 5 million milestone, we are going back to 2005 when we started working on Castle Crashers.

Back in 2005, Dan Paladin, our art director, started sketching up ideas for our 2D multiplayer adventure. Our previous BattleBlock Theater sketch blog post was well received, so we thought it'd be fun to show off some of the original creations for Castle Crashers.

Click HERE to see the rest of the sketches. Some of these ideas got slightly altered before the game finished development, and some of them didn't make it to the final version! Can you point out which ones made it in?
61 kommentarer
Läs mer
21 Maj 2014
Howdy,

Just in case you haven't seen it already, we've added a new Arrange to Play Discussion Board so you can find new play dates. Post there if you are looking for Castle Crashers buddies.

http://steamcommunity.com/app/204360/discussions/2/

Happy slashing!
6 kommentarer
Läs mer
Om spelet
Hack, slash, and smash your way to victory in this award winning 2D arcade adventure from The Behemoth! Featuring hand-drawn characters, Castle Crashers Steam Edition delivers hi-res visuals like nothing you've seen before. Four friends can play locally or online to save your princess, defend your kingdom, and crash some castles!
Key Features:
Unlock more than 25 characters and over 40 weapons!

Intuitive combo and magic system: Unlock an arsenal of new attacks as your character progresses through the game.

Level up your character and adjust Strength, Magic, Defense, and Agility.

Adorable animal orbs are your companions. Each adds different abilities to aid you on your journey.

Arena mode: Battle other players in free-for-all or team matches!

Insane Mode: Test your skills in the ultimate campaign challenge

Necromantic Booster Pack (includes Necromancer and Cult Minion characters)

King Booster Pack (includes The King and Open-Faced Gray Knight)

All You Can Quaff Mini Game

Also includes: Alien Hominid playable character
Systemkrav (PC)
Minimum:


Operativsystem:Microsoft® Windows® XP / Vista / 7

Processor:Intel Core 2 Duo 2GHz+ eller bättre

Minne:1 GB RAM

Grafik:256 MB grafikkort

DirectX®:9.0c

Hårddisk:255 MB hårddiskutrymme

Ljud:DirectX-kompatibelt

Andra krav:Bredbandsanslutning

Ytterligare:Stödjer Microsoft® Xbox 360-kontroller eller Direct Input-kompatibel kontroll
Rekommenderat:


Operativsystem:Microsoft® Windows® XP / Vista / 7

Processor:Intel Core 2 Duo 2GHz+ eller bättre

Minne:2 GB RAM

Grafik:512 MB grafikkort

DirectX®:9.0c

Hårddisk:255 MB hårddiskutrymme

Ljud:DirectX-kompatibelt

Andra krav:Bredbandsanslutning

Ytterligare:Stödjer Microsoft® Xbox 360-kontroll eller Direct Input-kompatibel kontroll
Systemkrav (MAC)
Minimum:


Operativsystem:Mac OS X 10.5 - Leopard

Processor:Intel Core 2 Duo 2GHz+ eller bättre

Minne:2 GB RAM

Grafik:256 MB grafikkort

Hårddisk:255 MB hårddiskutrymme

Ljud:Mac-kompatibelt ljudkort

Andra krav:Bredbandsanslutning

Ytterligare:Med rätt drivrutiner stödjer spelet Microsoft® Xbox 360-, Sony PS3-, och Logitech-kontroller
Rekommenderat:


Operativsystem:Mac OS X 10.7 - Lion

Processor:Intel Core 2 Duo 2GHz+ eller bättre

Minne:4 GB RAM

Grafik:512 MB grafikkort

Hårddisk:255 MB hårddiskutrymme

Ljud:Mac-kompatibelt ljudkort

Andra krav:Bredbandsanslutning

Ytterligare:Med rätt drivrutiner stödjer spelet Microsoft® Xbox 360-, Sony PS3-, och Logitech-kontroller
Hjälpsamma kundrecensioner
Titel:
Castle Crashers
Genre:
Action
,
Äventyr
,
Fritid
,
Indie
,
RPG (rollspel)
Utvecklare:
The Behemoth
Utgivare:
The Behemoth
Utgivningsdatum:
26 Sep 2012
Språk:
| | Gränssnitt | Fullt ljud | Undertexter |
| --- | --- | --- | --- |
| Engelska | | | |
| Tyska | | | |
| Franska | | | |
| Italienska | | | |
| Koreanska | | | |
| Spanska | | | |
| Förenklad kinesiska | | | |
| Traditionell kinesiska | | | |
| Japanska | | | |
| Portugisiska | | | |
Se alla 10 språk som stöds